The Most Important Number of the Week Is 74
(Bloomberg Opinion) -- There's a new favorite parlor game sweeping across U.S. neighborhoods. It's called: "How Much Can I Can Get for My House?"  
Describing the performance of the real estate market as "hot" would be an understatement. The National Association of Realtors said this week that the median price of an existing home reached a record $350,300 in May, up 23.6% from a year earlier. The reasons behind the gains are well known. Historically low interest rates, a dearth of supply and trillions of dollars in fiscal and monetary stimulus to support the economy through the pandemic have proved to be powerful tailwinds for housing. But this week also brought some evidence that those winds may no longer be having a positive effect, and that's not such a bad thing.
The part of the widely followed University of Michigan sentiment index released Friday asking whether it's a good time to buy a home plummeted in June to a reading of 74, the lowest since October 1982. At that time, the average rate on a 30-year mortgage was around 14%, not the 3% prevalent today. (See the bottom of this column for more fun with numbers.)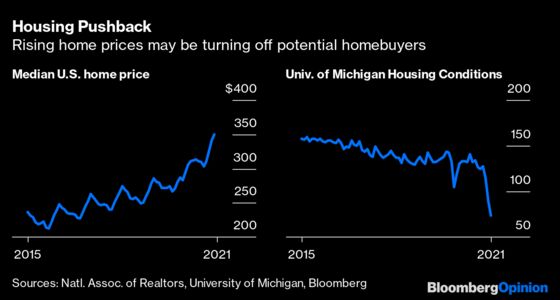 The way to think about this is not like a bubble that is about to burst but more like a cooling off period as consumers get over the "sticker shock" of much higher housing prices. The fundamentals of the housing market are just too strong to suggest a sharp reversal that imperils the economy.
Let's start with demographics. The size of the key 30- to 39-year-old age group, which makes up the bulk of first-time homebuyers, is poised to rise from about 45 million now to 48 million by 2030 based on Bureau of Labor Statistics figures. Bill McBride, who runs the Calculated Risk blog and called the last housing crash, has pointed out to his readers that "the generation moving into the home buying years is much larger than the leading edge of the boomers that will be downsizing — or moving into retirement communities."
Then there's the dearth of supply of available homes for sale. The NAR says that figure fell to a record low of 1.9 months in December and has moved up only slightly to 2.5 months. The historical average is 5.6 months and was 9.6 months heading into 2008. So instead of being put off by high prices, many buyers may be deciding it's not a good time to buy because of a lack of choices.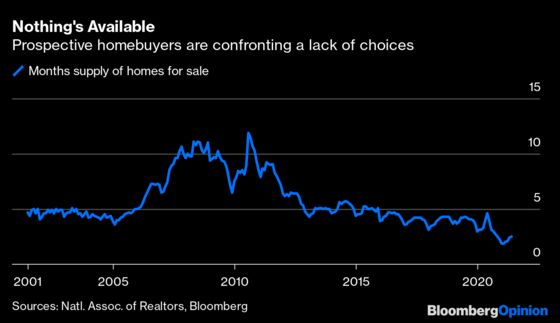 Don't overlook that household balance sheets are in near-pristine condition, which means that personal finances are no impediment to buying. Debt as a percentage of personal income has fallen to 85.3% from a peak of 117.1% in 2009, according to the Federal Reserve. The ratio of total required mortgage service payments to total disposable income has dropped to 3.97 from the high of 7.21 in 2007.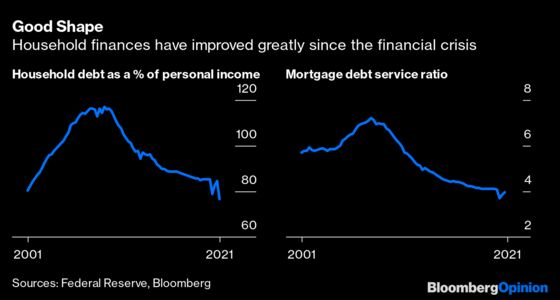 But what about the lagging performance of homebuilder shares of late? The Bloomberg Americas Home Builders Index soared 242% from last year's low on March 23 to this year's high on May 7, easily trouncing the 89% advance in the S&P 500 Index. It's true that the roles have reversed since then, with the S&P 500 holding steady while the homebuilders have dropped 12.4%. But that's most likely due to investors waiting for earnings to catch up to lofty valuations rather than a signal that the best is over.
To be sure, nothing ever rises in a straight line forever. The bulls can be comforted that if the outlook wasn't bright, then some of Wall Street's smartest firms wouldn't be climbing over themselves to get a piece of the action. In the latest example, Blackstone Group Inc. agreed this week to pay $6 billion for Home Partners of America, which owns single-family rental homes.
So don't be surprised if the coming months show a marked slowdown in housing. It won't be cause for concern but more like a pause that refreshes.
(Can you believe that the monthly cost of financing a home is nearly the same today as it was in 1982 despite home prices almost tripling? Back then, the average price of a home was $118,000. After a 20% down payment, the monthly payment on a 30-year, $95,040 mortgage with an interest rate of 14% was $1,126. On a home costing $350,300 today, the monthly payment on a 30-year, $280,240 mortgage — assuming 20% down —  with an interest of 3% is $1,182.) 
This column does not necessarily reflect the opinion of the editorial board or Bloomberg LP and its owners.
Robert Burgess is the Executive Editor for Bloomberg Opinion. He is the former global Executive Editor in charge of financial markets for Bloomberg News. As managing editor, he led the company's news coverage of credit markets during the global financial crisis.