WeWork Is a $9 Billion Test of SPAC Appetite
(Bloomberg Opinion) -- If at first you don't succeed with an IPO, try again with a special purpose acquisition company. Having failed abysmally when trying to go public the traditional way in 2019, office-space provider WeWork Cos. is reportedly in talks to merge with BowX Acquisition Corp. and thereby join the stock market.
A SPAC transaction has obvious appeal, as my colleague Matt Levine notes. Merging with a $480 million cash shell and raising a separate pot of institutional money, known as a PIPE, would make WeWork less dependent on majority owner Softbank Group Corp. for funding.
A deal might value WeWork at $9bn including debt, the Financial Times reported this week. That's a long way from the $47 billion valuation Softbank once ascribed to the desk-rental business and more in line with British rival IWG Plc, which has a 3.6 billion-pound ($4.9 billion) market value. But with the SPAC market rapidly cooling, equity investors will still need some convincing.
While WeWork thought it had hit rock bottom when its initial public offering fell apart, the pandemic piled on the agony. Lockdowns turned city centers into ghost towns and occupancy at its densely packed coworking spaces plummeted. Because WeWork's memberships are often cancellable at short notice, some clients opted to go without.
It takes chutzpah to try your luck with investors so soon after being emphatically rebuffed by them. Those who need a recap on WeWork's past extravagances and appalling corporate governance can tune into a Hulu documentary next month that unpicks the whole saga. Judging by the trailer it may test the idea that all publicity is good. 
The better news is that Adam Neumann, the mumbo jumbo spouting founder, has been replaced as boss by the experienced Sandeep Mathrani, a former Brookfield Properties executive. Bond investors have shrugged off WeWork's credit rating downgrade in October and are less worried that it could go bust.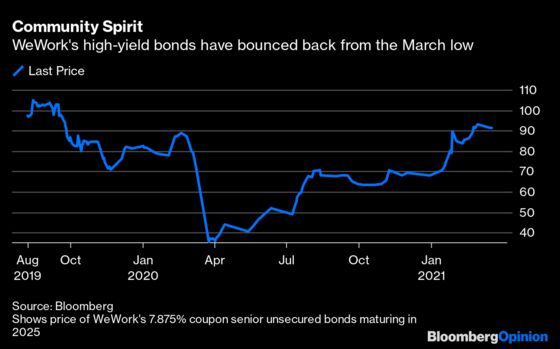 In the short term, the pandemic has forced WeWork to implement hygiene measures and cut fees. During a February investor call IWG compared the competitive environment in coworking to the "Wild West." Another rival Knotel Inc. filed for bankruptcy in January.
In theory, however, the post-pandemic period could spur demand for the type of flexible workspace WeWork offers. Companies are rethinking whether they really need a large headquarters and more staff may work from home for at least part of the week. To appeal to firms that employ these occasional commuters, WeWork has started offering a pay-as-you-go option.
Investors are excited suddenly about companies that that stand to profit from the shift to hybrid working. IWG's shares have more than trebled since a low last March and they're priced at a giddy 350 times multiple of this year's earnings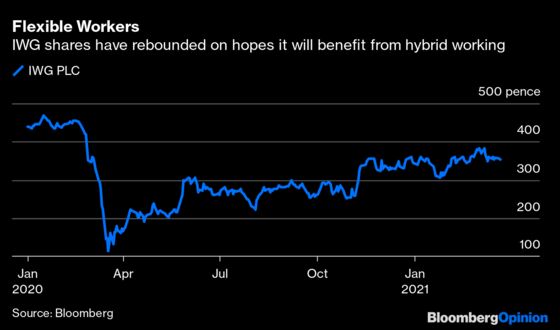 One thing IWG has going for it are its suburban locations, which can soak up homeworkers tired of staring at the same four walls but who don't fancy a long commute. WeWork's urban real estate means its fortunes are tied to whether cities bounce back quickly. With infections surging again in Europe and elsewhere, that's open to doubt. Rating agency Fitch worries about structurally lower demand for office space.
Though painful, the job cuts and dozens of leases that Mathrani has renegotiated or terminated should at least put WeWork on a better financial footing. At the time of its botched IPO, it had a staggering $47 billion in lease liabilities. In October, Mathrani said he'd only consider going public once the company had become profitable, which he predicted would happen this year. Thanks to SoftBank, WeWork still has a decent cash buffer, so what's the hurry?
With hundreds of SPACs looking for targets, even a wounded company like WeWork attracts suitors. And SPACs are uniquely suited to helping WeWork secure a juicier valuation. Unlike in a regular IPO, SPACs are more able to publish financial projections: Typically these forecasts show today's losses miraculously transforming into future profits and cash flow.
And rather than leave pricing to the vagaries of the IPO process, a SPAC deal will let WeWork negotiate the valuation directly with the sponsor and PIPE investors — pretty appealing when you've had a busted listing.
There's always the risk, though, that SPAC shareholders don't like the deal offered to them and elect to redeem their holdings for cash. With bond yields rising, investors have been dumping SPACs and high-flying growth stocks. BowX shareholders don't seem terribly excited about WeWork. The SPAC's stock is trading fractionally below the $10 at which it first sold shares. 
Such caution is sensible: We don't yet know if a deal will be consummated or the terms. But it suggests WeWork has plenty more fence mending to do.
I was unable to confirm these and other figures cited in the FT article as WeWork hasn't yet updated bond investors on its fourth-quarter performance.
This column does not necessarily reflect the opinion of the editorial board or Bloomberg LP and its owners.
Chris Bryant is a Bloomberg Opinion columnist covering industrial companies. He previously worked for the Financial Times.