Infrastructure Boom Doesn't Happen Without Portable Offices
(Bloomberg Opinion) -- The $550 billion in fresh infrastructure spending that President Joe Biden signed into law earlier this month creates some obvious industrial company winners. The engineering firms that will design and help orchestrate many of the projects are perhaps the biggest. Caterpillar Inc. and other makers of heavy-duty machinery also stand to make money. But there are less obvious winners, too, that are just as essential to building.
For instance, what's a construction site without a mobile office and storage space? We've all seen these metal boxes, even if we've never given them any thought. Many are just shipping containers refurbished with climate-control systems, doors and advanced locks to serve as storage space or upgraded with electrical wiring, air conditioning and internet to be temporary offices or classrooms. The biggest dedicated provider of these portable facilities in the U.S. is a $9 billion company called WillScot Mobile Mini Holdings Corp. The company's rental fleet of 375,000 mobile containers provides about as much space as 44 Empire State Buildings. 
About 6% of WillScot's revenue last year came from customers involved in building highways and other heavy construction, and it's that part of the business that will benefit most directly from the infrastructure bill, whose largest appropriation is $110 billion for road and bridge upgrades. Another 7% of WillScot's revenue comes from the energy and natural resources sector. Historically this business has catered to oil and gas-related construction, but wind farm developers likely also need mobile storage and office space, Andrew Wittmann, an analyst at Robert W. Baird & Co., told me. The infrastructure bill provides about $65 billion to upgrade the power grid, including adding thousands of miles of new transmission lines and expanding renewable energy.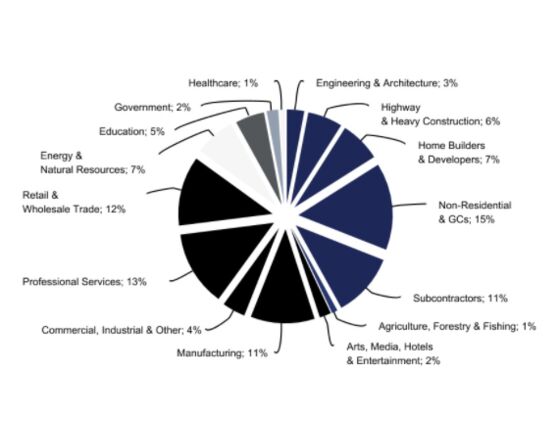 The industrial sector is highly connected. Its interdependence was painfully highlighted by the supply-chain crunch: Manufacturers grappling with semiconductor shortages bought less paint and components from companies including PPG Industries Inc. and 3M Co., for example. But in the case of the infrastructure bill, industrial companies' tendency to sell to one another should have far-reaching benefits. "It favorably impacts almost every end-market that we serve," WillScot Chief Financial Officer Timothy Boswell said at the company's investor day earlier this month. "Think about every nonresidential general contractor in North America, think about domestic manufacturing, think about utilities. We've got top customers across all these sectors that are either going to be direct or indirect beneficiaries of that type of reinvestment."
WillScot has estimated it will take about 12 to 18 months for shovels to actually hit the ground on government-funded infrastructure projects, which makes this more of a 2023 story for the company. But even without the infrastructure boost, WillScot is on track to generate $1.9 billion of revenue this year, more than four times what the company was making in 2017 when it merged with a blank-check firm to go public. The surge in sales partly reflects a string of acquisitions, including the $1.2 billion purchase of Modular Space Holdings Inc. in 2018 and the more than $2 billion takeover of rival Mobile Mini Inc. in 2020. WillScot is also benefiting from robust demand for new construction of data centers and e-commerce warehouses. It's locking in more revenue per unit, too, thanks to a shift in its business model to sell more fixtures and fittings to accompany its containers (think of everything from flat screens to desks, coffee carts and entrance ramps).
The growth opportunities in modular offices and mobile storage were substantial enough that equipment-leasing giant United Rentals Inc. earlier this year paid close to $1 billion to acquire WillScot competitor General Finance Corp.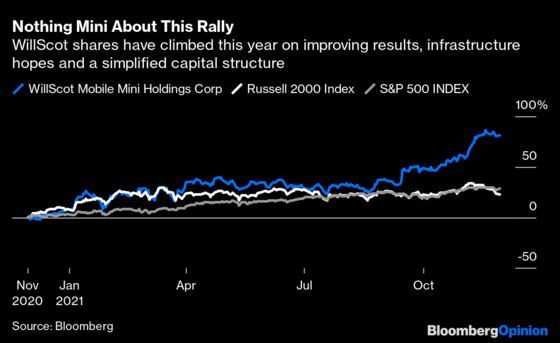 All in, WillScot shares are up about 70% so far this year, including an almost 10% rally since the House sent the infrastructure bill to Biden for his signature. But the stock still isn't that expensive at about 12 times what analysts expect it to generate in 2023 earnings before interest, taxes, depreciation and amortization. On average, analysts expect the shares to rise another 15% from here over the next year. It helps that private equity firm TDR Capital finally exited its large position (a holdover from the 2017 SPAC) in September, simplifying the capital structure and making this an easier stock to own for many investors, Wittmann of Baird said. "Businesses like this one which have got long duration leases and good visibility into revenue and cash flows are attracting much higher multiples," he said. 
This column does not necessarily reflect the opinion of the editorial board or Bloomberg LP and its owners.
Brooke Sutherland is a Bloomberg Opinion columnist covering deals and industrial companies. She previously wrote an M&A column for Bloomberg News.