Labor, Not Lumber, Will Drive Inflation
(Bloomberg Opinion) -- Will the next few years of inflation data look more like the lumber market or the labor market? Will higher prices, driven by supply shortages related to economic reopening, be transitory, or will they be sticky, the way wages tend to be?

We won't know the answer for at least several months, during which we're probably going to see higher prices across a range of goods and services. Ultimately the outcome will determine whether the current mix of fiscal and monetary policy is appropriate or whether we'll have to act faster to rein in inflation.
In the lumber market, prices are at record highs, challenging the construction industry as it races to build more homes to address the national shortage of housing inventory. The shortage is due to high demand, as well as from a lack of supply after sawmills paused production last spring during the onset of the pandemic. There's also been a structural decline in the number of sawmills over the past decade because of persistent weak demand for lumber after the 2008 financial crisis and housing bust.
But there's no shortage of trees; prices for raw timber are still low. The shortages -- and profits -- lie with the owners of sawmills. That's a problem if you're looking to buy lumber to build a house now, but over time sawmill capacity and output will grow in response to higher demand and higher prices, helping address the imbalance. Maybe lumber prices don't return to the levels we saw in 2019, but over time they should move lower than they are today. If broader inflation trends play out the same way — higher for awhile as we deal with these supply/demand imbalances, but lower over time as capacity ramps up — then we have nothing to worry about.
It's the labor market, particularly for service workers, that has the potential to be more of a challenge when it comes to inflation. Even while employment remains eight million jobs below where it was in February 2020, demand for service workers is recovering faster than supply, putting pressure on employers and pushing wages higher. The leisure and hospitality industry added 384,000 jobs in February and 280,000 jobs in March, and in both of those months wages grew by more than 1.5% for non-managerial workers. That's not a seasonally-adjusted annual rate, it's a flat-out 1.5% increase for two straight months. The last time wages for leisure and hospitality workers grew that much in a single month was in 1981. Uber and Lyft are among the companies saying they're struggling to find workers -- and that's reflected in fares, as anyone who's opened their apps recently can attest.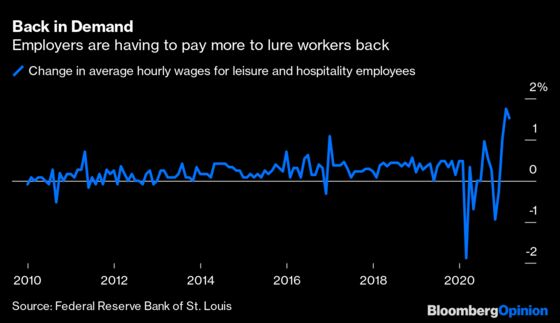 There are several reasons why it's a challenge for service industries to staff up right now. One is that everyone is hiring simultaneously, particularly in southern states where it's already warm and where policymakers and the public have had a more lax attitude when it comes to pandemic-related behavioral modifications. Millions of people remain reluctant to work because of fears of catching Covid-19 (concerns that hopefully will ease through the summer with more progress on vaccinations). Some workers may have switched industries over the past year, going to work for grocery stores, Costco Wholesale Corp., Target Corp., Walmart Inc., and Amazon.com Inc. fulfillment centers rather than waiting to see if or when their jobs at restaurants or hotels would come back. Those people are no longer available to be rehired, at least not at the wages they previously earned.
And then there's the reality that for a lot of lower-paid service employees it's not worth going back to work when you can earn more collecting unemployment benefits -- at least until the federal government's enhanced payments expire in September. This might be a contentious issue in some circles, but there should be no argument that paying out $500 a week in federal and state unemployment benefits will change people's motivations for going back to work, particularly for someone who may have had only a part-time job.
If the service labor market functions like the lumber market, then maybe a job that used to pay $12 an hour jumps to $17 an hour during this supply crunch, and then falls back over time to $14 an hour.
But people, it goes without saying, are not wooden boards. Rather than accepting an eventual fallback in pay, higher wages this year may lead staff to expect bigger raises in the future, forcing employers to continue increasing wages to retain workers. And that stickiness in higher wages might be backed up by policy shifts if it leads left-leaning states and municipalities to raise minimum-wage rates higher.
To compensate for their higher labor costs, employers will have to raise their prices  — exactly the kind of bad inflationary dynamics the Federal Reserve hopes to avoid.
So when it comes to inflation dynamics, the key metric to watch over the next several months will be wage rates for service workers, not the dramatic, but probably transitory, increases in prices for commodities such as lumber or copper. If we end up having an inflation problem sooner than we expect, it will probably start in the labor market.
This column does not necessarily reflect the opinion of the editorial board or Bloomberg LP and its owners.
Conor Sen is a Bloomberg Opinion columnist and the founder of Peachtree Creek Investments. He's been a contributor to the Atlantic and Business Insider and resides in Atlanta.