Fixing the Supply Chain Will Help Beat Inflation
(Bloomberg Opinion) -- Inflation worries have flared as Congress pushes forward with a $1.9 trillion fiscal relief package amid rising commodity prices and long-term interest rates. But if the old adage is that inflation is "too much money chasing too few goods," people should be more focused on the latter part of that statement. To the extent inflation is a concern right now, what's needed is more production of the goods in the economy that are in short supply right now, not cutting off the flow of funds that supports that production.
Supply shortages are visible all around us right now, some in response to production issues related to the pandemic, and others due to years of neglect and underinvestment. The inventory of homes for sale is at historically low levels due to years of sluggish construction following the 2008 financial crisis. Home appliances have been back-ordered for months as cooped-up homeowners spent money on home improvement rather than travel and dining. U.S. auto production has been curtailed due to a shortage of semiconductors, a topic that has attracted the interest of the White House. Last week showed that the Texas electrical infrastructure couldn't withstand a severe winter storm, the latest example of climate change revealing how ill-equipped we are to withstand extreme weather events.
A good way to visualize this dynamic is to look at the level of fixed investment — the construction of homes and factories and purchases of equipment — minus how much of that capital is consumed or worn out every year as a share of gross domestic product. For decades, the metric would ebb and flow with the business cycle, but on average we'd add to the nation's capital stock by 2% to 3% of GDP per year. But that's not what's happened since the 2008 financial crisis. From 2009 to 2012, we were actually consuming more capital than we produced, as both households and businesses repaired their balance sheets. And even in the years since we struggled to get back to even a historically average level of investment.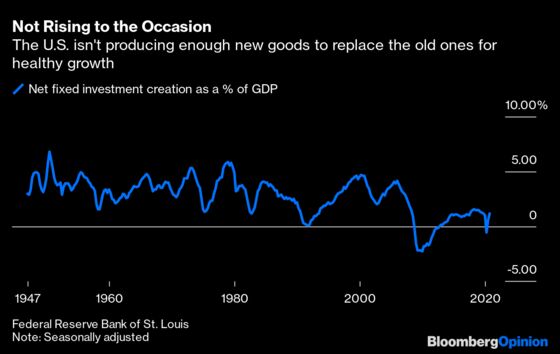 Now, it appears that both the public and private sectors are ready to change that. Homebuilders are responding to the shortage of housing inventory by boosting construction to levels last seen in 2006. Corporations and the federal government are interested in making supply chains more resilient, and onshoring production where it serves the national interest. President Joe Biden is ordering a review of U.S. supply chains to end the country's reliance on other countries for crucial goods, especially adversaries such as China. The same kind of attention is being given to infrastructure, an issue that has bipartisan support.
Just as our investment deficit wasn't created overnight, we're not going to fix it overnight. It's going to take money and time. In some cases, companies will respond on their own, as homebuilders have been doing the past several months. In other cases, government is deciding whether to give the process a boost by funding investment directly, or by stimulating the economy enough to create conditions that make companies more eager to invest.
The quandary for those concerned about inflation is that shortages result in higher prices, but the way to resolve those shortages is by boosting supply, and that jump in activity, in turn, raises prices. Look no further than the surge pricing that's occurred in lumber markets as homebuilders ramp up the production of new homes faster than lumber companies can build up their inventories. If they could actually access supply, the same dynamic might be happening for semiconductors that auto companies need to produce vehicles. Deere & Co. noted in its earnings report last week that farmers are taking advantage of high grain prices to replace their aging equipment — this is a natural part of the business cycle rather than a sign of worrisome inflation or poor decision-making.
In the near-term, we should be focused on addressing the supply shortages instead of worrying about how much transitory inflation is generated by doing so. Inflation expectations, whether they be market-based or survey-based, are well contained. The assets surging in value in a potentially unsustainable way are largely economically-unimportant ones like cryptocurrencies and collectibles.
It's difficult to find any area of the economy where one might say, "We're building too much of that stuff." The way out of a supply shortage is through producing more, not less.
This column does not necessarily reflect the opinion of the editorial board or Bloomberg LP and its owners.
Conor Sen is a Bloomberg Opinion columnist and the founder of Peachtree Creek Investments. He's been a contributor to the Atlantic and Business Insider and resides in Atlanta.