Inflation and Supply Shortages Are Waking Up the Bond Bears
(Bloomberg Opinion) -- Central bankers continue to insist that the recent price pressures that are driving inflation higher will prove temporary. But based on what's happening to bond yields and in the inflation swaps market, investors are growing less convinced. Something's got to give.
Supply chain disruptions, soaring energy prices and a rebound in consumer demand thanks to progress with vaccinations have conspired to bestir prices. Annual inflation is running at 5.3% in the U.S. and 3.2% in the U.K., and is forecast to have reached 3.3% in the euro zone. In all three regions, prices are rising at a pace way faster than the 2% central banks are supposed to target. 
That's awakened the animal spirits of the bond bears, who've driven benchmark yields higher in the past few weeks.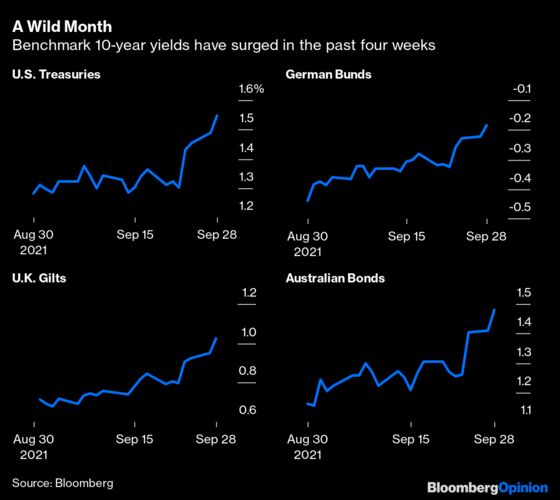 But the guardians of monetary stability remain unperturbed by prices rising higher. "These effects have been larger and longer-lasting than anticipated, but they will abate," Federal Reserve Chairman Jerome Powell said in testimony to the Senate Banking Committee released Monday. "Our view is that the price pressures will be transient," Bank of England Governor Andrew Bailey said in a speech the same day. "The key challenge is to ensure that we do not overreact to transitory supply shocks," European Central Bank President Christine Lagarde said Tuesday.  
While their persistence can be debated, there's no question that cost constraints are widespread. A few examples:
FedEx Corp. said last week that there's been no easing of a labor shortage that's driving up costs for the delivery company, with one sorting hub suffering understaffing of 35%.
A survey by the U.K. Office for National Statistics showed 40% of Brits said there was less variety than usual in shops, with 25% saying they hadn't been able to find non-essential foodstuffs and 18% saying they couldn't buy essential food items.
Costco Wholesale Corp. imposed rations on toilet paper, paper towels and cleaning supplies amid experiencing delivery delays.
A.P. Moller-Maersk A/S has raised its profit guidance three times in five months. The world's largest shipping line is on track to post annual earnings of $16.2 billion for 2021 — equal to its combined profit in the past nine years, Bloomberg News reported last week.
Cotton, used in everything from jeans to T-shirts, is trading at its highest price in a decade.
Nike Corp. said it used to take 40 days to ship sporting apparel across the world; now, that's taking 80 days, with the rising cost of ocean freight hurting margins.
Consumers are most likely to feel the pinch in the supermarket, where inclement weather in one of the biggest crop growers is also contributing to higher prices. Brazil contributes four-fifths of the world's orange juice exports, 50% of its sugar exports and 30% of its coffee exports. This year, the nation suffered its worst drought in a century, followed by freezing conditions that left farms shivering under blankets of frost that crippled crops, Bloomberg News reported this week.
That helps explain why the United Nations world food price index has climbed by a third in the past year, and why the cost of breakfast staples has surged in recent months.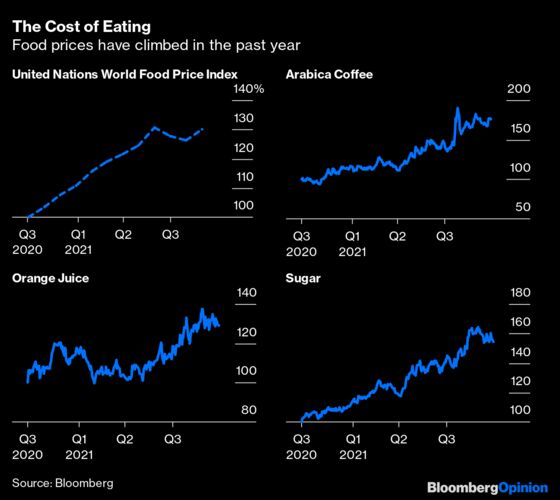 In financial markets, a key set of gauges used by central bankers points to a further acceleration in prices. The five-year forward inflation swaps rates in dollars, sterling and euros have all surged this year, with the euro zone rate climbing to its highest in more than six years and the U.K. level reaching a decade high.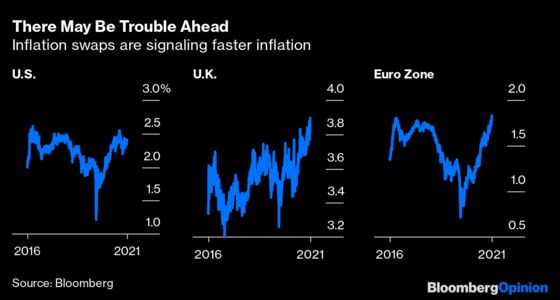 Perhaps the most troublesome aspect of the current economic environment is the risk that inflation is accelerating at the same time that growth is stumbling. The danger of stagflation seems to be making its way onto the collective radar of traders and investors; Bloomberg's News Trends function, which can tally the occurrence of keywords from more than 1,500 sources, shows monthly usage of the term is at a record high.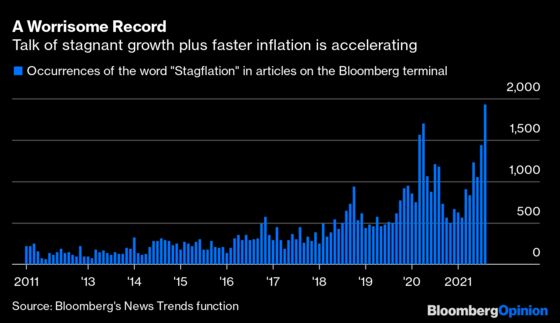 Of course, fixed-income bears have been burned before. The years following the global financial crisis have seen repeated warnings that unprecedented economic stimulus would unleash inflation, only for prices to fail to rise and bond yields to continue to plumb new depths.
Time will tell who's right this time — the central bankers insisting that the current increases in consumer prices are transitory, or the bond vigilantes seeing danger ahead.
This column does not necessarily reflect the opinion of the editorial board or Bloomberg LP and its owners.
Mark Gilbert is a Bloomberg Opinion columnist covering asset management. He previously was the London bureau chief for Bloomberg News. He is also the author of "Complicit: How Greed and Collusion Made the Credit Crisis Unstoppable."