Cancer-Test Deal Plays Chicken With Regulators
(Bloomberg Opinion) -- Illumina Inc. is tired of waiting around for regulators. The gene-sequencing giant said Wednesday that it had closed its $8 billion deal for cancer-testing startup Grail Corp. even though European and U.S. antitrust agencies continue to examine it. 
Illumina contends that the deal is pro-competitive and that closing early will save lives by expanding access to Grail's lead product, a blood test to detect multiple cancers early in otherwise healthy people. Even so, the company's stock was down 10% Thursday, reflecting the risk it's taking by jumping the gun.
The company's unusual game of regulatory chicken could pay off and set a fascinating new precedent. However, Illumina's impatience may also antagonize watchdogs on two continents and provoke avoidable complications.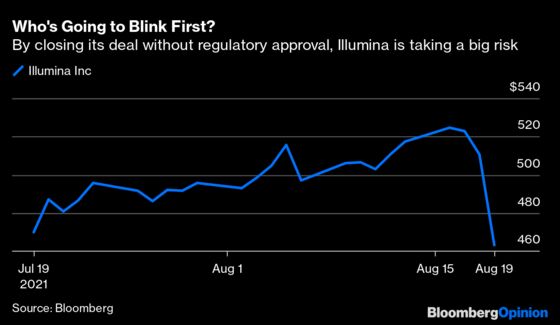 Even by the often tangled standards of dealmaking, this fight is complex. First, the U.S. Federal Trade Commission authorized a lawsuit to block it in March, contending the deal would diminish innovation and increase costs in the market for early cancer tests. There are competitors, but the FTC says they rely on Illumina's technology. Illumina counters that it doesn't currently sell these tests; it helped create Grail before spinning it out in 2016. Then in May, after the European Commission announced a review of its own, the FTC moved to dismiss its request for an injunction while moving forward with an administrative trial, contending that Illumina couldn't complete the deal without European approval. The move preserved the U.S. agency's ability to try to block the deal on its own later.
Illumina CEO Francis deSouza described the U.S. strategy to the Financial Times as "time-wasting" in June and is challenging the European review because Grail generates no revenue on the continent. It believes nothing stops it from closing the deal — contrary to the FTC's position — but will hold Grail separate as proceedings unfold because it might have to ultimately unwind the transaction. 
Companies generally wait until antitrust issues resolve to close deals and often give up when the process stretches out or feels risky. Illumina certainly knows that; the company abandoned a planned acquisition of gene-sequencing rival Pacific Biosciences of California Inc. last year after an extended review. The European examination won't be completed until after the contractual expiration date of the Grail deal.
Illumina decided that the benefits of closing early outweighed the risks and the cost of abandoning the deal or finding a way to amend its terms. It's simultaneously gambling that it will win in Europe and that a resource-constrained FTC won't pursue a complicated process to the bitter end. In that scenario, the company will look brilliant and others may follow its lead when regulators try to run out the clock on deals.
On the other hand, Illumina is in unknown territory. Citigroup Inc. analyst Patrick Donnelly wrote in a research note to clients after the announcement that he couldn't find an example of an acquirer closing a deal while in this sort of limbo. Angry regulators may be more aggressive, leading to years of legal wrangling. If court decisions go against Illumina, it could lead to significant concessions and fines or a costly unwinding process.
If Illumina is wrong about its legal position, or Grail's still very new test isn't a blockbuster, the overhang could last for years.  
The company has owed Grail a monthly fee since December of last year, when the company hoped to close the deal, and it would have owed it a $300 million investment on top of a $300 million termination fee if the deal had not closed by Dec. 20.
This column does not necessarily reflect the opinion of the editorial board or Bloomberg LP and its owners.
Max Nisen is a Bloomberg Opinion columnist covering biotech, pharma and health care. He previously wrote about management and corporate strategy for Quartz and Business Insider.