Why China Is Bailing Out Huarong But Punishing Others
(Bloomberg Opinion) -- There's a bit of unfairness going on amid Beijing's regulatory crackdown on a vast array of companies. While it feels China does not care how much money foreigners have lost betting on its tech stocks and real estate developer bonds, one niche group seems to have escaped relatively unharmed: Investors in state-owned China Huarong Asset Management Co., one of the nation's biggest dollar bond issuers. 
Huarong seems to have survived the nightmares that started in April when it failed to deliver its 2020 financials on time. A group of state-owned investors, including Citic Group Corp. and China Insurance Investment Co., will replenish the "bad bank's" capital, the company said, without offering further details. Because of that, the distressed asset manager said it had no plans to restructure its debt, despite a record 102.9 billion yuan ($15.8 billion) loss last year. Huarong's bonds have staged strong rallies lately.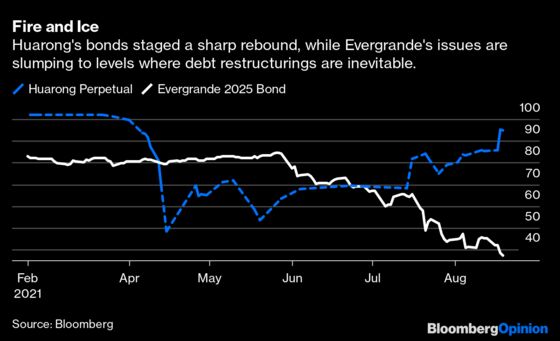 This good fortune stands in sharp contrast to the fate of privately held real estate developer China Evergrande Group, an equally big borrower. In a rare public rebuke, China's financial regulators told Evergrande to resolve its debt problems and refrain from spreading "untrue information." The company last week said it was in talks to sell stakes to third-parties. Its bonds have tumbled to levels where a restructuring should almost be inevitable. 
Meanwhile, it's been a bloodbath for big tech stocks. The regulatory whip came down from all sides: antitrust, data security, social equality. Officials are even targeting tech's potential role in destabilizing the nation's banking system. The so-called ATM — Alibaba Group Holding Ltd., Tencent Holdings Ltd. and Meituan — are down by more than 20% each this year. Chinese tech stocks have lost an estimated $1 trillion in market cap.
So why is China bailing out Huarong and punishing everyone else? Is there a seismic shift in the leadership's thinking? Is China regressing to its muscular socialist past, when state interests took priority and the private sector withered away?
The Chinese don't go to polling stations to elect their president. But what is happening now is very much like what goes on when American politicians run for the White House. Much of the ongoing regulatory fervor reflects an administration in campaign mode.
The Communist Party will meet to select new members of its leadership team late next year. China has removed constitutional term limits on the presidency, so Xi Jinping can technically rule indefinitely. The president, nonetheless, wants the people's mandate. He can get some of that by appointing younger politicians to energize the Politburo Standing Committee, the pinnacle of power in the People's Republic. But he can also get it by spouting themes that resound broadly in Chinese society.
Indeed, the long run-up to a "new" administration has taken on a populist tone. Earlier this week, Xi chaired a high-level meeting, in which he called for "common prosperity for all." While China has allowed some people and regions to "get rich first," he said it is time for them to "return more to society." 
In this light, a crackdown on big tech is an easy crowd pleaser. Just like their counterparts in the West, Chinese consumers care about data privacy, the welfare of gig economy workers, and whether their online investments are safeguarded. The only people who don't share in this common prosperity are foreigners. Their portfolio returns are collateral damage.
There's also no political upside to allowing a Huarong blowup now. Indeed, China can say it's already punished the distressed asset manager. The scapegoat was executed in January: Huarong Chairman Lai Xiaomin, who was found guilty of "bribery, embezzlement and bigamy." Huarong continues to castigate Lai for "his aggressive operation and disorderly expansion [of the firm] during his tenure." It is fitting of a morality tale that a bigamist brought Huarong to the brink of insolvency. Blame has not fallen on its majority shareholder, the Ministry of Finance. 
Furthermore, while heralded as good news, the recapitalization plan is hardly a bailout for Huarong. It is poised to receive about 50 billion yuan of fresh capital, Bloomberg News reported. That's just half of the net loss Huarong incurred in 2020. And that loss is just one-fourth of the internally estimated total of about 400 billion yuan, a figure floated by REDD. Huarong has not given any details on the size of capital injections. 
In other words, this is not a bailout: It is a mere placeholder. It allows Huarong to sail through Xi's campaign period. His cabinet does not want to deal with this thorny issue now; the next one — freshly minted, younger and energetic —  can handle the heavy lifting. 
So what are the lessons learned? In the U.S., investors routinely discuss whether the White House has the will or mandate to pass big bills and to regulate big tech — and worry about what it all mean for markets. The same can be said for China. There's an ambitious politician in active campaign mode. Invest accordingly. 
This column does not necessarily reflect the opinion of the editorial board or Bloomberg LP and its owners.
Shuli Ren is a Bloomberg Opinion columnist covering Asian markets. She previously wrote on markets for Barron's, following a career as an investment banker, and is a CFA charterholder.