Bond Traders Are Falling for Treasuries Again
(Bloomberg Opinion) -- U.S. Treasuries aren't exactly an asset class that people should want to root for. Sure, there are any number of bond bulls who see ultra-low yields as a permanent fixture of a world beset by aging demographics and rapid technological change. But hoping for a strong and inclusive global economy, which I'd like to think most everyone wants to see, suggests a selloff in government-debt markets practically by definition.
Still, after the worst quarterly rout for the $21.4 trillion Treasury market since 1980, it's hard to resist getting at least somewhat excited about momentum swinging the other way. The question that seems to be on every trader's mind: Just how long can this possibly last? After all, the U.S. is still well on its way toward the strongest year of economic growth in decades.
And yet the benchmark 10-year yield fell to as low as 1.53% on Thursday, breaching its 50-day moving average for the first time in 2021 and returning to about the same level as a week earlier after a surprising and mysterious rally. Those gains were mostly chalked up to a combination of hedging flows caused by record-breaking bond sales from Bank of America Corp. and JPMorgan Chase & Co., signs of strong buying from Japanese investors and earnings that showed U.S. banks aren't making enough loans relative to deposits, which potentially creates demand for fixed-income assets as an alternative. NatWest Markets strategist Blake Gwinn dubbed it "the little rally that could."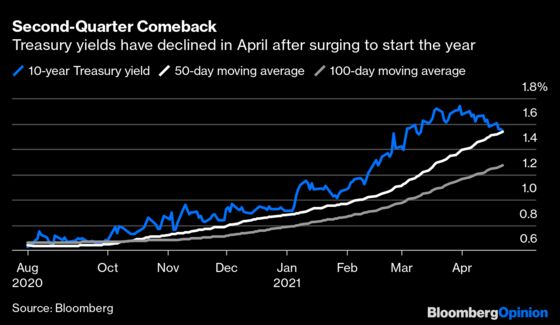 Now that banks are done issuing debt, and currency-hedged Treasury yields are off their highs, there's unease about what comes next. "We are at or near levels where we like to re-initiate shorts," NatWest strategists wrote heading into the week. "We are willing to try and squeeze a few more bps out, also allowing a little more time to see if this move has a bit more momentum." They recommended selling five-year notes at 0.75%, but the yield dipped only as low as 0.78% on Thursday before lurching higher.
Others aren't so sure the trend is fleeting. "An increase in Covid cases globally has left investors focused on the path of the pandemic in India, Brazil, and other parts of the world," Ian Lyngen at BMO Capital Markets noted on Thursday. "Unlike many sovereign rates markets, Treasury yields are far more directly influenced by global growth and inflation expectations as opposed to simply those for the U.S. specifically." Getting the 10-year yield back to 1.75%, roughly the intraday high from late March, appears less likely than a move toward 1.5%, he said.
Then there's Jim Vogel at FHN Financial, who has been tracking the amount of investor interest at given yield levels. He says it'll take another two weeks for 10-year note trading volume in the mid-1.5% range to surpass the total in the mid-1.6% range. If there's not enough demand at the lower rate, yields "should drift above 1.6% on a combination of lost momentum and boredom," he wrote. 
What should be clear is that bond traders desperately need something to shake up their conviction in either direction. The fact that technical forces have overwhelmed some of the most impressive economic data in recent memory supports the cliche that the "good news is already priced in." To wit, Citigroup Inc.'s U.S. Economic Surprise Index is close to the lowest since early June after edging up for most of the first three months of the year as bond yields increased. Still, the prospect of an economic recovery remains very much a matter of when, not if, so a few stronger- or weaker-than-expected reports here and there don't truly move the needle.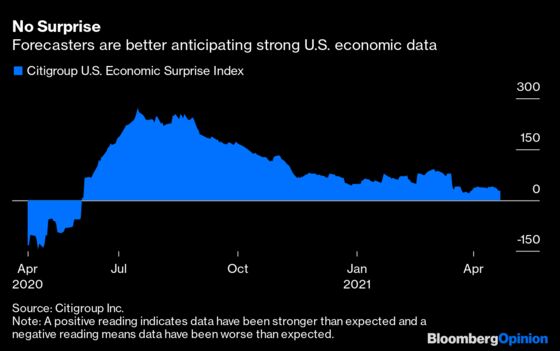 The Federal Reserve's decision next week probably won't provide much in the way of new information, either. However, the central bank's preferred inflation gauge, the core personal consumption expenditure index, comes out two days later, with the median estimate in a Bloomberg survey pointing to 1.8% annual growth. A notably higher or lower reading could provide a jolt, given that it has remained below 2% for much of the post-2008 period and policy makers appear determined to change that.
As for the Bloomberg News report on Thursday that President Joe Biden will propose raising the capital gains rate to 39.6% for those earning $1 million or more, up from the current base rate of 20%: Treasuries took it mostly in stride. Longer-term yields dropped by about two basis points in the immediate aftermath as stocks tumbled from near-record levels. But raising revenue like this was always part of the administration's plan. It's shouldn't come as a surprise that fiscal policy will be more restrained than it was during the heights of the coronavirus crisis.
Put together, Treasuries are at a crossroads. After Democrats won both U.S. Senate runoff elections in Georgia and 10-year yields broke through 1%, I wrote that bond traders still needed to determine whether more moderate party members would go along with a large fiscal stimulus plan (they did) and whether the U.S. could ramp up its vaccine rollout (it did). That rightfully pushed yields higher in a hurry. But I also noted that once the country was mostly through the pandemic, the administration might impose stricter regulations and higher taxes on wealthy Americans and corporations. Both are starting to happen, from the Securities and Exchange Commission's accounting crackdown on blank-check companies to the capital gains proposal.
All told, it's tempting to say Treasuries can't advance much more from here, choosing to believe that the coming recovery can justify a 10-year yield well above its current level, which pre-Covid would have been close to a record low. But "the little rally that could" just keeps chugging along.
This column does not necessarily reflect the opinion of the editorial board or Bloomberg LP and its owners.
Brian Chappatta is a Bloomberg Opinion columnist covering debt markets. He previously covered bonds for Bloomberg News. He is also a CFA charterholder.