How Left-for-Dead Hertz Bonds Returned 1,000%
(Bloomberg Opinion) -- About 11 months ago, it looked as if Hertz Global Holdings Inc. would join an infamous list of companies with bonds that never paid investors a penny in interest. Known colloquially as the "no-coupon-at-all" club, its potential induction reflected the simple fact that the rental-car giant borrowed in November 2019, just before the Covid-19 pandemic ravaged its business and forced it into bankruptcy in May 2020.
At the time, Hertz's prospects seemed bleak. Unlike the U.S. airline industry, there was no government bailout for the company or its competitors Avis Budget Group Inc. and Enterprise Holdings Inc. The pressing matter for health officials was encouraging practices to contain the virus's spread — the timeline for developing effective vaccines was anyone's guess. Hertz's bonds reflected this uncertainty, with securities due in 2022 and 2028 trading at an average of less than 10 cents on the dollar on May 4. It was a stunning collapse from when they exchanged hands at more than 100 cents just three months earlier.
Yet just as remarkably, those same bonds have made a complete round-trip. The very debt issued in November 2019 that was seen as perhaps never making an interest payment traded this week at 106 cents, the highest ever and twice the level where it started the year. Securities due in 18 months, previously assumed to repay pennies on the dollar at best, are now pricing in a full recovery and then some. Anyone who bought either obligation at the lows and held to today has earned a return of roughly 1,000%.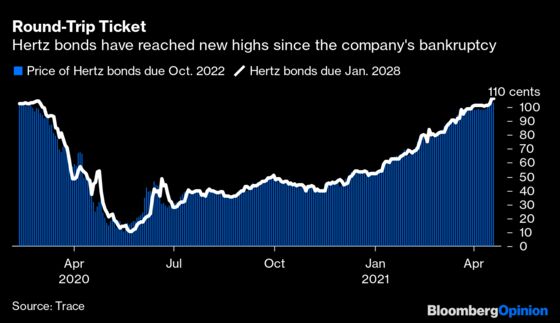 How did this happen? Even in a U.S. credit market with no shortage of examples of businesses that were propped up by the Federal Reserve's unprecedented foray into buying corporate securities, Hertz stands out as one of the biggest comeback stories.
Perhaps the most obvious difference between Hertz and other troubled brand-name companies is that it actually filed for Chapter 11 protection. Cruise lines like Carnival Corp., casinos like Golden Nugget, movie theaters like AMC Entertainment Holdings Inc. and theme parks like Six Flags Entertainment Corp. all struggled over the past year and didn't receive the type of governmental aid that airlines did. Yet they managed to get by without turning to the courts. Overall, 244 companies with liabilities of at least $50 million filed bankruptcy in 2020, the most since 2009, but they were concentrated in the retail, energy and health-care industries. Those businesses are less likely to see a quick and drastic turnaround as widespread vaccinations beat back the coronavirus.
Hertz, by contrast, said last week that it wants to race out of bankruptcy as soon as possible to seize on a boom in vacation rentals during the U.S. summer months, which certainly seems plausible given the pace of vaccinations nationwide. The prospect of a quick windfall has helped spur a bidding war among investors who have limited distressed opportunities. A group led by Knighthead Capital Management swooped in with a last-minute bid that values the company at $6.2 billion, or some $700 million more than a plan floated by investors including Centerbridge Partners. Knighthead and Certares Management raised a travel industry-focused fund over the past year that aims to ride a rebound in companies that were knocked down by the Covid-19 pandemic. 
Importantly for Hertz bondholders, the Knighthead offer would pay both senior lenders and unsecured bondholders in full, while unsecured debt would only recover 75% under the Centerbridge-led plan. Hertz is obligated to pick the plan that gives it the best chance at long-term success outside of Chapter 11 protection. There's even some indication that its shares won't end up worthless under whichever offer it selects. "We're trying to get to an approach where we can have our cake and eat it too," Tom Lauria, Hertz's lead bankruptcy attorney, said on Wednesday.
Of course, the Hertz comeback story won't be without its challenges. My Bloomberg Opinion colleague Conor Sen noted this week that because the rental-car industry had to liquidate hundreds of thousands of vehicles to stay afloat, it's now woefully undersupplied to meet pent-up demand. On top of that, companies are struggling to add vehicles to their fleets because of a semiconductor shortage. It was hard enough to get the right car months ago, even before vaccinations: I booked a rental in September during a weekend getaway to Martha's Vineyard, the Massachusetts island where smaller, more nimble rides are popular. I was saddled with a Chevy Tahoe, the only option available at the local Hertz.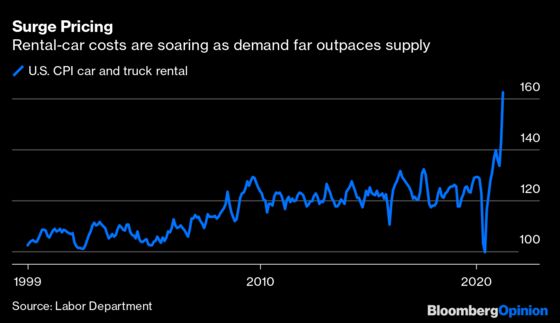 For bondholders, though, the prospect of Hertz customers dealing with unwieldy vehicles was the least of their worries around this time a year ago, when, as my Bloomberg Opinion colleague Matt Levine has put it, the company faced a margin call on its cars from asset-backed securities investors. According to data compiled by Bloomberg, some large investors like Allianz SE effectively rode out the round-trip move in price while others such as Canso Investment Counsel and Lord Abbett & Co. increased their stakes in the second half of 2020 when the value was still depressed.
It looks like that decision will pay off in a big way. Consumer price index data shows that the cost of used cars and trucks has surged by about 60% since May, when Hertz bonds traded at less than 10 cents, setting the company up to rake in the reopening cash. It's just one more indication that the Covid-19 crisis was unlike any other downturn in history. 
This column does not necessarily reflect the opinion of the editorial board or Bloomberg LP and its owners.
Brian Chappatta is a Bloomberg Opinion columnist covering debt markets. He previously covered bonds for Bloomberg News. He is also a CFA charterholder.