Hong Kong Needs More Unicorns So It Has to Join the SPAC Race
(Bloomberg Opinion) -- New York is the place where more startups — from EV battery makers to flying cars — have gone public by way of the boom in SPACs, or special purpose acquisition companies. Once listed, SPACs are on the lookout to place their vast sums in promising enterprises (which then don't have to go through the complex initial public offering process). At the current rate, the world's new generation of unicorns will all be listed in New York via SPACs. The city is once again the IPO center of the world.  
This gush of funding is putting pressure on rival stock exchanges from London and Singapore to Hong Kong to rewrite their listing rules to attract the so-called "blank check" companies. London's tough regulations, for example, may allow Amsterdam to become Europe's SPAC center, according to my colleague Chris Hughes. Already there are plans to make Britain more competitive. Here in Hong Kong, the question is: should the markets jump into the SPAC race?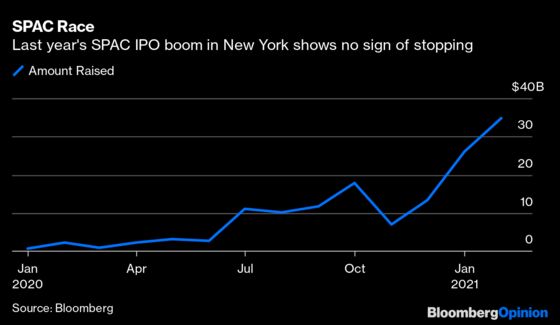 Scratch the surface, however, and Hong Kong's IPO market is far from healthy. Looking to gain from the big first-day pop that usually accompanies IPOs, the city's retail investors have been fanatically chasing just a handful of unicorns. Meanwhile, banks are profiting from IPO margin financing, earning millions in brokerage fees as the city is drained of cash in circulation.
The retail frenzy is almost comical. In early February, when Kuaishou Technology Co. Ltd., a video-sharing platform that competes with TikTok's owner ByteDance Ltd., was raising money, retail investors were so keen on the company they put in almost HK$1.3 trillion, more than double the city's cash in circulation, to apply for its shares. An average investor would have had to cough up HK$5 million in application — most of which is borrowed from brokers — to get only 100 shares that cost HK$115 each at Kuaishou's IPO price.
Two weeks later, the frenzy was repeated with the listing of New Horizon Health Ltd., a Chinese cancer screening biotech. For its HK$2 billion IPO, the company received HK$844 billion orders from retail investors, prompting the exchange to investigate if some  violated rules by placing multiple subscriptions to improve their odds of getting the shares. It was the third-biggest debut in terms of number of investors on record after Kuaishou and Yidu Tech Ltd., which went public late January. In each of these three, more than 1 million people in a city of 7.5 million played on the IPO slot machine.
A SPAC IPO would not have the problem of huge mobs fighting for a few companies. That's because it's structured so a big first-day pop is extremely unlikely. In the U.S., a blank check company typically lists at $10 a share and the stock does not move much till a target is identified, a process that can take up to two years. A case in point: this year, SPACs on average are rising just over 6% on their first day of trading, up from last year's 1.6%, despite strong retail buying. That's nothing compared to Kuaishou and New Horizon's 161% and 215% first-day surges.
To its credit, in the last three years, the Hong Kong bourse has become friendlier to IPOs. It tweaked its listing rules to accommodate loss-making unicorns. As it stands today, a start-up with as little as HK$500 million annual revenue can list; profitability is no longer a requirement. Coupled with sweeping index overhauls, the city's benchmark Hang Seng Index now has increased weightings in New Economy stocks. 
But is it friendly enough? One may argue Hong Kong has ridiculous first-day pops because unicorns are not coming to market with sufficient speed. When the few good deals do appear, everyone and their money rushes to invest in them.
Last year, an average SPAC in New York raised more than $300 million before it found an enterprise worth merging with. There are hundreds of blank check companies in New York; with each one looking at companies worth three- to five-times the amount of their capital raise, they only have unicorns in their sights. If Hong Kong does not act soon, there will be few unicorns left to list on its bourse.
By allowing SPACs, the Hong Kong bourse can appease hedge funds dismayed by the city's recent decision to raise the stamp duty tax on market transactions. SPACs are a lucrative playing field for hedge funds, as my Opinion colleague Chris Bryant brilliantly depicted in a trade anatomy chart.
I get it. Hong Kong is a conservative place. Asking the bourse to forego profitability listings requirements is a radical move. Plus, it's almost inevitable that some SPAC, at one point or another, will blow up. Exchange executives may not want to deal with public outcries in a city with a history of protests when retail products turn sour.   
With all the retail IPO frenzy, and the deep disappointment the city's professional traders feel about the stamp duty, it's time for the exchange to be bold and give the financial center a fresh injection of energy — and cash.  
This column does not necessarily reflect the opinion of the editorial board or Bloomberg LP and its owners.
Shuli Ren is a Bloomberg Opinion columnist covering Asian markets. She previously wrote on markets for Barron's, following a career as an investment banker, and is a CFA charterholder.