Home Depot or Macy's, Investors Aren't Happy
(Bloomberg Opinion) -- Home Depot Inc. and Macy's Inc. can be thought of as the polar opposites of pandemic retailing: The home-improvement giant has been a chief beneficiary of the boom in purchases to make stay-at-home living comfortable, while the department store chain has been pummeled by a dearth of demand for new clothes. Though the pandemic has affected them in opposite ways, each issued guidance on Tuesday that offered a similar expectation for the year ahead: Don't expect shopping to return to pre-pandemic patterns anytime soon.  
Home Depot Inc. reported a blockbuster 25% quarterly comparable sales increase from a year earlier, reflecting strong gains in both transactions and spending per transaction as people continued to build out home offices, spiff up yards and embark on other renovations. But when it comes to the year ahead, the big-box store declined to offer specific 2021 guidance because of uncertainty surrounding the pandemic, giving just a directional hint that annual comparable sales would be flat to slightly up from 2020. This seemed to spook investors, and shares fell in early trading.
Let's put in context exactly what that guidance implies, though. In 2020, Home Depot had $22 billion in sales gains. That is roughly the equivalent of adding an entire Starbucks Corp. (2020 revenue of $23.5 billion) worth of revenue in a single year. It's truly extraordinary. The fact that Home Depot doesn't expect that to drift down significantly, but to hold steady at 2020 levels, suggests that it does not expect consumers to quickly shift their spending back to experiences even as vaccines are distributed more widely. Instead, it seems to be banking on elevated interest in nesting-related projects for some time to come.
Macy's Inc., meanwhile, announced a 17% decrease in comparable sales in the quarter. That is clearly a bleak result, but it is better than what analysts had expected. E-commerce was an important pillar of the business, growing 21% from a year earlier and making up 44% of net sales. The company said it expects sales in 2021 to be between $19.75 billion and $20.75 billion. Even at the low point of the guidance, that would be a significant increase over 2020's sales of $17.3 billion. But the high point of the guidance implies annual sales will still be 15% lower than they were 2019.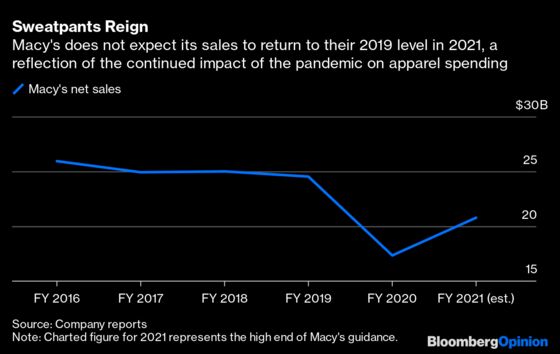 Some of Macy's sales categories have held up reasonably well during the pandemic, including home goods, which the retailer cited as one of its better-performing areas in the fourth quarter. But much of its business – dresses, suits, workwear – are categories that have been particularly hard hit by social-distancing practices; Macy's outlook hints that it does not expect a quick return to spending in those areas.
Macy's also faces pressures that run deeper than the demand issue. As consumers aimed to consolidate their spending into fewer trips for safety reasons, many of them have turned to general merchants such as Target Corp. The retailer said in November that it had gained $6 billion in market share year to date across a broad range of categories, including clothing. I expect some one-time Macy's shoppers that tried replenishing their closet at the big-box giant —  or at certain e-commerce stores — during the pandemic are never going to revert to their old ways. And Macy's was already having trouble luring young customers before the public health crisis. In other words, Macy's isn't just in for a difficult 2021 because the outlook for apparel is tepid, it also faces the prospect of further hits to market share.  
It's the opposite story at Home Depot. Not only is the retailer in a hot category, it appears to be outgunning its competitors. In the November-through-January period, the Commerce Department reported sales at building materials stores climbed 18% from a year earlier, meaning Home Depot's 25% sales growth for the quarter was faster than that of its category overall.
It was nearly a year ago that the pandemic arrived and rocked retailers with an abrupt shock in demand. However suddenly consumers may have adopted new habits, though, they will not be so quick to give them up. 
This column does not necessarily reflect the opinion of the editorial board or Bloomberg LP and its owners.
Sarah Halzack is a Bloomberg Opinion columnist covering the consumer and retail industries. She was previously a national retail reporter for the Washington Post.