Here's How Brits Can Visit Spain, Italy and Greece This Summer
(Bloomberg Opinion) -- Britain's guidance on where Brits can go on holiday is about as clear as a pair of sunglasses smudged with sunscreen.
This is creating headaches for everyone: people trying to plan vacations; countries like Spain and Greece that depend on summer tourists; and travel companies such as EasyJet Plc, Ryanair Holdings Plc and TUI Plc. Johan Lundgren, chief executive officer of EasyJet, the U.K.'s biggest airline, called England's traffic-light travel system "very confusing."
In contrast, the European Union seems to have found a way forward. Brussels has approved the use of certificates showing that a visitor has either been vaccinated, received a negative test or has immunity based on antibodies. That could open up quarantine-free mass tourism within the bloc.
This should be a template for the U.K. The country already has a readymade mechanism to demonstrate Covid-19 status in the form of the National Health Service app. If Europe is willing to accept this as proof alongside its own travel pass, then more Brits could enjoy a summer of sun, sand and sangria. 
To recap: Earlier this month, the U.K. government opened up international travel for people in England, with a traffic-light system meant to reflect countries' varying degrees of risk. But only a small number of destinations, including Portugal, were listed as "green," meaning travelers wouldn't need to quarantine upon their return to the U.K. Most countries were classified as "amber," which requires travelers to quarantine for at least five days upon their return and take (and pay for) a series of tests.
The rules around amber-listed countries, including Spain, Greece and Italy, are causing most of the confusion.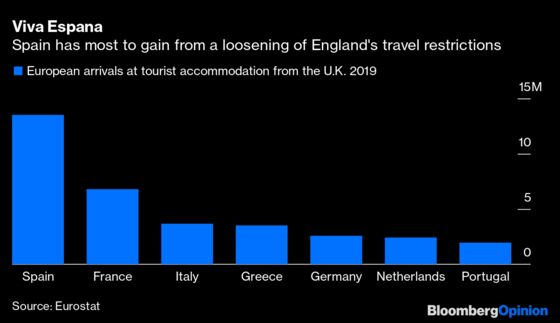 When the system was first announced, it was generally interpreted as allowing travel to these countries — with conditions. TUI even started offering subsidized tests to help tourists manage the costs of booking a vacation in an amber location. 
But U.K. Prime Minister Boris Johnson last week warned Brits that they shouldn't be holidaying in these countries. Complicating the situation is Britain's foreign ministry, which advises against traveling to some places on the amber list, such as mainland Greece, Spain (including the Balearic Islands) and Italy, but is fine about visiting others, such as the Greek Islands of Rhodes, Kos, Zakynthos, Corfu and Crete. Spain's Canary Islands are okay, too.
Given that the variant first detected in India is spreading in the U.K., the hesitancy around travel is understandable. But the U.K. has the means to make things a lot less complicated.
The country has been quietly readying its NHS app to act as a vaccination passport. It is already used to view medical records, make appointments and request repeat prescriptions. Now it contains a new section with information about Covid vaccination status. In the future it will also show coronavirus test results. Recent research has shown that people who've had two shots of the Pfizer or AstraZeneca vaccines are protected against the new variants, so why not open things up more to the vaccinated?
Unfortunately there are two things that could get in the way of using the NHS app as the solution. The first is that while it might act as a passport for Brits looking to travel abroad, the British government would still need to expand its green list of countries to make sure these same travelers weren't subject to the expensive nightmare of quarantine on their return to the U.K. The government is supposed to review the classifications in early June. Last week Transport Secretary Grant Schapps urged people to be "patient," indicating that the list could soon be extended.
The second difficulty is whether European countries recognize the certification on the NHS app. Spain on Monday began welcoming travelers from countries with low virus cases such as the U.K. without restrictions. Greece is already open to those with proof of vaccination or negative tests from countries including Britain. But Germany on Saturday declared the U.K. a "virus variant region," meaning anyone arriving from Britain must quarantine for 14 days.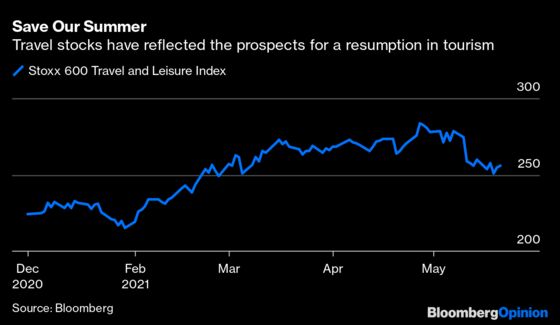 If these hurdles can be overcome, stress-free travel to the Mediterranean would be a real possibility, just as the summer starts heating up. If not, the off-putting patchwork of conflicting advice will keep Brits home.
This column does not necessarily reflect the opinion of the editorial board or Bloomberg LP and its owners.
Andrea Felsted is a Bloomberg Opinion columnist covering the consumer and retail industries. She previously worked at the Financial Times.