Hedge Funds Should Be Living Their Best Lives
(Bloomberg Opinion) -- The implicit contract hedge funds offer their investors can be summarized like this: We will overcharge you for managing your money, but the more volatile markets become, the higher the returns we will generate for you. If that's still true – and recent years have undermined the alpha-generating claims of the priciest end of the fund-management spectrum – hedge funds should be able to close out the year with spectacular gains.
Worries about whether the omicron variant will worsen the pandemic, central bank incoherence about how sticky inflation might be, and a squeeze in global energy markets have sent volatility soaring in several markets. That should provide the perfect environment for hedge fund traders to prove their mettle.
Bond markets have borne the brunt of the increase in price swings. With annual consumer prices climbing by 6.2% in the U.S. and a record 4.9% in the euro zone, the fixed-income space has become much less placid in recent months, as Bank of America Corp.'s MOVE index of Treasury market volatility shows.
Currency markets have also heated up as traders weigh the likely responses of central bankers to recent inflation spikes. The Federal Reserve, the European Central Bank and the Bank of England have all struggled to deliver intelligible forward guidance about their policy intentions — or even signpost the likely direction of travel of growth and inflation. Foreign-exchange markets have been whipsawed by often contradictory messaging, driving volatility to its highest since March.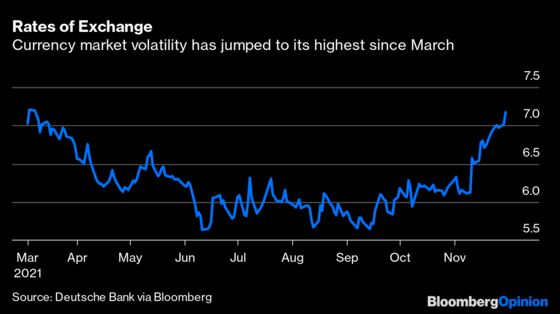 In equities, supply-chain disruptions combined with the prospect of further economic shutdowns to combat the pandemic have driven price-swing indexes higher in both the U.S. and Europe.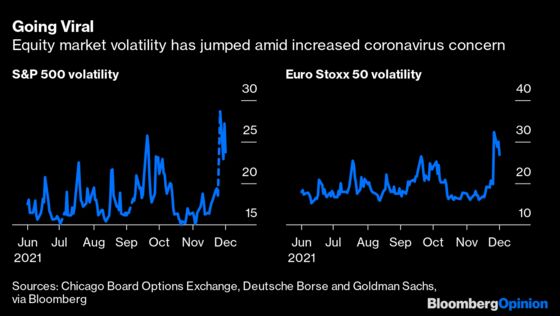 An energy-supply tussle has roiled oil markets. With the U.S. deciding to tap its strategic reserves, triggering a spat with the Organization of Petroleum Exporting Countries, volatility of crude prices has soared to its highest level since May 2020.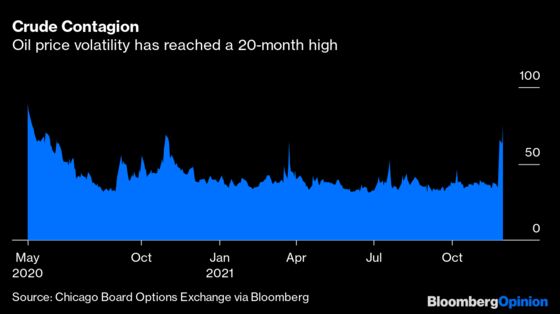 This year's 60% increase in the share price of Man Group Plc, the world's biggest publicly traded hedge fund, is testament to the recovery of investor sentiment toward racier asset managers. On average, the industry's returns were about 1.7% in October, boosting year-to-date performance to more than 10.5%. That's put hedge funds on track for their best year since Bloomberg started collating data in 2013.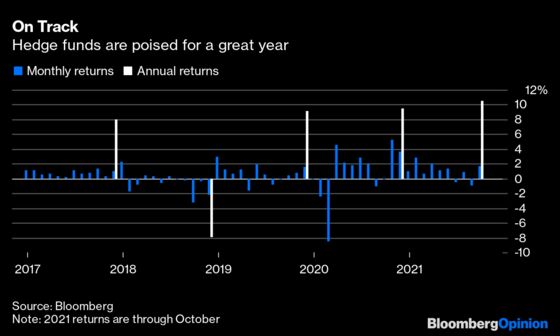 November's market gyrations should have given traders sufficient elbow room to beat their collective October performance, and — by the time we find out — at least close the gap with the 20% investors could have earned so far this year from a cheap S&P 500 index tracker. Hedge funds still have a way to go before they can truly be said to have recovered their swagger.
This column does not necessarily reflect the opinion of the editorial board or Bloomberg LP and its owners.
Mark Gilbert is a Bloomberg Opinion columnist covering asset management. He previously was the London bureau chief for Bloomberg News. He is also the author of "Complicit: How Greed and Collusion Made the Credit Crisis Unstoppable."