Hedge Funds Are Thriving Amid Inflation-Wary Markets
(Bloomberg Opinion) -- As concern about inflation and supply chains roiled stock and bond markets last month, hedge funds made good on their expensive promise to limit losses by shorting securities. But damage limitation is no substitute for genuine alpha generation.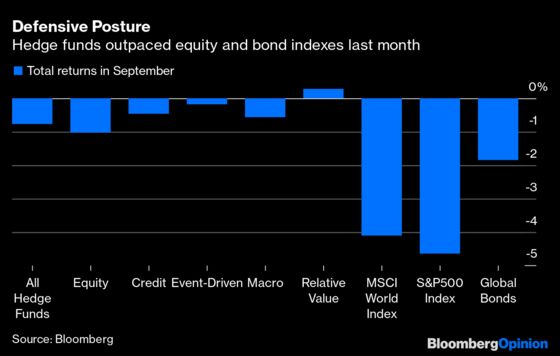 So far this year, hedge funds have increased their assets under management by $370 billion, according to figures compiled by Hedge Fund Research. The total climbed to a record at the end of September and is just a whisker away from reaching $4 trillion for the first time.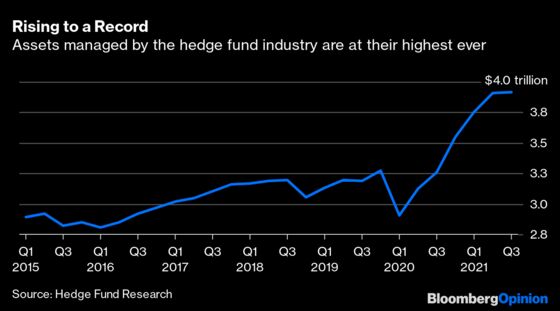 The hedge fund industry has bounced back sharply after assets dipped below $3 trillion in the first quarter of 2020. But the rebound in the value of securities owned, after the outbreak of the pandemic trashed stock markets, has contributed most of the growth. Hedge Fund Research estimates that net inflows in the past year contributed just $40 billion to that asset expansion.
Improved performance is the key to hedge funds winning back investor confidence, and on that measure the industry is stumbling. While this year's average returns through the end of September of 8.91% have extended the winning streak to three years, that's still less than an investor could have made by buying an index fund tracking either the 15.9% gain for the S&P 500 index or the 13.4% delivered by the MSCI World Index.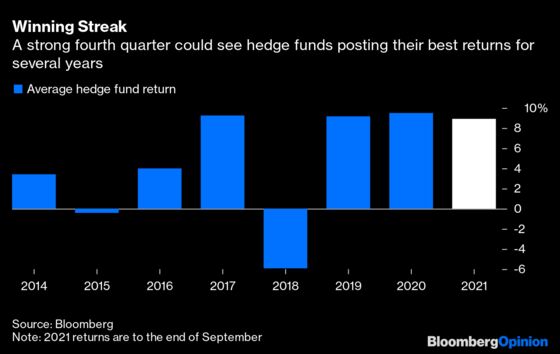 There's one strategy, though, that investors could have followed to handily outpace those benchmark equity indexes. Buying shares of Man Group Plc, the world's biggest publicly traded hedge fund, would have generated market-beating alpha of more than 65%.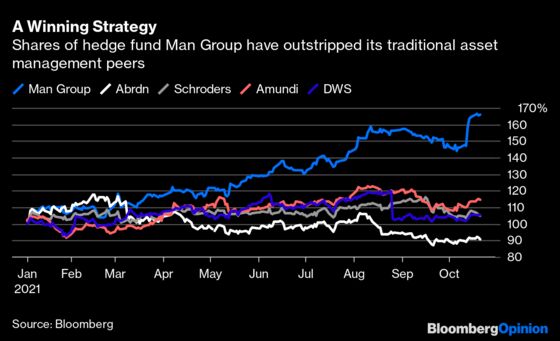 So hedge funds are back, baby. But they'll need to do more than just lose less than benchmark indexes if they're to justify the high fees they charge and recapture the imagination (and cash) of investors.
This column does not necessarily reflect the opinion of the editorial board or Bloomberg LP and its owners.
Mark Gilbert is a Bloomberg Opinion columnist covering asset management. He previously was the London bureau chief for Bloomberg News. He is also the author of "Complicit: How Greed and Collusion Made the Credit Crisis Unstoppable."