In Germany, A Hedge Fund Stands Up for Shareholder Rights
(Bloomberg Opinion) -- The shareholder activist's art is to combine financial self-interest with the moral high ground. Take the recent attack by Davidson Kempner European Partners LLP on German landlord Deutsche Wohnen SE. This is surely an attempt to get better terms from Vonovia SE in its 19 billion-euro ($22 billion) bid for its peer. But the hedge fund is also defending an important point of principle.
Davidson Kempner is angry that Deutsche Wohnen agreed to sell shares to Vonovia in two takeover bids for the firm this year. The criticism is justified. The moves could have helped Vonovia gain control even if a majority of Deutsche Wohnen shareholders opposed it. Deciding whether to accept a bid should be for shareholders alone.
In the first deal in May, Deutsche Wohnen agreed to sell its suitor a 3.5% stake for around 660 million euros if the takeover didn't get majority shareholder support, as indeed happened. That was a mutually convenient break fee: Deutsche Wohnen made a gain offloading some of its so-called treasury shares while Vonovia got a toehold in its target.
A second bid attempt in August saw Deutsche Wohnen agree to sell Vonovia a further 6% stake — almost entirely in newly created stock. This time, the idea was blatantly to help the suitor secure at least 50% of the company. As it happens, Vonovia has got to this level anyway and won't need to exercise the option. But the principle against making such a pact in the first place still stands.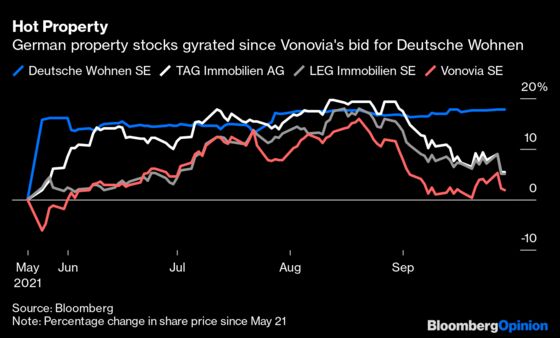 The backdrop to this shareholder fight is Germany's tough mergers and acquisitions regulations, which can incentivize dealmakers to find creative ways to get takeovers over the line.
The central issue is that the path to gaining full control of an acquired company is difficult. To direct the target's strategy and access its cashflow, a bidder needs to be able to pass a resolution with 75% backing at a shareholder meeting for a so-called domination agreement. At the same time, it must agree to pay the remaining shareholders a decent dividend and set a price to buy them out in the future. This system creates the opportunity for big payouts to minority investors.
As a result, hedge funds take positions in bid targets to benefit from this scenario. Perversely, that also means they refrain from accepting the takeover offer — or tender only some of their shares — so that they remain a minority shareholder. But if everyone thinks the same way, the deal fails and the whole process has to start all over again, invariably with a sweetened price.
The challenges have intensified, as gaming German takeovers has gone from being a niche hedge-fund strategy to a crowded trade. Hence bidders and their targets are straining harder to get deals done. Vonovia sought to deter hedge-fund speculation by saying it wouldn't seek a domination agreement at Deutsche Wohnen for three years. Later it said it didn't mind what level of shareholder acceptances it got.
Still, the firms' share-sale agreements went a step too far. Davidson Kempner argues that Deutsche Wohnen's bosses had a conflict of interest as they will get board roles in the enlarged Vonovia. That's more than commonplace in takeovers and independent directors serve as a governance check. All the same, it reinforces the bad look of a target assisting a buyer.
It's not clear precisely what Davidson Kempner, with a 3% holding in Deutsche Wohnen, will gain from the situation. The takeover was met with political backing initially, but Berliners recently voted for expropriation of landlords' residential property in a non-binding referendum. This will scarcely help the property firm's shares break their apparent anchor to the 53 euros bid price. Whatever the hedge fund walks away with, its stance for shareholder rights should deter future dealmakers from interfering in decisions best left to investors.
This column does not necessarily reflect the opinion of the editorial board or Bloomberg LP and its owners.
Chris Hughes is a Bloomberg Opinion columnist covering deals. He previously worked for Reuters Breakingviews, as well as the Financial Times and the Independent newspaper.