Greece Provides One Ray of Sunshine for Europe
(Bloomberg Opinion) -- Amid the rolling headlines of further lockdowns and a stumbling vaccination program, it's easy to be pessimistic about Europe turning a corner in this pandemic. But from a markets perspective at least there are some shards of light cutting through the gloom.
Greece has been having a hard time of it lately in terms of battling the coronavirus, with its hospitals under strain and its lockdown measures prompting violent anti-government protests. Despite all of this, international investors are taking an increasingly favorable view of the country that was hit hardest by the euro crisis a decade ago.
Athens managed to complete a 30-year bond issue this week, a milestone achievement in its market rehabilitation. Nothing quite says you have full access to financial markets like issuing long-dated debt. With an order book 10 times the 2.5 billion euros ($3 billion) issue size, there is widespread demand for what's still the euro zone's highest-yielding sovereign — even though the less than 2% yield on the 30-year bond is a world away from what Greece used to have to offer investors.
The recent global jump in sovereign bond yields, sparked by U.S. Treasuries, had alarmed the European Central Bank and the continent's political leaders, who need to keep borrowing costs low as Europe struggles to emerge from the pandemic. The Greek success will go a way toward calming those fears.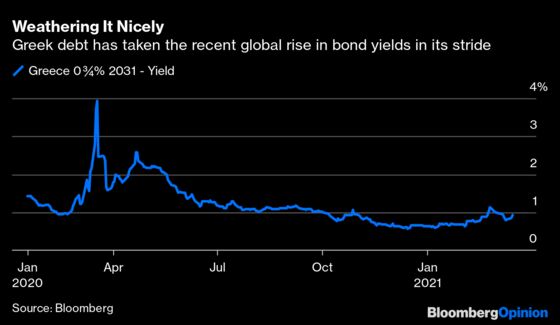 It helps that Greece is now eligible for the both the ECB's pandemic bond-buying program and its repurchase scheme. This increases liquidity and underpins demand. The central bank could end up buying half of the 30-year issue in the secondary market.
There are also signs that the Greek banking industry may be emerging slowly from intensive care, after being bailed out by the European Stability Mechanism. Piraeus Bank, one of the bigger Greek lenders, reported decent results on Tuesday and it's preparing to sell up to 1 billion euros of shares next month as part of a 2.6 billion-euro capital raising. This includes a synthetic securitization of its small- to medium-sized company loan book — a first for a Greek bank.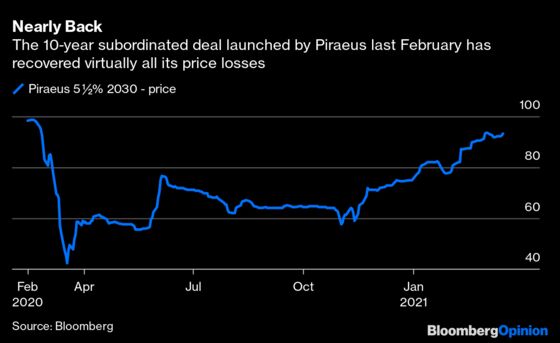 There are promising signs for those needing to raise funds elsewhere in the EU, too. Latvia issued a 10-year deal this week with a 0% coupon (because of a lower issue price it yields 10 basis points). France sold 7 billion euros of 23-year maturity green government debt with ease, illustrating the appetite for climate change-related debt.
The European Union also just enjoyed 86 billion euros of demand for its 15-year SURE job-support bond. That's a handy indication of support because the European Commission will probably start issuing debt for its 750 billion-euro pandemic recovery fund in June, according to Bank of America analysts.
Investors will want to see these monies put to good use as soon as possible to foster a sustainable revival of the bloc's economic fortunes. In the meantime there are signs that the ECB's renewed commitment to its pandemic support program is having the desired effect. Now the EU just needs to get more vaccines done.
This column does not necessarily reflect the opinion of the editorial board or Bloomberg LP and its owners.
Marcus Ashworth is a Bloomberg Opinion columnist covering European markets. He spent three decades in the banking industry, most recently as chief markets strategist at Haitong Securities in London.