Grab's SPAC-to-Riches Plan Creates $40 Billion Super-App
(Bloomberg Opinion) -- U.S. investors may call it the "Uber of Southeast Asia," but the world's largest SPAC merger is about much more than just hailing cabs in Singapore. The soon-to-come Nasdaq listing of Grab Holdings Inc. is America's introduction to super-apps and the sell-you-everything mind-set of Asia's tech giants. Think of them more like real estate companies, only the territory they're battling over is the first page of your smartphone screen. 
Singapore-based Grab is merging with the special purpose acquisition company of Brad Gerstner's Altimeter Capital Management, leaving the Southeast Asian unicorn valued at nearly $40 billion and the first to go public through the SPAC boom. About $4 billion is being raised from investors including top U.S. firms BlackRock Inc., Fidelity International and T. Rowe Price Group Inc.
As the U.S. SPAC frenzy draws scrutiny from regulators, it's creating some apprehension among investors. Charlie Munger, Warren Buffett's business partner, said of SPACs in February: "The investment banking profession will sell s--t as long as s--t can be sold." These types of deals generally involve blank-check companies with no existing operations going public and then using the money raised to find acquisition targets in a reverse merger of sorts. For the target, it's a way to fast-track an initial public offering of a not-yet-profitable business.
Grab as a whole doesn't make money yet — it lost $800 million on an Ebitda basis last year, according to an investor presentation. However, its transport line of business began turning an Ebitda profit in late 2019. The SoftBank Group Corp.-backed company projects adjusted net revenue will nearly triple to $4.5 billion in 2023, by which point it may generate $500 million of Ebitda.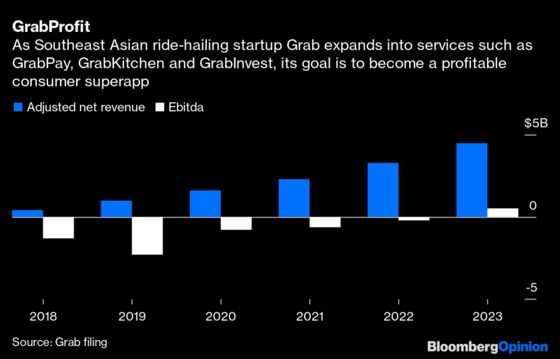 Grab held merger talks with a local rival, Indonesia's Gojek, last year, though the SPAC would seem to be offering a far better deal. It puts Grab on the map quite literally, giving it exposure to U.S. investors enticed by the growth opportunities on the other side of the world — and beyond ride-hailing. The easiest way to describe Grab to a U.S. audience is that it's like Uber, Uber Eats and Apple Pay all in one. There's GrabCar, GrabBike, GrabPay, and in the last two years the company added GrabFood, GrabKitchen, GrabInsure, GrabInvest and more, with financial services gaining emphasis. As Bloomberg Opinion's Tim Culpan has written, ride-hailing is a way to get consumers acquainted with and reliant on the brand, building trust and then offering other potentially more lucrative conveniences.
This slide in Grab's investor presentation shows the extent of the company's ambitions — to be the app a consumer defaults to at each point in the day: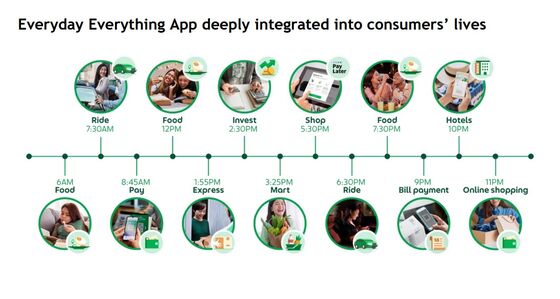 Fascinating? Yes. Slightly creepy? Also yes. But super-apps, which are gaining traction in Asia, are still a foreign concept to U.S. investors and consumers. Amazon.com Inc. and its ilk may aspire to be one, but none has branched out that broadly, and the antitrust heat they now face won't permit it anyhow. Uber Technologies Inc. is valued at $113 billion less than two years after its own IPO, but whether it's transporting people or takeout food, it's still primarily a ride-hailing service.
Soon, the Uber of Southeast Asia will be a U.S.-listed company, but Grab's bigger ambitions are why investors may want to hitch a ride. 
This column does not necessarily reflect the opinion of the editorial board or Bloomberg LP and its owners.
Tara Lachapelle is a Bloomberg Opinion columnist covering the business of entertainment and telecommunications, as well as broader deals. She previously wrote an M&A column for Bloomberg News.