The World's Biggest Luxury Group Looks Ready for a Great Year
(Bloomberg Opinion) -- Some good news for the luxury industry: There's no sign of all that revenge spending running out of steam.
Despite pandemic restrictions still gripping many parts of the world, LVMH Moet Hennessy Louis Vuitton SE reported remarkable performance late Tuesday. The world's biggest luxury goods group said sales rose 32% in the three months to March 31, compared with 2020. It's a signal that demand for monogrammed accessories and designer sneakers, which proved resilient during the pandemic, is holding up, even when wealthy consumers have more choice about where to spend their money. 
This quarter's results were always going to look impressive, especially on a year-over-year basis, given the disruption from the outbreak of Covid a year ago and the inclusion of Tiffany's sales starting in early January. But the company has even surpassed performance seen in the first quarter of 2019 — long before the pandemic. Organic sales, which exclude currency movements and acquisitions, were up 8%, and fashion and leather goods expanded by 37%.
LVMH's growth has continued to be driven by China, where consumers are spending more at home instead of abroad. But the U.S. was also a significant contributor, with shoppers benefiting from the latest round of Covid stimulus checks.
Once again it was the mega-brands — Louis Vuitton and Christian Dior — that led the way. But even stragglers like Marc Jacobs got a boost from U.S. online shopping.
The sustained level of demand bodes well for the other leading high-end names, such as Kering SA's Gucci and Cie Financiere Richemont's Cartier, as well as those that were struggling before the pandemic. Burberry Group Plc, which is in the midst of a turnaround plan, last month said profits would be ahead of expectations after stronger sales in its fourth quarter to the end of March. It's little wonder, then, that luxury shares, and LVMH's in particular, have increased since the start of this year.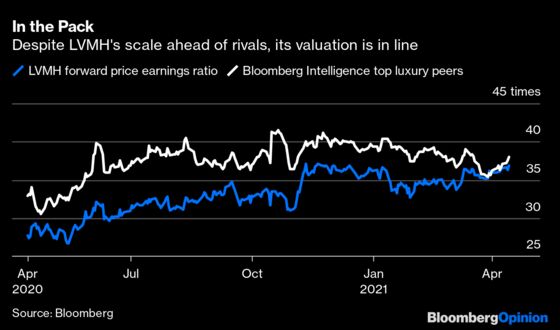 And yet, there are challenges ahead. People were able to save money from not traveling and eating out, and they funneled that extra cash into buying handbags and watches. As vaccine programs increase and markets such as the U.S. open up again, shoppers will finally be able to spend elsewhere. But this may be more of an issue in 2022, if the recovery in international travel, which is probably the biggest competitor to high-end spending, continues to be slow. 
The major houses appear poised to tackle whatever lies ahead. Even as consumers start spending on other things, Louis Vuitton and Christian Dior should still be able to capture sales from the army of new fans they amassed over the last year. And LVMH will also have the benefit of now owning Tiffany. Giving the jeweler some true sparkle will take years, not quarters, the French group said. But, if it is as successful as the company's rejuvenation of Bulgari, that should mean promising improvements ahead.
The focus on Tiffany could be good news for rival Kering too. LVMH said it was devoting all its resources to integrating the jeweler rather than looking for other deals. That leaves some room for Kering, which has reportedly been eyeing an approach for Cartier-owner Richemont. 
Even without any M&A fireworks, this year could be another vintage one for the bling behemoths. 
This column does not necessarily reflect the opinion of the editorial board or Bloomberg LP and its owners.
Andrea Felsted is a Bloomberg Opinion columnist covering the consumer and retail industries. She previously worked at the Financial Times.