Gap's Failed Fixer Is Trying His Hand at SPACs. Now?
(Bloomberg Opinion) -- Another day, another SPAC – this time, for cutting-edge apparel and other consumer goods. 
Good Commerce Acquisition Corp. filed for a $200 million initial public offering this week, saying in a regulatory filing that it will seek targets in the clothing and accessories business as well as brands in the outdoor, wellness and home categories. The blank-check company is led by Art Peck, who served as CEO of Gap Inc. for several years before exiting in 2019 amid sagging sales. 
Peck and his team are correct that there are growth opportunities for startups in those segments of retail. Many mall-based incumbents have gone out of business or are in retreat, leaving ample openings for newcomers. The pandemic only intensified a long-term cultural shift toward healthy living, which will benefit some of the types of consumer brands they are eyeing. That said, I'm not sure why investors would choose this SPAC as their bet on the changing retail landscape.
The prospectus says Good Commerce's objective is "to create a next-generation consumer holding company." But Peck already had a chance to do exactly that when he took the reins at Gap, and he failed.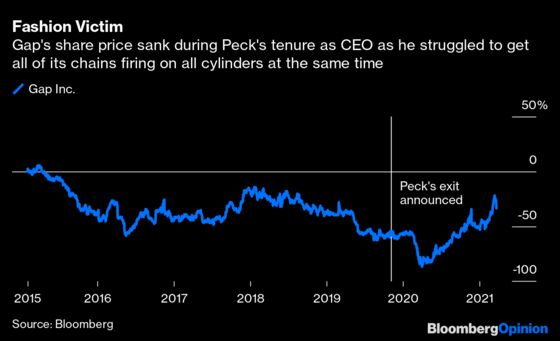 How does that track record build a case for Peck as an adroit curator and steward of a new portfolio of brands? The filing points to his track record with Athleta, the women's exercise-attire business that he identified for Gap to acquire and that grew into a major growth pillar on his watch. Fair enough, but Peck also launched an ill-fated men's athletic brand, Hill City, in 2018, that has already been shuttered.
Even if you don't view Peck's run at Gap as negatively as I do, there are other reasons to have reservations about the SPAC. Peck's collaborators, Gary Wassner and Abinta Malik, have resumes that show deep familiarity with fashion and apparel. But this holding company aims to cast a wider net than that, branching into turf such as home and health products. Plus, venture capitalists remain quite upbeat about the consumer sector despite the chaos inflicted by the pandemic, so the SPAC will be courting entrepreneurs with crowded dance cards. 
Good Commerce's IPO filing is packed with all the obligatory retail buzzwords: The company is looking for acquisition targets that have a "data-driven approach," are a "beneficiary of digital/technological disruption" and have the potential to become an "enduring, lifestyle brand." But those descriptors have become so boilerplate that they don't do anything to reveal whether this management team has a truly unique insight into what kinds of consumer businesses are going to thrive long term. 
My colleague Chris Bryant wrote earlier this month that "the SPAC party is over" as investors get squeamish about speculative stocks. Bloomberg News reported Thursday that major banks are expecting inquiries from regulators about blank-check companies, potentially adding to the perception that SPAC-mania is running a bit too wild. It seems strangely fitting, then, that now is when Peck has shown up: Just as he missed trends while running Gap, he may have missed the zenith of this one.
This column does not necessarily reflect the opinion of the editorial board or Bloomberg LP and its owners.
Sarah Halzack is a Bloomberg Opinion columnist covering the consumer and retail industries. She was previously a national retail reporter for the Washington Post.