Goldman Sachs Needs This IPO to Go Extremely Well
(Bloomberg Opinion) -- Goldman Sachs Group Inc. doubtless wants every initial public offering it's involved in to go well. But the U.S. investment bank has a lot riding on one in particular: the potential London listing of Petershill Partners. This vehicle for owning stakes in private-equity firms could be a hot property. Even so, Goldman would be ill-advised to push IPO investors to the limit of what they're willing to pay.
Petershill will comprise holdings in alternative asset managers previously housed inside funds run by the bank's subsidiary, Goldman Sachs Asset Management. A listing will turn this assortment into publicly traded shares that can be monetized more easily. The individual portfolio firms may be too small to go public themselves, or may not want to. Moreover, an IPO is a chance to raise capital to make more acquisitions.
The transaction includes a long-term deal for Goldman to manage Petershill's assets in return for a 7.5% cut of the revenue (plus some additional profit shares tied to certain transactions). This isn't a simple exit. If the IPO goes badly, other mid-market buyout firms will be less keen to come under the Petershill umbrella. In turn, GSAM's ability to repeat this strategy with other funds will be damaged. The GSAM clients who currently own Petershill's assets will still own the majority of the business after its IPO. They will need a strong share price if they are to sell down completely.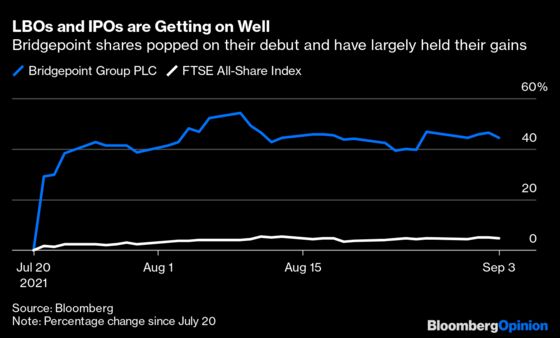 The management contract with Goldman can't be easily broken for seven years. GSAM's portfolio managers will help source new investments and support the existing holdings. There's logic in keeping the relationship going. Still, as Petershill warns, it won't be GSAM's only client. There will be ongoing pressure to demonstrate that Goldman's vast resources and connections make it a better operator than other external or in-house managers.
On the other side of the ledger, there are clear attractions for IPO investors. There aren't many listed vehicles in this industry. Petershill offers a slice of a sticky, growing and diversified pool of investment management fees. It anticipates growing ahead of the industry's expected 10% rate.
Restraint on the valuation is nevertheless warranted. Suppose Petershill can generate $350 million in revenue next year (it made $310 million in the 12 months to June 30). Deduct central costs, Goldman's 7.5% fee, interest and tax, and earnings in 2022 could be at least $250 million. Rival Bridgepoint Group Plc listed in July at around 23 times next year's estimated earnings. This multiple would value Petershill at nearly $6 billion, and that's before factoring in the strategic benefit of raising $750 million in the IPO.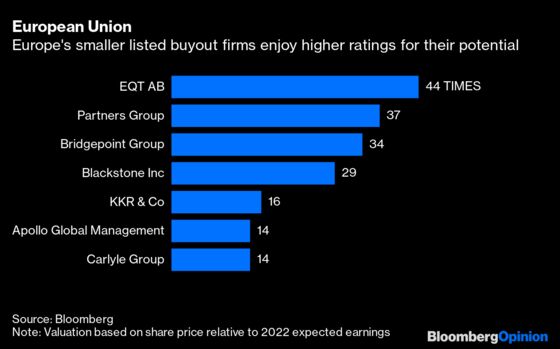 Today, Bridgepoint is already trading at 34 times forecast 2022 earnings, so the temptation will be to push for something closer to where this stellar comparative firm is changing hands now rather than its valuation on recent listing. But if there's one deal Goldman should want to price attractively for investors, rather than for perfection, it's this one.
This column does not necessarily reflect the opinion of the editorial board or Bloomberg LP and its owners.
Chris Hughes is a Bloomberg Opinion columnist covering deals. He previously worked for Reuters Breakingviews, as well as the Financial Times and the Independent newspaper.