Goldman Sachs Aims to Counter Reddit's Trading Frenzy
(Bloomberg Opinion) -- Goldman Sachs Group Inc.'s strategy for broadening its reach beyond Wall Street and the wealthiest clientele made all the sense in the world. It already had a consumer bank, Marcus, that offered options like higher-interest savings accounts for individuals. So why not let them invest their money through Marcus as well, even if the sums are comparatively modest by Goldman standards? Such a move, the thinking went, would put the 152-year-old bank in direct competition with upstarts like Robinhood Markets.
Then GameStop Corp. came along and changed the game.
The rapid rise and fall of the video-game seller's shares, driven at least at first by relentless enthusiasm among retail investors on Reddit and encouraged by no-fee trading of stocks and options on Robinhood and other discount brokerages, created an entirely unexpected backdrop for Goldman's big reveal of Marcus Invest on Tuesday. Individuals with at least $1,000 can join the service, likely the lowest hurdle in history to gain access to the powerhouse Wall Street investment bank. That was the alluring proposition Goldman was counting on.
But don't expect Reddit's WallStreetBets forum to light up with new accounts. Whether as a result of the latest round of rampant speculation or just by coincidence, Marcus Invest makes clear up front that it isn't about placing speculative bets in a quest for "tendies." Here's how Goldman describes its offering:  
We'll recommend a diverse mix of stock and bond ETFs that are aligned with your goal. You'll have exposure to a range of industries and economies so you have multiple opportunities for growth and won't be tied to the fate of a single stock.

ETFs combine a collection of assets like stocks or bonds into one single fund. ETFs trade on an exchange like a stock. All the ETFs in our portfolios have made it through a rigorous selection process.

Day-to-day investment work is handled for you: we monitor your portfolio daily and automatically rebalance your account to keep it aligned with your goal.
So, to summarize: You won't be tied to a single stock, like GameStop. Your stock and bond exchange-traded funds will be deemed worthy by Goldman, not by Reddit karma. You won't be day trading. 
In a simpler time, a robo-adviser strategy like this would be a no-brainer. It's not quite Nirvana as envisioned by the late Jack Bogle, founder of Vanguard Group Inc., as Goldman will still charge a 0.35% advisory fee, which is steeper than the expense ratio on some of the cheapest ETFs (the Vanguard Digital Advisor platform targets an annual net advisory fee of 0.15%). But it's still very low cost, diversified and encourages investors to consider their risk tolerance and timeline when considering what to own.
In the current market, however, YOLO appears to be increasingly winning the day. While GameStop shares have fallen back to Earth (though still more than double the price from Jan. 12), Bitcoin surged past $50,000 for the first time on Tuesday, Cathie Wood's popular ARK Innovation ETF can't seem to lose and the boom in deals involving special purpose acquisition companies, known as SPACs, continues unabated. Sure, global stocks broadly are on track for their longest win streak in 17 years, but so far in 2021, the smaller and more speculative the company, the larger the returns.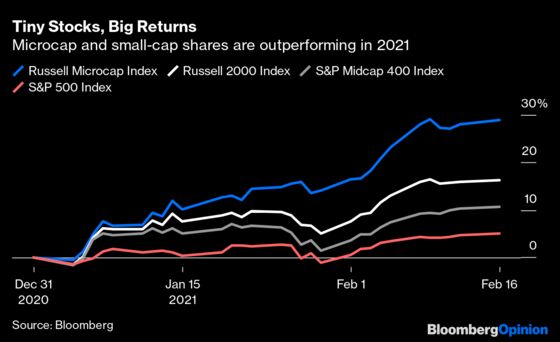 Whether this type of rampant risk-taking is anything more than a flash in the pan remains to be seen. Goldman, for its part, sees Marcus Invest as the logical next move in its strategic long game. By continuing its shift to more consistent fee-generating businesses, it won't be at the mercy of revenue from its bankers and traders, which often ebbs and flows depending on financial-market conditions. The ultimate goal, as noted by Bloomberg News's Sonali Basak, is to provide a checking account through Marcus, with Goldman aiming to attract more than $100 billion in consumer deposits.
Ultimately, it's hard to bet against passive investing winning the day. Charles Schwab Corp. estimates that robo advisers will manage $460 billion by 2022, up from $98.5 billion in 2016. That's the type of steady growth that Goldman is looking to tap into. Meanwhile, for all of Robinhood's explosive growth, its chief executive officer is now lying low in a hotel and preparing for a face-off with angry U.S. lawmakers. Goldman and other Wall Street banks had their share of that vitriol after 2008 and aren't eager for a repeat.
In these rip-roaring markets, Marcus Invest might seem bland by comparison. But for Goldman, which is looking to smooth out its earnings, it's an important next step. Now it just has to convince retail investors that it's time to get off 2021's roller coaster of single stocks and cryptocurrencies. 
This column does not necessarily reflect the opinion of the editorial board or Bloomberg LP and its owners.
Brian Chappatta is a Bloomberg Opinion columnist covering debt markets. He previously covered bonds for Bloomberg News. He is also a CFA charterholder.