Goldman Woos Mom and Pop With a 2% Magic Number
(Bloomberg Opinion) -- Don't believe anyone who says round numbers aren't meaningful to investors.
It's why you see guests on financial TV shows wearing "S&P 500 3,000" hats and why "Dow 30,000" merchandise is already available on eBay, even though that stock index just cracked 29,000 on Friday. It's why there's fanfare around Apple Inc. and Amazon.com Inc. reaching a $1 trillion market capitalization. It's why bond traders throw around the terms "2-handle" about 10-year Treasury yields climbing back to 2% and "3-handle" about the potential pace of global growth in 2020. Sure, round numbers might be entirely psychological, but to the extent that they push money around, Wall Street can't ignore them.
It seems Goldman Sachs Group Inc., for one, gets this concept. In a recent email to users of its consumer bank, Marcus, it highlighted its 11-month, no-penalty certificate of deposit and argued "now is a great time to move your money from a lower-rate account at another bank" to the product. The annual percentage yield on the CD: 2%.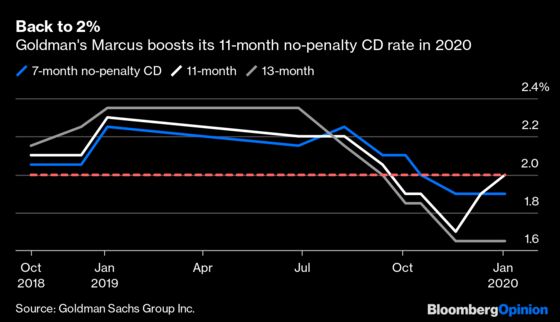 The no-penalty CD isn't exactly a brand-new offering from Marcus — it rolled out the product in September 2018. But it's not a widely known savings option across the personal financial world; as far as I can tell, only a handful exist. And the 2% rate for 11 months stands out, especially when compared with the alternatives. A seven-month, no-penalty CD with Marcus yields a fixed 1.9%, while a 13-month CD yields just 1.65%.
Meanwhile, the APY on its high-yield savings account is down to 1.7% from as high as 2.25% from January to June 2019. That decline, of course, was due to the Federal Reserve's three quarter-point interest-rate cuts in July, September and October last year. As I wrote in the midst of the easing cycle, banks were struggling to balance staying competitive in the market while also adjusting to the new reality of lower short-term interest rates. Some chose to hold out above 2% for as long as possible and then dropped their rates drastically, while others, like Marcus, lowered them incrementally.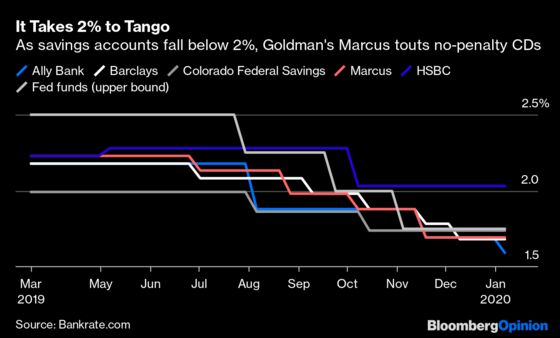 As for no-penalty CDs, they serve as something of a happy medium between a savings account and a traditional CD for consumers. The upside is that the yield is higher and there's no cost for breaking the CD early — not even a clawback of interest payments. The one downside is that unlike a savings account, it's an all-or-nothing proposition. If someone needs money, the entire balance has to be withdrawn (Marcus has a $500 minimum deposit).
The product is also intriguing because it effectively serves as an option on the direction of interest rates through a personal finance account. If they rise during the 11-month stretch, a saver can withdraw the funds immediately and place them in a higher-yielding CD. If they fall, then consumers have an above-market rate until the CD expires, in contrast to those in a savings account.
Goldman tends to promote whichever CD offers the top rate at a given moment — that was the 13-month one from late 2018 through mid-2019, then the seven-month one for the second half of last year as the Fed cut its benchmark lending rate. Now, with the central bank seemingly on hold at least through year-end, the 11-month term is in favor. The bank says it has attracted billions of dollars in deposits, with about 10% of accounts in 11-month CDs and the remaining 90% split evenly between seven-month and 13-month terms.
Deciding on a level of interest rates, and whether to raise or lower them, is crucial for banks as they vie for individual investors' cash. It's especially true for Goldman as a recent entrant into the industry. The Wall Street powerhouse is looking for ways to reach Main Street, diversify its business and lower its funding costs. In deciding to sharply boost its 11-month rate, it probably sees the gains from potential new customers as a more than fair trade-off for the elevated yield.
Goldman, which reports fourth-quarter earnings this week, recently revamped the way it breaks down results by division to make it more comparable to its big-bank peers. It created a consumer and wealth-management unit that includes Marcus and its credit-card venture with Apple Inc. That division generates just a fraction of Goldman's overall profits, but some analysts say the simple fact that it's now a separate segment indicates its importance to the firm's long-term strategy.
For now, that most likely means Goldman will continue to offer interest rates that match or exceed its peers in the high-yield savings market. It doesn't wield the type of power on Main Street like JPMorgan Chase & Co. and Bank of America Corp., which kept interest rates on savings and checking accounts pinned near zero even during the Fed's recent tightening cycle. Mom-and-pop savers still need to get used to parking their money with an institution they used to know only from afar.
A nice, round, 2% yield — a "2-handle," if you will — makes that decision psychologically easier.
This column does not necessarily reflect the opinion of the editorial board or Bloomberg LP and its owners.
Brian Chappatta is a Bloomberg Opinion columnist covering debt markets. He previously covered bonds for Bloomberg News. He is also a CFA charterholder.