Glaxo's Consumer Health Spinoff Comes With Some Headaches
(Bloomberg Opinion) -- GlaxoSmithKline Plc wants to have its cake and eat it too. The U.K. drugmaker's plan to carve out its consumer-health business into a separately listed company involves keeping a stake as a piggybank to fund pharmaceutical research. But if the "new Gsk" needs capital as much as it looks, the best solution would be an outright sale. Investors should cross their fingers that a buyer steps in to offer Gsk a genuinely clean break.
The split is designed to make Gsk a financially strong and focused pharmaceutical company, while freeing the consumer side to set its own ambitious destiny. One obvious next step for consumer, whose brands include Panadol painkillers and Sensodyne toothpaste, would be to seek a combination with an industry rival.
Deals in this sector can generate savings worth 5%-10% of the target's annual sales. Here, that would mean at least a 500 million-pound ($699 million) boost to annual profit of roughly 2.5 billion pounds on the Ebitda measure, according to analyst forecasts.
That upside is tempting, though a deal would be large and difficult. Some analysts value Gsk consumer as high as 45 billion pounds debt-free. The question is who can afford it and who might want it enough to preempt the demerger with an offer.
U.K.-listed peer Reckitt Benckiser Group Plc is the natural partner. Previous leadership looked at buying Pfizer Inc.'s consumer health unit before it was merged with Gsk's to form their current joint venture. (Pfizer still holds a 32% stake.) But Reckitt couldn't afford an all-cash deal, even though Chief Executive Officer Laxman Narasimhan has been tidying up the portfolio, which includes Lysol and Dettol disinfectants, and cutting leverage. He would have to persuade Gsk to accept stock as well as cash or explore an all-share takeover once the business is demerged.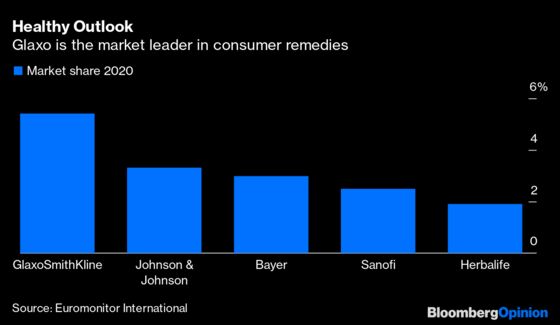 Johnson & Johnson, the U.S. healthcare giant with a market value of around $430 billion, could clearly fund a transaction, but it would face antitrust hurdles. Its consumer-health business, whose brands include Listerine and Band-Aid, ranks second to Glaxo. Shareholders may baulk at shifting J&J toward the lower-growth profile of toothpaste and painkillers compared to the returns from blockbuster drugs.
Other potential suitors face different challenges. Procter & Gamble Co. bought Merck KGaA's consumer-health arm in 2018. A deal for Gsk consumer would be a departure from easily digestible bolt-on acquisitions and there'd be potential antitrust issues in some markets. U.K. rival Unilever Plc recently added some supplements businesses. However, it may want to pursue a demerger of its own, carving out food from personal care, before bulking up.
The wildcard is a new entrant like Nestle SA. The Swiss food giant would face no antitrust hurdles. But it's been focusing more on nutrition than traditional over-the-counter medicines. Again, while it has financial muscle, this would be a radical move.
Against that backdrop, it could be hard to get an auction going, but a deal for Gsk consumer is far from impossible. The current plan to retain around 14% of the new standalone entity creates an overhang on the consumer business's share price. It also leaves the new Gsk with higher leverage than European peers while sitting on a stake whose realizable value is subject to market volatility.
What investors really want to see from CEO Emma Walmsley is a substantial revaluation of the pharma business. At Wednesday's investor update, she set an ambitious 33 billion-pound sales target for 2031, to be achieved without M&A and despite patent expiration for HIV mega-blockbuster dolutegravir. True, Gsk has potential big winners on the way, but less exciting medicines will need to do better than some analysts currently expect. A few failures or sluggish launches could quickly derail its growth story. Rebuilding a pipeline requires the ability to be opportunistic and take many shots on goal. That could require more cash in the near term than Gsk is likely to get from the consumer split as currently conceived.
It's not easy to put a business the size of Gsk consumer up for sale; you have to wait for offers. In any case, management teams intent on demergers generally prefer to stick to plan A and tell gate-crashers to clear off. But Gsk has a weak share price and now an activist on its back in the form of Elliot Management Corp. If someone comes knocking, Gsk will need a very good reason not to open the door.
This column does not necessarily reflect the opinion of the editorial board or Bloomberg LP and its owners.
Chris Hughes is a Bloomberg Opinion columnist covering deals. He previously worked for Reuters Breakingviews, as well as the Financial Times and the Independent newspaper.
Andrea Felsted is a Bloomberg Opinion columnist covering the consumer and retail industries. She previously worked at the Financial Times.