The Day Is Coming When Germany Runs Current-Account Deficits
(Bloomberg Opinion) -- In the years leading up to the pandemic, Germany racked up the world's largest current-account surpluses, as it sold other countries much more stuff than it bought in return. And it got an earful for it. Everyone from the International Monetary Fund to the European Commission berated the government of former Chancellor Angela Merkel for distorting the global economy. Fortunately, that particular imbalance could soon be history. 
Covid-19 and other freak events have recently caused huge changes in global trade flows. As a result, Germany's surplus fell from its peak of more than 8% of gross domestic product in 2015-2016 to less than 7% last year, and is heading lower. Much of that has to do with temporary effects, such as swoons in export markets and an energy crunch that's pushing up prices of imported gas. But soon longer-term factors will kick in, too. 
First, there's a new administration led by Chancellor Olaf Scholz. He has different economic priorities, above all wage hikes and vast investments in making the economy more green and digital — all things that point toward higher imports. Beyond that, Germany's baby boomers will start retiring and spending their nest eggs. Combine these factors, and Germany could eventually turn from a surplus into a deficit country.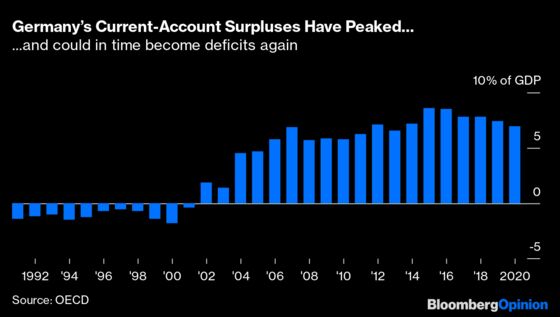 The last time Germany found itself in that situation was the decade following reunification in 1990. For years, both the public and the private sector invested oodles in rebuilding the derelict infrastructure of the former East Germany. Such an excess of investment over domestic savings — which must by necessity be financed with capital from abroad — is a current-account deficit. 
The balance of payments then reversed during the administrations of Chancellor Gerhard Schroeder and his successor, Merkel. The main reasons were a liberalization of the labor market and deals between unions and employers to dampen wage hikes, which made German wares more competitive. Germany was by then in the currency union, so the euro did not appreciate against the U.S. dollar and other currencies as the old Deutschmark probably would have done in the same scenario. Viewed internationally, it was as though the entire German economy had made itself cheaper. Exports started booming.
Germany's governments, companies and households could have used the resulting cornucopia of foreign receipts to invest at home. But they didn't, preferring instead to hoard the accumulating claims on foreigners. Some people have blamed this Germanic thrift on the tightwad mentality of the proverbial "Swabian housewife." Others explain it with demographics. Huge numbers of Germans were in their prime earning years and building up savings for a retirement that's about to start in the coming decade.
The intellectual context of German policy-making mattered as well. A chorus of German economists trained in the arch-conservative (and generally anti-Keynesian) Ordoliberal tradition shrugged off foreign criticism of the surpluses. They argued either that the government couldn't do anything to correct the imbalances anyway, or that the surpluses were even a good thing — a sign of German prowess and vigor.
These days, all four factors — wage restraint, excess saving, meager investment and Ordoliberal obstinacy — are in flux. Workers are demanding higher pay, especially as inflation is accelerating way beyond what Germans are comfortable with. The minimum wage (which Germany only introduced in 2015) just ticked up a notch on Jan. 1 — to 9.82 euros ($11.12) — and will rise again on July 1. Scholz has promised to hike it to 12 euros as soon as possible.
Some of these raises finally and deservedly reflect the productivity increases of German workers in prior years. But they'll also shave off the competitive edge of some exports. Simultaneously, as employees make more money, they'll also spend more on stuff, including imports.
The same logic applies to domestic investment, long considered skimpy. Scholz's coalition of Social Democrats, environmentalist Greens and pro-market Free Democrats agrees that gargantuan sums must be spent to decarbonize and digitize the economy. The SPD and Greens instinctively want the state to lead this investment push; the FDP prefers companies to do it. Either way, money will flow in rivers.
Those famous German savings may not even suffice to finance it. Germany is a gray society turning silver, and large age cohorts will begin retiring in a couple of years. At that point they'll start spending whatever they had saved — and the whole country will realize that trade surpluses have value only if you can actually cash them in for things from Thai vacations to Californian Teslas. Germans will draw down their net assets abroad in order to consume. That's called running deficits.
Even the country's economists may cheer that development. That's because there's been a generational shift among them. The old Ordoliberals are retiring and making way for a younger batch, often trained at Anglo-American universities and comparatively relaxed about money matters. Bye-bye Swabian Housewife. Hello Big German Spender.
More From Other Writers at Bloomberg Opinion:
Inflation Is Now Global, But the Traps Are Local: Daniel Moss 
What Eight Charts Are Telling Us About Markets in 2022: Mark Gilbert and Marcus Ashworth
A Few Hundred Billion Dollars Won't Fix All the Shortages: Anjani Trivedi
This column does not necessarily reflect the opinion of the editorial board or Bloomberg LP and its owners.
Andreas Kluth is a columnist for Bloomberg Opinion. He was previously editor in chief of Handelsblatt Global and a writer for the Economist. He's the author of "Hannibal and Me."