Germany Needs to Get Over Its Fake Tech Shame
(Bloomberg Opinion) -- Germany's reputation as a digital backwater is so established that Germans themselves, including their leaders, have come to believe it. The very mention of Digitalisierung prompts German politicians to put on pained expressions and start discussing vacuous plans for making Germany more digital. 
Exhibit A of this behavior came in the latest debate among the three top candidates for the chancellor's job, which took place on Sunday. "Digitalization is or was, it must be clearly said, the challenge of our time," Green Party candidate Annalena Baerbock declared, and disagreed with Armin Laschet, the conservative candidate, about how it should be tackled: Instead of creating a special digitalization ministry, as he suggests, she proposed making the chancellor's office itself responsible for it.
Germany's apparent tech shame is one of the biggest enigmas I've encountered in my seven years here. This place is not a digital desert, it's not tech-averse or hostile toward innovation. It's not even noticeably behind any other Western country on any technological aspect of ordinary life, and it has a vibrant start-up scene as well as a robust tech industry.
Exchange-listed German tech, with a combined market cap of about $326 billion, is only worth some 13% of one U.S. tech major, Apple. But I'm not sure American megalomania is the right standard by which tech industries should be measured. Does a country really need a Facebook? It's debatable that the swollen Silicon Valley majors benefit Americans more than their much smaller (as far as market cap goes) counterparts in Europe or Asia. In any case, Germany's listed tech is the eighth most highly capitalized in the world, ahead of all European countries except the Netherlands, which mainly beats Germany because it's a friendly place to incorporate companies.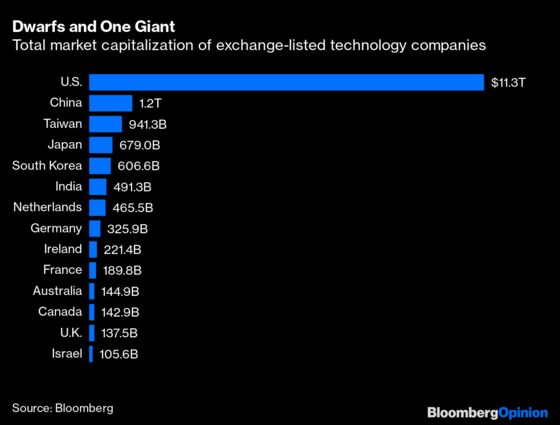 One often hears that SAP AG is the only German high-tech major leaguer. It is indeed the biggest by market cap, but other companies in the Top 10 are also major players in their industries worldwide. They just aren't household names. Ever heard of Nemetschek SE? It's the third biggest German tech company by market cap, and it's a major force in software for builders and architects. Or how about the seventh biggest, CompuGroup Medical SE, projected to sell more than 1 billion euros worth of health-care software in 2021?

The ability of these companies to compete globally shows that Germany has the engineering prowess to play in difficult specialized tech markets. It doesn't sell oodles of online ads on hard-to-verify promises of  precise targeting, but it makes products that win the business of experts. It doesn't design iPhones — but some of the best cameras in mobile phones today (those in Vivo, Sharp and Huawei phones) are made in partnership with German companies such as Leica Camera AG and Carl Zeiss AG. (Leica recently launched its own phone, too, but so far it's only sold in Japan.)
When it comes to start-ups, Germany is no laggard by European standards. The Old Continent has some 12% of the world's "unicorns," or start-ups valued at more than $1 billion. Germany has 11 out of 52 such European companies, behind only the U.K., which has 19. This year alone, it added six, according to PitchBook: internet brokers Scalable Capital and Trade Republic, big data firm Celonis, logistical software supplier Sennder, cloud banking service Mambu and human resources software developer Personio have all been blessed with billion-plus valuations. No wonder: Berlin and Munich are both in the Top 10 of Europe's start-up hubs. Of course, you could view Europe as a whole as hopelessly behind the U.S. and some Asian countries — but you could also describe its tech enterprises as more human-scale, happy to do their thing in a highly specialized industry or geography. Size isn't everything: A sperm whale's brain weighs about five times as much as a human's, but that doesn't make the whale smarter.
Germany's bad rep is in large part based on its low places in mobile and fixed internet speed rankings. Cable.co.uk, a telecommunications comparison service, puts Germany in 36th place globally; that sounds terrible, but its mean broadband download speed of 60.55 Mbps allows a user to get a 5GB movie in 11 minutes 16 seconds, while in the U.S. (Place 14) it takes 7 minutes 23 seconds. Is this difference worth a national catch-up effort? You decide. (Full disclosure: It takes two and a half minutes on the island of Jersey, the ranking leader, but then it's easy to build out infrastructure in a place its size.)
The same goes for mobile speeds. SpeedTest puts Germany in 30th place globally with an average download speed of 75 Mbps, much less than leader Saudi Arabia's 190 Mbps, but a normal user wouldn't notice the difference. I stream podcasts and music when I run in the woods on the edge of Berlin, and I don't even use 5G — in which Germany doesn't rank with the best countries on reach, but is one of the leaders in the quality of the experience the standard delivers.
Earlier this year, my family bought a small house in the eastern German hinterland, close to the spot on the country's map that's farthest from an autobahn. Both the mobile and the fixed connections there allow me to do bandwidth-intensive remote work for Bloomberg's news automation team.
Until recently, Germany's heavier-than-average reliance on cash payments was often cited as a measure of its digital backwardness. Many smaller businesses wouldn't accept anything but cash. But the Covid-19 pandemic has drastically changed that. In 2020, cash transactions dropped 5.6 percentage points to 40.9% of retail sales. Card payments reached 56.3% of sales, and 35% of these transactions were processed using contactless technology — something on which Germany used to be noticeably behind other countries. 
The technology was there for the taking long before Covid, it's just that Germans traditionally like cash for personal freedom-related reasons — the same ones that make them averse to the wide use of face recognition, for example. But once health experts started saying that contactless transactions were safer in a pandemic, they took off immediately.
I know for a fact that Germany's still-widespread paper media — yes, you can actually see people reading newspapers — are a sign of a healthy conservatism rather than backwardness. Axel Springer Media AG, the publisher of the ubiquitous tabloid Bild, announced earlier this year that its publications have a million digital subscribers. Again, both the technology and the ability to monetize it are there — but there's no rush in German society to abandon habits that aren't doing Germans any harm.
The only area I can think of as an ordinary German resident where a major technological leap is needed is the heavily paper-based, foot-dragging bureaucracy. Germany's low place in the Organization for Economic Development and Cooperation's e-government rankings creates no cognitive dissonance. You can use electronic identification built into the national ID card to download documents from the social security office, but my wife is now in her sixth month of paper correspondence with the same authority about getting these documents issued in the first place. Germans love statistics, but different types of government data exist in silos, and countless opportunities to use them for smarter governance are being missed, something that became gnawingly obvious during the pandemic.
Germans often tend toward a glum view of themselves and their country. As someone who is gradually ceasing to be an outsider here, I can only tell them — and anyone who pays too much heed to their moaning about tech backwardness — to look around and cheer up.
This column does not necessarily reflect the opinion of the editorial board or Bloomberg LP and its owners.
Leonid Bershidsky is a member of the Bloomberg News Automation team based in Berlin. He was previously Bloomberg Opinion's Europe columnist. He recently authored a Russian translation of George Orwell's "1984."