GE's Cash Surprise Is Better Than Bonfires Past
(Bloomberg Opinion) -- Only GE can deliver billions of dollars worth of cash-flow surprises. 
The highlight in General Electric Co.'s results released Tuesday was that the company generated $4.4 billion in free cash flow from its industrial businesses in the fourth quarter. That's about $500 million more than the year-earlier period despite the effects of the pandemic on its crown-jewel aviation unit. It's also almost double the company's forecast for at least $2.5 billion in free cash flow for the final three months of 2020. We've come quite a long way from CEO Larry Culp's reluctance in July to commit to a positive number of any size for the second half of the year.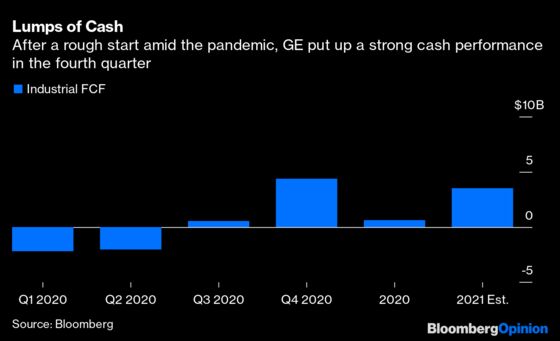 GE credited cost-cutting efforts and an improved operational performance for the positive surprise. A unwind of inventory pileups and increased payments from customers were other big factors. The long-suffering power unit generated about $15 million in positive free cash flow in 2020. It's a small number but a significant milestone for a business that's been a giant money suck for GE — and it comes a year ahead of schedule. The aviation business, meanwhile, managed to almost break even in 2020 despite an 82% slide in its operating profit as airlines deferred engine maintenance and shelved new jet orders. Free cash flow at the health-care business roughly doubled last year after backing out the impact of GE's divestiture of its biopharmaceutical business.
You can't knock GE's numbers. It's an impressive showing. And it adds to a story line of an industrial recovery that appears to be picking up steam, as evidenced by improving numbers at the other big manufacturers reporting on Tuesday including 3M Co. and Rockwell Automation Inc. But you just don't get these kind of dramatic surprises at other manufacturers. Consider Raytheon Technologies Corp., which competes with GE in the jet-engine market and also reported fourth-quarter results on Tuesday. Raytheon generated $2.3 billion in free cash flow in 2020, taking into account last year's merger between the legacy Raytheon defense contracting business and the United Technologies aerospace divisions and including $800 million in discretionary pension contributions. That's better than expected, but the company has been flagging since October that it might exceed guidance for $2 billion in free cash flow and would use the excess to fund the pension. 
Even after years of downsizing and streamlining, GE is still an incredibly complicated company with a number of different moving parts every quarter. That makes it difficult for analysts to independently forecast free cash flow accurately, and it's why consensus numbers tend to closely track whatever management says. GE is attempting to address this clunkiness and murkiness: Beginning in the fourth quarter, it changed how it reports results, including factoring restructuring expenses into division profits and drawing a clearer line between the industrial businesses and the GE Capital financial arm. More broadly, the goal is to improve GE's operations to the point where its cash flow is more balanced throughout the year rather than bunched up in the final few months, the company has said.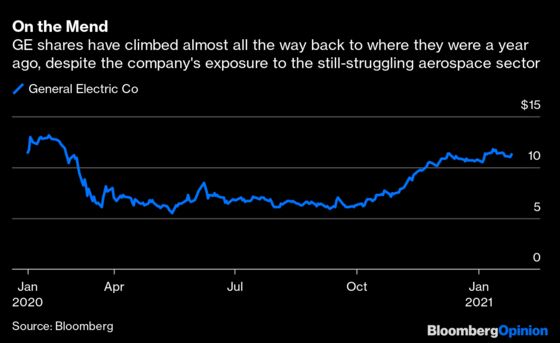 In the meantime, the numbers are lumpy. With that as a backdrop, investors would rather have GE under-promise than underdeliver. And that's fine — but it remains striking how unprepared GE's own board was for this kind of positive surprise. In August, it rejiggered the terms of Culp's compensation agreement to make it easier for the CEO to access a one-time stock grant. The implication was that the path to achieving a turnaround had become much harder. But Culp locked in at least the first rung of that bonus (worth about $47 million) in a matter of mere months. After Tuesday's earnings surprise, he's well on his way to tapping into the next level. GE shares jumped as much as 11% into the $12 range. If Culp can keep the stock climbing into the $13 territory, he's entitled to an equity grant worth $124 million, with room for a payout of as much as $230 million eventually. 
And so it's worth noting that GE's 2021 guidance still leaves plenty of opportunity for positive surprises. GE is targeting free cash flow of $2.5 billion to $4.5 billion this year. This assumes no additional improvement in the power business, which seems conservative given the current trajectory, and only a partial recovery in aviation, which on its own generated $4.4 billion in free cash flow in 2019. At some point, GE's stock price will catch up and incorporate Culp's penchant for positive surprise. Whether GE's board will recalibrate compensation decisions accordingly is a different question. 
This column does not necessarily reflect the opinion of the editorial board or Bloomberg LP and its owners.
Brooke Sutherland is a Bloomberg Opinion columnist covering deals and industrial companies. She previously wrote an M&A column for Bloomberg News.