GE's Reset Leaves Fewer Places to Hide
(Bloomberg Opinion) -- When Larry Culp took over as General Electric Co.'s CEO in 2018, investors were clamoring for the industrial giant to quit obfuscating earnings numbers and to unwind the complex financial arm that was still prone to unwelcome surprises. It's been a slow, punishing grind at times, with an unhelpful industrial recession and global pandemic along the way. There has been plenty of incremental — but not game-changing — progress as Culp worked to clean up the bloated balance sheet through asset sales and to stanch the bleeding in the company's beleaguered power unit. But on Wednesday, about two-and-a-half years into the job, Culp finally gave investors a true reset. 
GE announced that it is merging the company's GECAS jet-lessor business with rival AerCap Holdings NV in exchange for $24 billion in cash, a 46% stake in the combined company and $1 billion in notes or additional cash. GE will use the proceeds and existing cash to pay down $30 billion of debt. It's a substantial enough chunk that the company's leverage will no longer dominate the narrative around the stock and Culp can at least start thinking about what the GE of the future should look like rather than spending all his time fixing the problems of GE's past. But perhaps most important, the divestiture will allow GE to take a big step toward unwinding GE Capital. This is a business that has threatened to topple the company not once but twice and whose murky relationship with the core industrial machinery operations has sparked years of debate about how real the reported numbers are for those units and the extent to which they are propped up by internal transactions.  
"GE Capital, if anything, has been an overhang on the valuation," Dan Babkes, a partner and senior research analyst at GE shareholder Pzena Investment Management, said in an interview this week before the GECAS deal was officially announced. Pzena has more than $45 billion in assets under management, including almost 90 million shares of GE.
After losses mounted at GE Capital during the financial crisis, former CEO Jeff Immelt sold off the bulk of the assets  — with the notable exception being a runoff long-term care insurance business that was allowed to fester underfunded for years until GE finally updated underlying estimates and disclosed a $15 billion reserve shortfall in 2018. The insurance obligations are staying with GE for now, along with a smaller equipment-financing business focused on GE's gas and wind turbine operations. But GE Capital will cease to exist as a segment. The remaining businesses will move under the GE corporate umbrella, and the company will report results on a consolidated basis. It's a simpler structure that will leave less room to hide bad news. For better or worse, that's exactly what investors have said they want. 
GE is losing something by parting with majority control of GECAS. Before the pandemic crippled air travel, this unit was considered a crown jewel; it generated about $1 billion in profit in 2019. When speculation about a possible sale of the business to Apollo Global Management surfaced in early 2019, Culp himself proclaimed, "We have no plans to sell GECAS." It's possible that GE's aviation unit's future cash flow won't be as robust without the option to sell spare engines to the leasing arm at a high margin. That practice appears to have significantly benefited results in recent years, and the onus is now on management to prove that GECAS wasn't the crutch many critics believed it to be. "We would never do anything to harm the incredibly valuable GE Aviation franchise," Culp said on a call with analysts to discuss the GECAS deal. "GE Aviation, with a relationship with AerCap, will be just fine."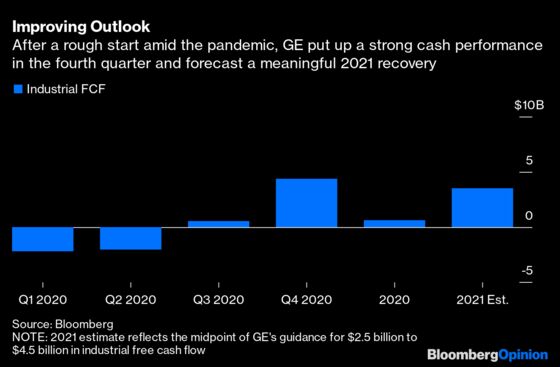 GE on Wednesday also reaffirmed its forecast for as much as $4.5 billion in industrial free cash flow this year, based in part on expectations for a partial recovery in the aviation unit toward pre-pandemic levels. Notably, this forecast excludes the impact from the expected unwind of GE's factoring programs — a system where a company sells its accounts receivables to a financial partner in exchange for cash to help ease short-term funding needs — as part of the restructuring of GE Capital. Chief Financial Officer Carolina Dybeck Happe said there would be a "one-time" impact of $4 billion to $5 billion from this unwind. The more than 5% slump in GE shares on the news is likely a reflection of this detail. But in the broader scheme of things, a streamlined, simplified GE should mean more to investors than any short-term cash flow dynamics. 
GE also said it would recommend the board pursue a 1-for-8 reverse stock split. Such a move would reduce the company's relatively large number of shares outstanding with little financial consequence. But it's a strategy that's rarely used by companies of GE's size and prestige, and that could also be spooking investors.
The timing is a bit odd on the face of it. Airlines have had to take on heavy debts to weather the coronavirus crisis and are likely to prefer leasing jets over the balance-sheet burden of purchasing new ones when they are ready to expand their fleets again. But GE wasn't in the position to capitalize on that demand as well on its own, given the company's clear preference to shrink, rather than grow, the GE Capital operations. The company in October struck a deal with Pimco to effectively outsource the financing responsibility for a $3 billion aviation leasing and investment platform focused on newer and more fuel-efficient aircraft. Similarly, GE's remaining stake in the combined GECAS-AerCap will allow it to benefit from an eventual recovery in the jet-leasing business without having to commit more capital. That's a victory. 
As significant as the GECAS transaction is, it's likely not the end of GE's simplification journey. The infusion of cash from the divestiture may give GE the necessary breathing room to pay someone to take the insurance headaches off its hands. "We will entertain those conversations," Culp said. The broader long-term care insurance business has benefited from a pandemic that has been particularly devastating to older policy holders and made pricey care facilities less desirable. GE also appears to be managing this business better. "There's been three annual reviews, and they haven't had another large surprise," Babkes of Pzena said. "The market is increasingly becoming comfortable that the baseline assumptions around the size of the liabilities are reasonable."
As for Culp, the market seems increasingly comfortable with the job he is doing as well. Even with Wednesday's decline, the shares are still trading around the $13 territory — roughly 20% higher than the day before he became CEO. 
This column does not necessarily reflect the opinion of the editorial board or Bloomberg LP and its owners.
Brooke Sutherland is a Bloomberg Opinion columnist covering deals and industrial companies. She previously wrote an M&A column for Bloomberg News.