GameStop Stock Mania Is Making Its Turnaround Possible
(Bloomberg Opinion) -- What a crazy year it's been for GameStop Corp. Last April, it was left for dead. Predicting an imminent demise for the retailer, hedge funds piled on their bearish bets and the company's market value sank to a few hundred million dollars. A year later, thanks to big buying from the Reddit crowd, GameStop is worth about $13 billion and is now looking to raise as much as $1 billion in capital to fund internet entrepreneur Ryan Cohen's turnaround plan. This year's GameStop stock mania may make its business transformation possible.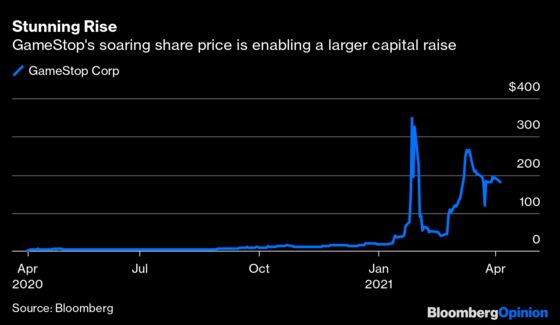 The retail investor frenzy over GameStop shares has been well covered. But the stock's rally has some fundamental underpinnings. It is not a coincidence that the surge began days after Cohen was appointed to its board on Jan. 11. Since joining in an official capacity, the co-founder and former chief executive officer of online pet-supply retailer Chewy Inc. has moved quickly, taking control of the company's strategy and pivoting it faster toward e-commerce. He has hired nine executives — five of whom had experience at Amazon.com Inc. — including a new chief operating officer and chief technology officer. Several of the additional hires also came from Chewy, a sign of confidence from former colleagues in COhen's abilities. Now, the company is raising the funds needed to implement his plan.
Early Monday, the company announced it will sell as much as 3.5 million shares worth as much as $1 billion in an "at-the-market" stock offering. It said the funds will be used to "accelerate its transformation" and strengthen its balance sheet. The video-game retailer also announced that its revenue for the five weeks ended April 2 increased by 18% compared with a year earlier, negating a part of the naysayers' thesis that it is a declining business. While GameStop shares slumped in early trading Monday on news of the share sale, they recovered a bit as the day wore on, pointing to investor optimism for Cohen's plan.
It is a prudent and necessary move. With GameStop's share price up nearly 900% this year, the company will be able to raise significantly more funds to expand its e-commerce capabilities. The turnaround plan outlined in its latest annual report includes building fulfillment operations for faster delivery times, overhauling its website and starting a U.S.-based customer service operation. All these initiatives are needed to improve GameStop's customer experience and will require significant investments.
GameStop's latest executive hire may tip off even bigger ambitions. Last week, the retailer said it had appointed Elliott Wilke as its chief growth officer. Wilke spent the last seven years in senior roles at Amazon, including stints at Amazon Fresh, Prime Pantry and Worldwide Private Brands. His experience at the e-commerce giant's private-label business may mean GameStop intends to some day launch its own branded hardware products such as gaming mice, keyboards and other higher-priced items such as gaming PCs. If successful, this kind of move could generate higher profit margins much the same way as Amazon's AmazonBasics and Costco's Kirkland Signature product lines.
In another noteworthy development, GameStop has ramped up its offerings in the PC gaming hardware market in recent weeks. The retailer is releasing five-page weekly ad circulars focused on this niche, selling items such as $400 gaming monitors and $1,000 Nvidia graphics cards. PC gaming is a large and growing area and is not cyclical like the retailer's core console-gaming market. On the back of its better-known brand, GameStop should be able to take market share from other PC e-commerce players such as Newegg and Micro Center.
In just a few months, Cohen has revamped GameStop's senior management, adding executives with the required relevant technology backgrounds, while setting a clear vision for the company's future and moving further into attractive product areas. This is an impressive amount of progress in a short time frame. With the coming fund raise, the company will have the capital to fully execute on Cohen's vision. The so-called smart money should take notice.
This column does not necessarily reflect the opinion of the editorial board or Bloomberg LP and its owners.
Tae Kim is a Bloomberg Opinion columnist covering technology. He previously covered technology for Barron's, following an earlier career as an equity analyst.