GameStop Bros Shouldn't Ignore Best Buy Blowout
(Bloomberg Opinion) -- This year's meme-stock phenomenon GameStop Corp. is soaring again. But the Reddit crowd that loves trading the name may be getting too exuberant, especially considering Best Buy Co.'s latest strong earnings report. The consumer-electronics retailer is crushing it at both its physical stores and e-commerce business, making GameStop's turnaround that much more of a challenge.
Best Buy said on Thursday that it had revenue in the quarter ended May 1 of $11.6 billion, up 36% from the prior year and more than the $10.4 billion Bloomberg consensus. It also exceeded the average analyst earnings per share estimate by 66% and raised its guidance for the full year. In its earnings release, Best Buy Chief Financial Officer Matt Bilunas said 2021 has started off much better than expected, citing the growing importance of technology in the daily lives of consumers.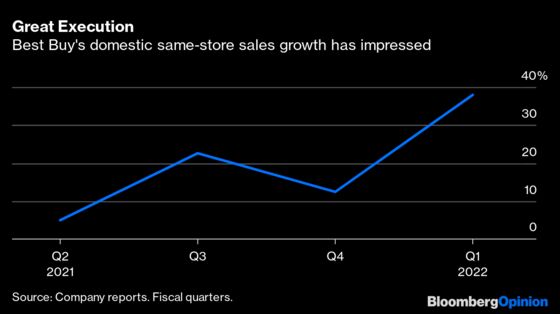 Best Buy's numbers capped a stellar 12-month period during which the retailer found ways to thrive in the most difficult of circumstances. During the depths of the pandemic, it nimbly shifted toward digital ordering and curbside pickup while significantly expanding its e-commerce business. The company's string of positive financial results signal high shopper satisfaction and bodes well for customer retention.
That's bad news for GameStop. The video-game retailer's turnaround depends on it taking share in the consumer-electronics category and expanding in e-commerce. In its annual report, the company outlined plans to expand aggressively into computers, monitors and televisions. But if Best Buy's customers are happy, GameStop will have a harder time meeting its goals.
GameStop has made progress this year. Internet entrepreneur Ryan Cohen, who will become the company's chairman next month, has hired a number of senior executives with the e-commerce and technical backgrounds needed for the company's business transformation. And GameStop has also started selling more PC hardware and accessories. These are positive steps I cited in early February as reasons for optimism. But investors' expectations are dramatically higher now, with the share price up nearly fivefold since then. After its 35% rally this week and more than 1,100% climb this year, GameStop is worth about $18 billion — not that far from Best Buy's $29 billion, despite having one-tenth of its sales. That seems like an overly ambitious valuation given where it is in its turnaround. In fact, the only way to justify where GameStop is trading now is to believe it will become a market leader in consumer electronics.
And then there is the crypto distraction. Earlier this week, GameStop put up a hiring website, signaling possible intentions to enter the non-fungible token (NFT) business. Similar to cryptocurrencies, NFTs use blockchain technology to prove ownership of digital assets such as videos or pieces of art. Like the crypto market, trading in NFTs has been marked by volatility and feverish speculative activity. I believe GameStop's use of precious engineering resources to chase this latest shiny object isn't ideal and won't do much to move the needle.
GameStop's new management team has enough to do. The video-game retailer needs to focus on its main business and find ways to delight customers better than its rivals. Best Buy is not making it easy by further entrenching itself as the go-to place for electronics.
This column does not necessarily reflect the opinion of the editorial board or Bloomberg LP and its owners.
Tae Kim is a Bloomberg Opinion columnist covering technology. He previously covered technology for Barron's, following an earlier career as an equity analyst.