With GameStop, Roaring Kitty Channels His Inner Warren Buffett
(Bloomberg Opinion) -- Roaring Kitty and the Oracle of Omaha may have more in common than you think. GameStop Corp.'s wild ride this year shows how. 
It's only March and already the video-game retailer's stock has had two epic rallies and one stunning collapse this year, a product of rampant speculation and a short squeeze. While many investors have been bruised by the day-to-day stock movement, Keith Gill — better known as "Roaring Kitty" on YouTube and a favorite of the Reddit crowd — has been able to profit from the stock-price volatility by putting his emotions aside and placing well-timed, reasoned bets amid the frenzy. In this way, he's taken a page from fabled value investor Warren Buffett and may serve as an example to other investors looking to minimize the damage from what may be further violent market swings.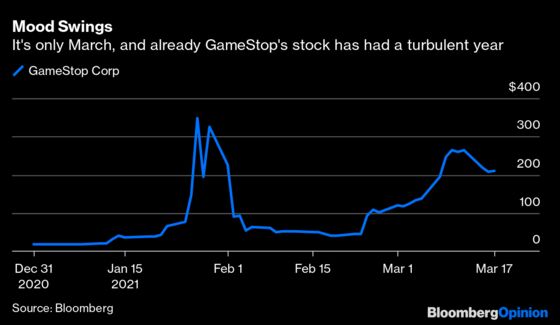 Buffett 
has often written
 about how "Mr. Market" can swing from euphoria to despondency, bidding up or driving down a company's stock price based on manic-depressive emotions rather than any big changes in the fundamental business and outlook. According to the investor, the key to success is to exploit the market's moodiness when it goes overboard one way or the other and avoid getting caught up in the price action.
Gill did exactly that. His portfolio screen shots posted on Reddit's WallStreetBets forum, where he goes by DeepF-----gValue, show the trader 
pared back
his exposure to GameStop call options during the stock's big rally in late January and
then purchased additional
shares after they tumbled in February. And while it's assumed Buffett is talking about longer time frames than a couple of months when he talks about investing, even he would be impressed with Gill's ability to sell high and buy low. Further, Buffett and Gill may not be so far apart in style. Despite the prevailing narrative that Redditors are aggressive gambling day traders, Gill at least is more akin to an old-school value investor like Buffett when it comes to GameStop. "Roaring Kitty" has repeatedly laid out the 
deeply researched investment
 case for the company on his YouTube channel and has been involved in the stock since the
summer of 2019
.
It's a case I believe has merit. After GameStop shares fell about 90% in a matter of weeks earlier this year — and before its latest comeback — I wrote 
a column
 arguing that investors shouldn't count out the retailer. I cited positive signs that Chewy Inc. co-founder Ryan Cohen, a GameStop activist who had a successful track record as an e-commerce entrepreneur, was increasingly driving the company's strategy. GameStop had recently named Cohen to its board and announced 
three key hires
who had important e-commerce-related backgrounds, giving more credence that a turnaround was underway.
Since then, more developments have affirmed this thesis; hence the comeback. First, there was 
the resignation
 in late February of GameStop's Chief Financial Officer Jim Bell;  investors applauded, sending the shares higher in anticipation that the company would be able to replace him with an executive with more experience in e-commerce. (Bell's stint prior to GameStop was as the CFO of a company that owned Chinese restaurant chains.) And then last week, GameStop 
said Cohen
would lead a new board committee in charge of accelerating its shift toward e-commerce and technology, making it clear he has taken leadership of the company's business transformation. That fueled another jump in the shares. Now, though, with GameStop stock's roughly quadrupling over the past month, it's looking like overboard territory again.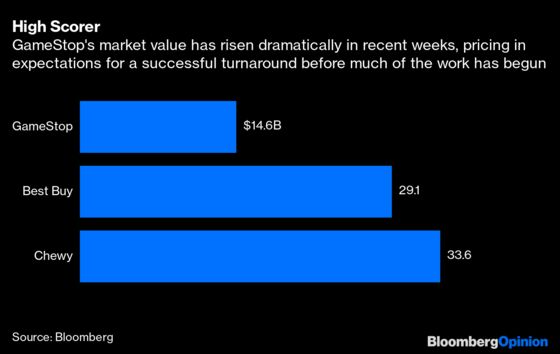 Before this latest rally, the company's market value of less than $4 billion was attractive given Cohen's ability and the opportunity ahead. Realistically, GameStop reaching a market value of $30 billion over the next three to four years — in the range of other e-commerce category winners such as consumer electronics retailer Best Buy Co. and Chewy — is a reasonable aspirational goal. But after this move higher, GameStop at $14.6 billion is pricing in a large part of a successful outcome before much of the work has begun. The video-game retailer is trading at 2.6 times its estimated sales for the next 12 months, already approaching online-only Chewy's 4.0 times, despite e-commerce sales representing just one-third of GameStop's revenue during the last holiday season.
And what about GameStop's latest earnings results, set to be released next week? Frankly, they do not matter much. GameStop's main narrative is about its digital future, so whatever the company reports for its 
fourth-quarter results
 will have little consequence. At this point, the game plan is clear: fix the website, improve the customer experience, ship products faster and expand to new product categories like PC gaming hardware and electronics. All that is left now is execution.
Though I'm still optimistic that Cohen can pull it off, investors should remember it's going to take time for GameStop's new executive team to implement their digital initiatives, from building fulfillment centers to adding service representatives and product supply chains. And they should be prepared to ride through another mood change or two from Mr. Market. We know "Roaring Kitty" will be.
This column does not necessarily reflect the opinion of the editorial board or Bloomberg LP and its owners.
Tae Kim is a Bloomberg Opinion columnist covering technology. He previously covered technology for Barron's, following an earlier career as an equity analyst.