Tycoon Is Ready to Make $15 Billion of Sweet Music
(Bloomberg Opinion) -- Finally, Vivendi SA is ready to find a dance partner for Universal Music Group, home of Drake and Kendrick Lamar.
After years of dangling the tantalizing prospect of an IPO or partial stake sale to investors, the French media conglomerate and its billionaire eminence grise Vincent Bollore are now prepared to sell as much as 50 percent of the label to one or more "strategic partners," it said Monday.
That could plump up its coffers to the tune of $15 billion, according to Bloomberg Intelligence analysts Matthew Bloxham and Matthew Kanterman. The timing of the move is good: UMG is growing apace, helped by surging revenue from music streaming services such as Spotify Inc. and Apple Inc.'s music service. The money would be used for more Vivendi acquisitions and shareholder returns. Its shares rose more than 5 percent on Tuesday morning.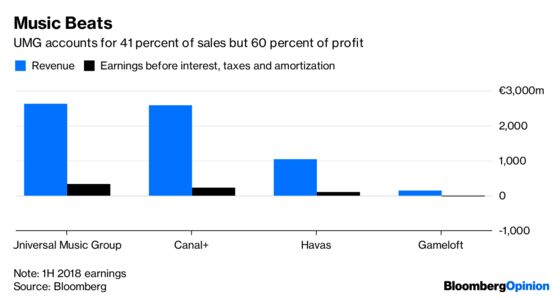 It would help with the expected purchase of French book publisher Editis from Spain's Grupo Planeta SA for an enterprise value of about 900 million euros ($1.1 billion), or 15 times Ebit. The apparent rationale for that deal is to acquire strong literary franchises that could be developed into films or TV shows, presumably by Vivendi's French broadcaster Canal Plus.
It's a novel approach, in more ways than one. The Walt Disney Co. has also built its revival under CEO Bob Iger on buying up strong franchises, but it has focused on proven international names such as "Star Wars," Pixar and Marvel Studios. And as the publisher of a book, you don't automatically own the TV or film rights. It seems a gamble. Vivendi itself sold Editis back in 2004.
While it's certainly easier to sell a stake in a growing business, it's fair to question whether it's entirely wise to cut exposure to the music business in favor of the more prosaic publishing industry. As ever with Vivendi, the big question will be how it reallocates any capital beyond buybacks — something that hasn't always made sense to those outside Bollore's immediate circle. 
More acquisitions in the gaming sector might be welcomed. Vivendi eventually gave up in its attempt to acquire Ubisoft Entertainment SA, maker of "Assassin's Creed," but sold its stake at a handsome profit of about $1.5 billion. Liberum analysts have suggested New York's Take-Two Interactive Software Inc., owner of the "Grand Theft Auto" franchise, as a possible target — though it's a big one with a $13 billion market value.
As WPP Plc contemplates life without Martin Sorrell, there may also be opportunities to pick up some advertising assets for Vivendi's Havas arm.
Bollore has been a canny investor throughout his career, but he blotted his copybook with Vivendi's unhappy purchase of a 24 percent stake in Telecom Italia, which has already been written down by 512 million euros. As such, going heavy on the buybacks would no doubt find favor with investors.
That would also have the handy side effect of increasing Bollore's control on Vivendi, should it opt to cancel any repurchased shares. Bollore seems to like using Vivendi as his own personal investment vehicle, but the prospect of tightening his grip on the French media conglomerate might sound sweeter still.
This column does not necessarily reflect the opinion of the editorial board or Bloomberg LP and its owners.
Alex Webb is a Bloomberg Opinion columnist covering Europe's technology, media and communications industries. He previously covered Apple and other technology companies for Bloomberg News in San Francisco.