French Fund Giant Has Got to Go Global to Compete
(Bloomberg Opinion) -- It's a bit more than a decade since Yves Perrier merged the asset management businesses of two French banks to create Amundi SA. As he prepares to relinquish his role as chief executive officer, he can take pride in having built Europe's biggest fund management business. His successor takes on the challenge of expanding the firm's reach to become a truly global player.
The company has delivered on a pledge Perrier made in December 2018 when he called for firms like his "to give the same chances to women as men." Valerie Baudson will take over as CEO in May, with Perrier becoming chairman.
Baudson, who's been with the firm since its inception, built its exchange-traded funds business from scratch, giving her invaluable insight into the trend toward low-cost index trackers that's bedeviled the global fund industry by driving down the fees for managing money. Moreover, she shares Perrier's DNA as a dealmaker, which will come in handy.
In March 2019, Baudson told Handelsblatt that her firm has a "natural role in consolidation" in Europe. Amundi's history of growth has been "complemented by successful acquisitions," she told the German newspaper. In 2017, the company bought Milan-based Pioneer Investments from UniCredit SpA. A year ago, it bought Banco de Sabadell SA's Spanish fund arm. Both have been successfully integrated. If the long-heralded shake-up in the European fund management industry finally arrives, Amundi is well placed to grow through further acquisitions. 
Amundi's 6.34% share of Europe's ETF market puts it in fifth place, according to figures compiled by Bloomberg Intelligence. BlackRock Inc. is the clear leader with more than 44%, while DWS Group is second with more than 10%. If Societe Generale SA puts its Lyxor fund management arm up for sale, a transaction mooted for more than a year, Lyxor's 150 billion euros ($182 billion) of assets is likely to spark a bidding war, with Amundi set to be an active participant.
With assets climbing to more than 1.7 trillion euros last year, Amundi is twice the size of its nearest rival in Europe, Germany's DWS. Perrier can be well satisfied with his legacy. On the world stage, however, the firm he built is dwarfed by BlackRock with $8.7 trillion, Vanguard Group Inc. with $6.2 trillion, and Fidelity Investments Inc. with $3.8 trillion.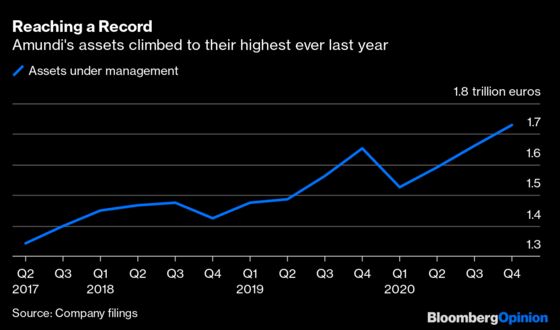 Perrier has made some progress on his ambition to make Asia the company's "second domestic market." But it's stalled a bit, with more than three-quarters of its assets still in Europe. The firm's Asian asset base stagnated last year at about 300 billion euros. Its target for 500 billion euros of assets in the region by 2025 seems rather modest, given the expectations for market growth in China. In an industry in which size matters, the way for Amundi to challenge its bigger U.S. rivals is to expand into the east.
In person, Baudson is as French as a tricolor on Bastille Day. That masks her international perspective. In an interview published by the Financial Times in December, she reminisced about touring the world as an international audit manager for Banque Indosuez, where she started her career. That global attitude is what Amundi needs if it's to fulfil its role as the European champion on the asset management stage.
Back in 2010, when he merged the asset management arms of Credit Agricole SA and Societe Generale, Perrier crafted Amundi's name by combining AM, for asset management, with MUNDI, which echoes the word for world in several languages. Baudson's challenge is to make good on the promise embodied in that moniker.
This column does not necessarily reflect the opinion of the editorial board or Bloomberg LP and its owners.
Mark Gilbert is a Bloomberg Opinion columnist covering asset management. He previously was the London bureau chief for Bloomberg News. He is also the author of "Complicit: How Greed and Collusion Made the Credit Crisis Unstoppable."