Remembering Is an Act of Justice
(Bloomberg Opinion) -- Driving the Winnebago east from Dallas along Route 80, we see our first rainfall in months as we begin passing what must be the largest concentration of small donut shops in America: Donut Palace, Donut King, Queen Donuts, Donut Supreme, Donut Shop, Donut Box, Classic Donut, Star Donuts, Master Donuts, Mister Donut and more. We arrive at our campground at dusk in the village of Hawkins, population 1,300, where a road sign announces it as "The Pancake Capital of Texas." I immediately began thinking about the flapjack feast I would enjoy in the morning — I haven't had pancakes since October in Wyoming — only to discover there wasn't a diner to be seen, or any restaurant at all, save a Sonic. I knew we should've stopped for donuts.
It turns out Hawkins was the hometown of Lillian Richard, one of the women who had been featured on Aunt Jemima brand products for many years. Amid the Black Lives Matter protests last summer, Quaker Oats (owned by PepsiCo) ended the brand that dated back to the 1890s. The next morning, I stop by the small schoolhouse that Lillian Richard had attended and speak with her great-niece, Vera Harris — a 30-year Army veteran and children's book author — by phone. In news stories, Vera had been pitted as the voice of opposition to efforts to end the brand. In fact, she tells me, she supported the company's decision, up to a point.
"I don't want anybody that's a person of color to be looked at in a negative light, because I know we have been and there was nothing we could do more than 50, 60, 70 years ago," Harris says. "We just don't want PepsiCo, we don't want Quaker Oats, to forget the legacy of those women that made them what they are today, made them their beans. We know that the women were cheated out of the money. I know how they did Black people back then."
Lillian Richard was working as a domestic in Dallas when Quaker Oats discovered her, and the family takes great pride in her success. "She was a young 21-year-old woman that wanted to make a living for herself and she knew that [being a domestic] was the only kind of job she was going to get. She was not ashamed that she did domestic work. She wasn't ashamed that she cooked. She wasn't ashamed of the job opportunities that was available for her back then." Quaker Oats put her face on labels and hired her to tour the state and beyond conducting product demonstrations — until she got sick.
"They actually brought her back to Hawkins and our family took care of her until she passed on. They didn't even provide a marker for her grave," Harris  says. Years later, Vera's family reached out to Quaker Oats and Pepsi to request help in providing a proper grave marker, with her name on it. "After all what she did for them, they denied our request."
Instead of ending the brand, she hoped the company would put the names of the women who served as Aunt Jemima models somewhere on the packaging. "I understand the new stand because of Black Lives Matter. Just don't erase those people from history. Those were real live people — so their names, their faces should still be there. Even if it's a hashtag, remember these names. For them not to do anything is saying that those women didn't matter."
Across America, I've seen graffiti art with the message "Say their names." That is what I hear in Vera's words, too — a plea for recognition, a cry for dignity, so victims of injustice are not forgotten or reduced to a statistic. It's an echo of voices that rang out across Manhattan on the very first day of this journey, Sept. 11, when the names of every person killed in the terrorist attack were read aloud in Lower Manhattan.
We arrive in the village of Dixie Inn, Louisiana, for a night. With a population of 263, it may be the drive-through daiquiri shop capital of the world: There are four within a mile of our RV park, including Thirsty's. The town was unusually well-prepared for social distancing.
The next morning, after picking up a Southern Maid doughnut from the local diner, Hamburger Happiness, and hearing a little about the owner's former life in the rock band Junior — "People said we were a cross between Lynyrd Skynyrd and Green Day" — we continue on Route 80 across the state. We pass through the desolate village of Gibsland, near where Bonnie and Clyde were killed, before reaching Ruston and seeing campaign signs for Luke Letlow, who was elected to Congress in November but died of Covid-19 before he could take office, at age 41.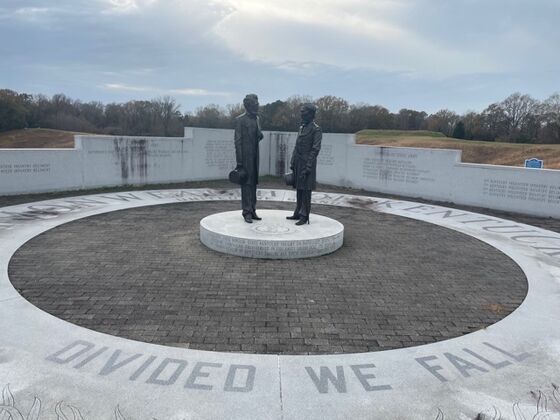 At Vicksburg, we take a driving tour of the battlefield that was as bloody as it was decisive, with Union forces under General Ulysses S. Grant taking the Mississippi River town that Lincoln called "the key" to victory. At the Kentucky monument honoring its soldiers who fought on both sides, a statue of Lincoln stands beside Jefferson Davis, both Kentucky-born, as though they stood on equal footing.
After a night in a casino RV park — no dice for us — we begin driving south down Highway 61, the cradle of the blues that runs from Minnesota to New Orleans. We drive through deserted Port Gibson, Mississippi, where a mural shows the 1966 boycott led by Charles Evers (Medgar's brother) that began to break the town's segregation stranglehold; where a monument to Confederate soldiers faces the courthouse, and where the Rabbit Foot Minstrels — which helped give Ma Rainey her break — called home. South through stately Natchez across the river to Ferriday, Louisiana, where Jerry Lee Lewis's niece, Marion, greets me at the drive-through liquor store she operates next to his boyhood home, deeply unhappy with government restrictions and the outcome of the election. Onward to empty Woodville, the childhood home of Jefferson Davis — his family plantation now lies across the road from the Martin Luther King Career and Technology Complex — and the birthplace of William Grant Still, whose "Afro-American Symphony" was the first written by an African American and performed by a leading U.S. orchestra.
Heading into and out of Baton Rouge, we tour plantations and learn far more about the houses and the wealthy families who occupied them than the fields and the people chained to them, leaving us with a sense of unease. But not all whitewashed the story, at least not entirely. At Oak Alley Plantation in Vacherie, Louisiana, the cabins of enslaved people contain exhibits about life for their inhabitants, and the names of those recorded are written on the wall: Adam. Adeline. Adonis. Albert. Alexandre. Alexis. Alfred. Andre. Anne. Antoinette. Angela. Anthony. Antoine. Argus. Armantine. Augustine. Avril. Azaire. Those are the A's. Say their names.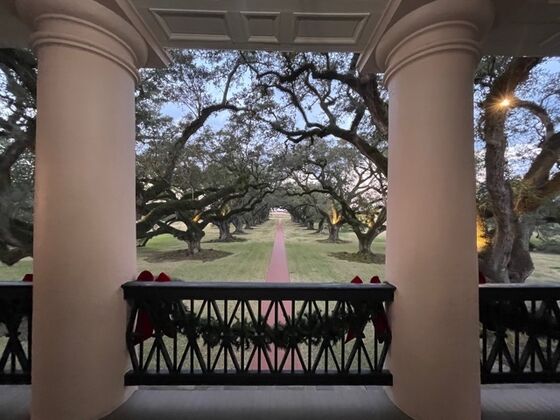 Just down the road, we visit the Whitney Plantation, the first to tell the story of plantation life from the perspective of those enslaved. It is an entirely different experience. The savage brutality of the institution — and the monstrous physical violence, including sexual, that underpinned it all — finally begins to come into view.
"The point of a plantation is to enslave people for their labor. But we have this narrative that this" — Ashley Rogers, the executive director, points to the big house — "is the plantation. So sometimes people come here and they go, 'Where's the plantation?' And I'm like, 'You're on it.'"
She isn't interested in being a house museum and is doing something other plantations wouldn't dream of: liquidating the house's antiques. "The more that we have that stuff, the more it distracts people." She wants to convert the house to program space "so people can sit down and talk and have conversations. I want them to be able to reflect and think about" what they have seen and felt and learned, with facilitators helping to draw people into discussion. "It is imperative that we do work in the world. And I think that this year shows us that it's necessary."
The Whitneys' story doesn't end with Civil War — it operated until 1975, and like other plantations, it attempted to approximate the slavery system as closely as possible. Immediately after the collapse of Reconstruction, in 1877, plantation owners formed the Louisiana Sugar Planters' Association to fix wages, which ended competition for labor and the little bargaining power the newly freed people had acquired. "That ensures nobody's going to run away from the plantation." Chattel slavery gave way to systematic exploitation.
Ashley has interviewed people who lived on the plantation, and I ask her what she's learned that has surprised her most. "Older folks were less likely to know about slavery than the younger folks," she responds. That surprised me, too.
"One of the most shocking things that I heard was from a woman who was born in New Orleans but lived on this plantation for the first 30 years of her life. Her family had been on this plantation, stretching back to slavery. I asked her if she heard anything about slavery growing up, and she said to me: 'I think that they said the White folks sold the Black folks, but I never believed it.'"
Ashley attributes some of the problem to slavery not being taught in schools, but also something far more personal: "People aren't talking down the generations about trauma. I mean, that's documented with Holocaust survivors, that the kids and grandkids don't always know." And with older generations often speaking French, there was also a language barrier. "I heard from multiple people who were raised on this plantation [who] said when the old folks didn't want us to know what they were saying, they talked French."
There are several memorials on site. One is to the 1811 slave revolt, the largest in U.S. history, which started just across the river and was put down by a local militia backed by federal troops. Dozens of rebels were executed, some with trials, some not, their heads placed on pikes stretching dozens of miles along the river, a warning to others. Another memorial includes the names of the 107,000 people recorded as slaves in Louisiana — a small fraction of the total: Bazile. Betsy. Billy. Beck. Blaise. Bob. Those are the B's listed on one half of one panel. Say their names.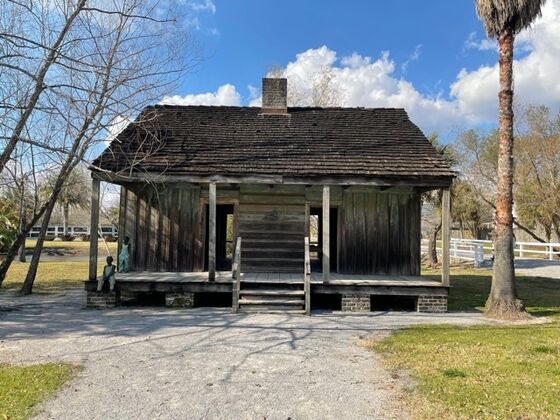 I ask Ashley what kind of reactions people have after visiting here. "A friend of mine came here and he brought his mom, very sweet, old Southern lady, very conservative. She did the whole tour and came up to me afterwards, and she was in tears, and she said, 'I just never knew this.'" A man in a MAGA hat had a similar experience. "He came up afterwards and he said, 'I grew up without a lot of money, and I just didn't know that this happened.' This really changed his perspective." Less than half of their visitors are White, and I realize that we didn't see a single Black person on the other plantation tours.
South to New Orleans down Highway 61, to the St. Bernard's State Park campground. My friend Barry Lemoine, a teacher, playwright and community leader who lives in the parish, takes me down to the fishing village of Delacroix. Along the way we pass the ghost of Hurricane Katrina in dead trees, houses on 15-foot stilts, and a massive wall built by the Army Corps of Engineers designed to prevent another catastrophe. Katrina devastated St. Bernard's Parish, a working-class suburb that abuts the city's Lower Ninth Ward, rendering its 27,000 homes uninhabitable, severely damaged or destroyed, including Barry's. Adding to the calamity, an above-ground oil tank burst, releasing a million gallons into the floodwaters coursing through homes and yards, the country's largest residential oil spill.
At a small fishing village along the way, Shell Beach, we stand by the Mississippi River Gulf Outlet Canal, a man-made shipping channel that contributed to so much of Katrina's destruction. A poll taken a year before Katrina showed that two-thirds of St. Bernard residents believed the canal would increase the likelihood of flooding in a hurricane. Standing on its shore, we look out at what used to be dry land and the memorial that rises out of the water. A plaque holds the names of the parish's more than 160 victims: Caire. Chambers. Chauppetta. Cordes. Cosse. Cousins. Couvillion. Cox. Those are the C's. Say their names.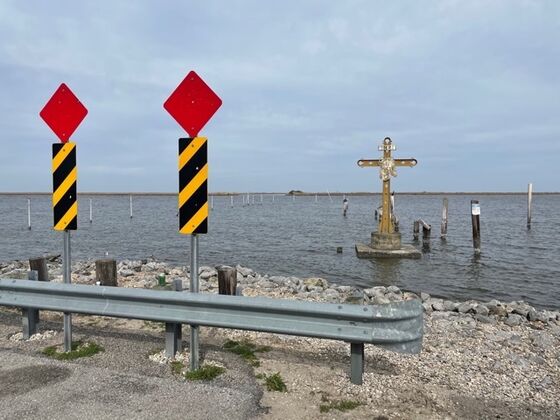 On a cold morning later that week, on a street median that hosts the only structural remnant remaining from the 1815 Battle of New Orleans, a commemoration hosted by the Daughters of the British Empire kicks off, with U.S. and British flags flying, a Marine band and reenactors giving the ceremony a little pomp. Bill Hyland, executive director of the local Los Isleños Museum, which celebrates the heritage of the Canary Islanders who settled this area, addresses the crowd of about two dozen: "The victory helped to redefine the identity of an American citizen. Can you imagine, for the very first time, you had people speaking French, Spanish, Native American dialects, Tagalog — because there were Filipinos — all of these people fighting as American citizens, or fighting for the American cause, even if they were not American citizens."
The national motto Congress adopted in 1782, E pluribus unum — out of many, one — now stretched beyond the peoples of northern Europe. It would go on stretching ever wider, slowly and never without a struggle, with victors long denied and victims long forgotten.
Across the street, in the middle of the 1815 battlefield, a small historical marker holds a few words about a community that stood on the site until the early 1960s, when the National Parks Service forced out residents and bulldozed their homes to create an open vista. It was a century-old working-class Black neighborhood, with a one-room schoolhouse, two mutual aid societies, three general stores, a variety of churches, and 200 residents, many of whom moved to the Lower Ninth Ward. It was called Fazendeville, named for the free man of color who owned the land and sold lots to freed slaves leaving local plantations. No other names are mentioned.
This column does not necessarily reflect the opinion of the editorial board or Bloomberg LP and its owners.
Frank Barry is a columnist for Bloomberg Opinion. This column is part of a series, "Looking for Lincoln: A Portrait of America at a Crossroads." It features reports from Barry's journey west along the Lincoln Highway, a zigzagging network of local roads running from Times Square to the Golden Gate Bridge, from Sept. 11 to Election Day.