The Billionaire Telecom Tycoons See Something You Don't
(Bloomberg Opinion) -- Europe's billionaire telecommunications tycoons are doubling down on an industry the stock market has all but abandoned, bidding to take full control of the firms they founded. Investors may end up kicking themselves for selling out to offers that aren't as generous as they look.
Xavier Niel's bid to buy out the roughly 30% of Iliad SA he doesn't already own follows fellow billionaire Patrick Drahi's move to take Altice Europe NV private earlier last year. The share prices of both their creations had fallen sharply in the run-up, helping the buyers present their takeovers as containing outsize premiums.
This isn't purely about opportunism. There's something broader going on. Drahi's appetite for telecoms assets extends beyond Altice — he's amassed a 12% holding in the U.K.'s BT Group Plc. Other private buyers are sniffing around too. Witness U.S. buyout firm KKR & Co.'s deal for a piece of Telecom Italia SpA's fiber business and EQT AB's interest in Royal KPN NV. Yet there hasn't been a really big takeover that has encouraged investors to push up the value of the sector as a whole in anticipation of bids. So bargains persist.
The simple explanation is that the public market doesn't look beyond short-term cash flow, as Iliad Chief Executive Officer Thomas Reynaud has pointed out in his own defense of Niel's buyout offer. Right now, cash returns in telecoms are being dampened by capital expenditure and shareholders don't believe this investment will ever generate a decent payback.
Why might the entrepreneurs be more confident? They may hope regulators across Europe will cut the industry more slack to raise prices. That could ultimately lead to a wider acceptance for mergers that would reduce competition. You can see why dominant shareholders might want to have 100% of this upside. At the same time, a weak stock price can be a problem in developing the business when so many employees are also shareholders.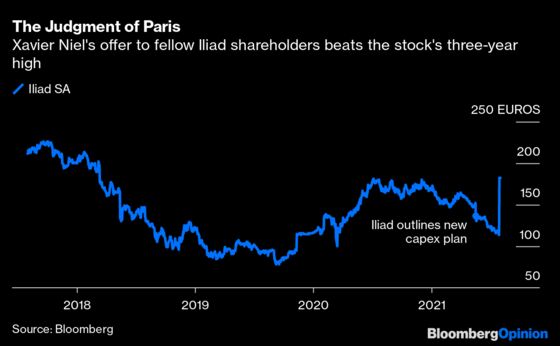 Investors should ask how much of this future promise they are getting upfront in Niel's offer. At 182 euros ($216) per share, it's pitched at a 61% premium to the stock's closing price on Thursday. Recall, however, that in mid-May, Iliad's shares tumbled after the company set out ambitious investment plans. The premium to the share price before that announcement comes to only 20%. Moreover, the stock closed at 181.50 euros in June last year. Relative to expected earnings, the offer valuation is roughly in line with the trading average over the last three years.
It's hard to argue that Iliad doesn't need the planned investment it outlined: First-quarter results missed expectations. Still, the question now is what Iliad could be worth to Niel. Analysts at New Street Research — who recently suggested the founder was likely to make a buyout offer — get to 220 euros a share, and they aren't alone in seeing value above Niel's price. (New Street says Germany's 1&1 AG could be the next similar target.)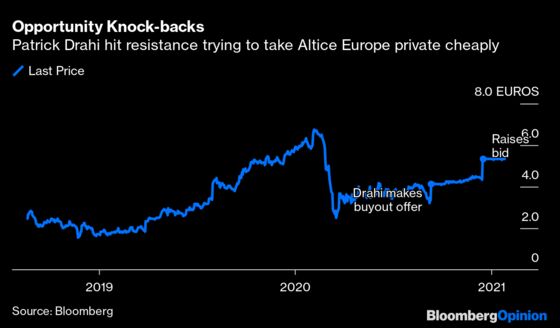 Hedge funds including Lucerne Capital Management and Elliott Management Corp. got Drahi to sweeten his Altice offer. That was an achievement given the challenges of pushing up an acquirer who already owns most of the firm and has the backing of the board. Holdouts know they face being left in an even smaller minority in a thinly traded stock if some shareholders accept the bid. Getting a bump higher here will be even harder. Drahi's initial price for Altice didn't even trump the one-year high, whereas Iliad's shares haven't traded above Niel's offer in the last three years. All the same, Niel probably hasn't bid at his pain barrier either.
This column does not necessarily reflect the opinion of the editorial board or Bloomberg LP and its owners.
Chris Hughes is a Bloomberg Opinion columnist covering deals. He previously worked for Reuters Breakingviews, as well as the Financial Times and the Independent newspaper.