Where to Frack Next: La La Land
(Bloomberg Opinion) -- Are the frackers already in La La Land?
I don't mean that in quite the same way the Saudi Arabian energy minister did last week when he dissed the International Energy Agency's net-zero emissions report. U.S. oil and gas producers aren't planning to stop drilling new oilfields altogether. But they are definitely drilling less than previously — a lot less. And that owes at least something to the ESG thing. It owes something to the Saudi Arabian energy minister, too.
The exploration and production sector just reported its "best organic free cash flow since shale began," according to an analysis of first-quarter results by Bob Brackett at Bernstein Research.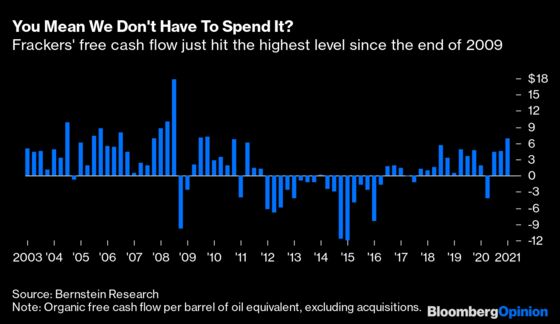 Most notably, less than half of cash flow from operations was swallowed up in capital expenditure. This not-spending-everything approach may seem like finance 101 but is actually pretty radical stuff for the shale business. Look at 2012 to 2016 on that chart. Such profligacy led investors to abandon the sector, finally forcing some discipline.
The rise of ESG — or environmental, social and governance — investing reinforces this. Energy stocks are up 45% so far this year, making them the best S&P 500 sector by far. Yet they're bouncing from the bottom of a trench: Even now, energy weighs in at less than 3% of the index.
So the number one job of any E&P boss today is to persuade money managers the industry has a future worth investing in. That relies partly on not doing what they did before; hence the smaller drilling budgets. This might attract some of the old crowd back.
It also relies on trying to expand the crowd in general.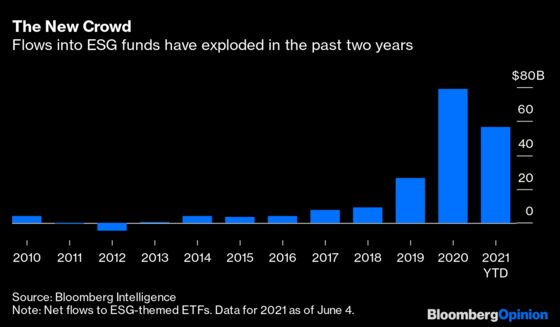 There is a happy, if not exactly intuitive, marriage of interests here. Investors in general want these firms to drill less in order to save money. ESG types want them to drill less in order to save the planet. Both are different sides of the same coin: eliminating waste. It may cut against decades of ingrained suspicion about climate activism, but if less drilling potentially pleases two sets of otherwise ambivalent investors, then maybe E&P companies should be OK with that?
Kimmeridge Energy Management Co., another activist investor, has hewed more to the 'G' end of ESG in the past, and it certainly sees a long future for oil and gas demand. However, it just released a report calling on the E&P industry to set clear, comparable emissions targets and create an industry-wide market to trade credits for offsetting emissions.
Kimmeridge recognizes that, even if oil executives share Saudi skepticism, money managers (and politicians) are increasingly net-zero curious and the 'E' of ESG will upend this business if it doesn't try to get ahead of it. Doing so means not just spending pledges, but trying to come up with a commonly accepted system of incentives to reward emissions reductions.
Yes, this coming after decades of industry lobbying against straightforward stuff like a carbon tax is a dagger in the back of irony. And yes, limiting scope 1 and 2 emissions — essentially those under the producer's control — doesn't remove society's bigger challenge of reducing oil and gas consumption. Nonetheless, Kimmeridge's broader observation is as profound as it is obvious; namely, it's bizarre that an industry at the epicenter of climate change has no clearly priced incentives to do the right thing. 
Besides reinforcing the mantra of discipline, paying more than lip service to ESG offers something else rare in any commodity business: distinction. So many E&P firms spent the past decade touting double-digit growth and largely irrelevant well-level returns that they all effectively became leveraged oil-price plays. The formation of OPEC+ in late 2016 gave that boilerplate strategy a last gasp — which the sector promptly wasted by, yes, punching holes in the ground with abandon. Being just one of the crowd works when the crowd is popular, but it won't work now.
Today, OPEC+ is helping once again, holding 8 million barrels a day of supply offline and thereby persuading the world oil is scarce. In any case, prices well above the marginal cost of production give frackers room to repair their relationship with creditors and investors — should they choose to do so, of course.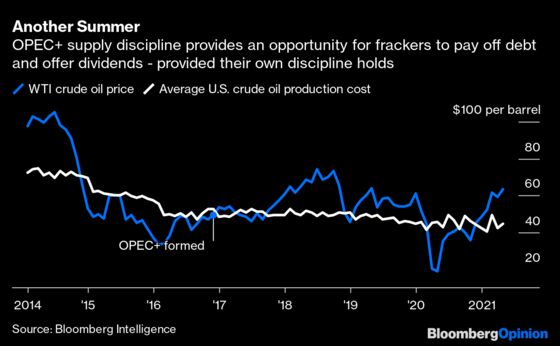 An OPEC+ bonus like the old days but with a newfound discipline that actually jibes with the industry's traditional ESG adversaries? It sounds like fantasy, but it's there for the taking.
This column does not necessarily reflect the opinion of the editorial board or Bloomberg LP and its owners.
Liam Denning is a Bloomberg Opinion columnist covering energy, mining and commodities. He previously was editor of the Wall Street Journal's Heard on the Street column and wrote for the Financial Times' Lex column. He was also an investment banker.