Foxconn's U.S. Future Means Taking on Musk in Wisconsin
(Bloomberg Opinion) -- It has been almost four years since Foxconn Technology Group founder Terry Gou met with Wisconsin Governor Scott Walker to talk up the electronics giant's U.S. plans. Walker took the bait, offered huge incentives, and extracted a promise to build a TV-panel plant and provide thousands of jobs.
That hasn't happened. Walker got voted out and Gou has passed his empire on to a new chairman. The promises remain, empty and unfulfilled. But there's hope yet for both Wisconsin and the reputation of a Taiwanese company best known for making Apple Inc.'s iPhones. To realize the possibilities though, both sides need to bury the past. 
First up is to recognize that a liquid-crystal display plant simply doesn't make sense. The U.S. has no background in flat panels and this capex-heavy highly competitive business has no place in America's Midwest. I have written before why this idea doesn't add up. 
Yet Foxconn already has the land — after a contentious process to extract property from local citizens — and has begun construction. They need to do something at the four square mile Wisconsin Valley Science & Technology Park it now occupies. Thankfully, Foxconn has a new chairman with a new vision. One seemingly eager to push into new frontiers. Among Young Liu's pet projects: electric vehicles.
Americans may be ill-equipped to produce flat-panels or assemble televisions. But they know cars. Foxconn doesn't. A year after launching its MIH electric vehicle platform — a modular approach to cars its hoping will be the future of autos — the Taipei-based company has signed up dozens of partners but hasn't actually proven it can pull it off. The company already supplies parts to Tesla Inc. but is now keen to work with clients to make entire vehicles. 
Separately, it has landed a deal with EV startup Fisker Inc. to develop and produce 250,000 cars annually. That's where Wisconsin comes in. Rather than keep up the pretense of making high-volume, low-value consumer electronics in the U.S., it should pivot to a product better suited to the local workforce. In the process, it provides itself the opportunity to hire the kind of automotive talent America has in abundance but which Foxconn lacks. Apple may also be shopping around for someone to make its cars.
Autos aren't the only product Foxconn should consider making on U.S. soil. Growing concerns about supply-chain security, including the provenance of hardware that goes into government installations, offers the opportunity to provide a higher level of service than at overseas production facilities.
Wisconsin could be the site of secure, bonded factories dedicated to specific clients — be they civilian or defense — where access is strictly controlled and limited to employees vetted by appropriate security agencies. And since Foxconn has experience in all stages of manufacturing, from components and chips through to final assembly, it could offer the kinds of security guarantees unavailable through a chain of subcontractors.
This won't be cheap. Not only is U.S. labor far more expensive, but the lack of local suppliers would add to the costs — which may come down over time as more vendors set up shop nearby. That said, if the U.S. government is serious about bringing the supply chain back home, it'll need to pony up to make it happen.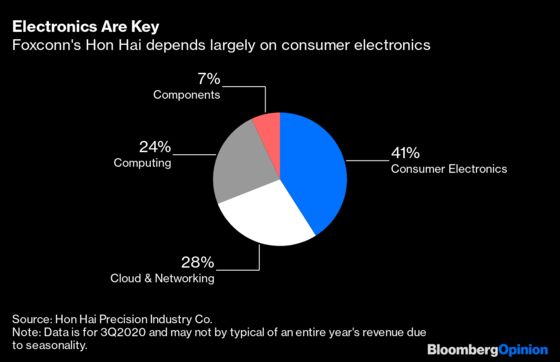 A third area worth exploring is quantum computing. As yet, we're in the early stages of understanding how computers will be designed and implemented in this new era. Whereas current electronics use binary — each bit of data is merely a 1 or 0 — quantum makes use of a combined state where a bit (called a qubit) can both 1 and 0 simultaneously or overlapping. If research comes to fruition, we could be on the cusp of a new wave of extraordinary computing power which could also make current systems obsolete.
It could be a decade before we produce such hardware, and Foxconn is by no means at the forefront of the fundamental science, but at some point the researchers and scientists who lead this field will want to make computers. Being closer to the hub of innovation in the U.S. will give the company a better chance of leading that hardware race. 
These switches may not be so simple. Foxconn has a contract with the Wisconsin Economic Development Corp. — the state's economic development agency — to make panels in a deal which forms the backbone of the incentives that were to be dished out. They're currently renegotiating the terms in recognition of the fact that the original concept for Wisconsin isn't working. The local government would be right to be skeptical.
It also needs to concede that it could fail. Cars are tough and there's a non-zero chance that an automotive project would fall apart, while jobs in secure manufacturing or quantum computing may be scarce or unstable. To account for past failures and future uncertainty, Foxconn would do well to lower its incentive demands — up to $4 billion in sweeteners under the current plan — and take a more modest package, or even nothing at all.
The government, via the development agency, for its part should negotiate harder on the new package but offer greater flexibility. None of what either party wants from this relationship is guaranteed — be it job quotas or output figures — yet both need room to take risks and make mistakes. 
It's time for Wisconsin and Foxconn to start afresh and look to a more realistic future.
This column does not necessarily reflect the opinion of the editorial board or Bloomberg LP and its owners.
Tim Culpan is a Bloomberg Opinion columnist covering technology. He previously covered technology for Bloomberg News.