Ford's Electric Mustang Gets the Perfect Driver
(Bloomberg Opinion) -- The task of shifting the car industry from metal bashing and combustion engines to software and batteries is fraught with danger for incumbents such as Ford Motor Co. A big strength of Ford's new boss Jim Farley is making the bridging of that epochal divide sound simple.
On Wednesday the no-nonsense chief executive officer laid out how he plans to lead Ford into the electric era. By doubling down on the company's core strengths in pickup trucks, commercial vehicles and sportscars with attractive, keenly priced electric versions of the F-150, Transit and Mustang, Farley aims to change the narrative that the Detroit giant is a laggard in electric vehicles. Judging by Ford's share price —  which touched a five-year high this week — and its resilient first-quarter earnings, the strategy is starting to take hold.
Ford has been a lousy investment over the past couple of decades, save for those shareholders who correctly identified key inflection points. A decade ago former Boeing executive Alan Mulally helped Ford skirt bankruptcy by mortgaging its assets (including the blue oval logo) and selling non-core brands such as Jaguar and Volvo. Worth barely $1 at the low in 2008, the shares surged 1,400% in the next couple of years.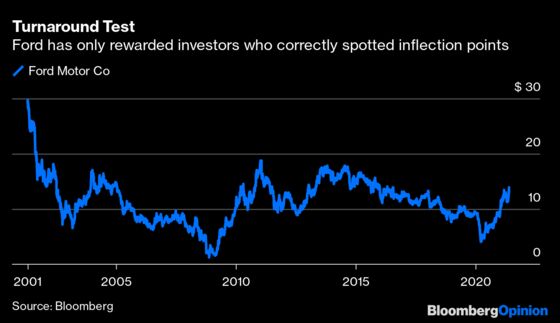 A comparable turnaround looks underway now. Ford scrapped its dividend, lost its investment-grade credit rating and parted ways with boss Jim Hackett last year. The former furniture executive's visionary buzzwords, a botched model launch and the perceived slow pace of change didn't convince the investment community. Hired by Mulally from Toyota in 2007 for his marketing expertise, car-mad Farley inspires more confidence. The stock has more than trebled since a March 2020 low.
In fairness, much of the heavy restructuring needed to finance Ford's electric ambitions was in motion before Farley took over. The company quit manufacturing sedan cars in North America in favor of more profitable SUVs and trucks, and downsized its struggling European operation.
What's changed is the sense of urgency. Farley has axed Ford's Brazilian manufacturing and made vehicle quality a top priority (rising warranty repair costs have consistently held back Ford's earnings). While semiconductor shortages are affecting Ford more than its rivals — it expects to lose an astonishing 50% of planned production this quarter — a string of new electric-vehicle launches bodes well for the carmaker's longer-term prospects.
Ford scored an unexpected public relations coup when President Joe Biden got behind the wheel of the new F150 Lightning electric pickup on a recent visit to Dearborn. The model grabbed attention with its capacious "frunk" (front trunk) and has already received 70,000 customer reservations.
Farley insists the $30 billion he's planning to splurge on electrification in the next four years, including a battery production venture with South Korea's SK Innovation, won't crimp earnings. The company aims to achieve an 8% operating margin in 2023, pretty decent for a mass-market manufacturer going through wrenching change. 
There's no guarantee the company will persuade customers to subscribe for the digital services it's touting to help offset the higher cost of batteries. The exceptionally strong vehicle pricing that's buoying current profits is partly a result of the chip shortage and reduced supply, which won't last forever. 
New high-margin product launches such as the revived Bronco SUV should mean, however, that Farley's earnings optimism isn't entirely misplaced. Ford's European operation has already returned to profitability, and it's targeting 100% electric sales by 2030.
Globally, Ford's aspiration is for 40% electric sales by 2030. In view of the climate emergency that's still not ambitious enough. It's also depressing that a marketing guy like Farley can't find a way to sell small cars in North America.
Still, Ford has taken its most iconic vehicles and proposed compelling electric alternatives. It's now up to customers to buy them. Investors seem to believe they will.
This column does not necessarily reflect the opinion of the editorial board or Bloomberg LP and its owners.
Chris Bryant is a Bloomberg Opinion columnist covering industrial companies. He previously worked for the Financial Times.