For Comcast, Raising Peacocks Will Be an Expensive Hobby
(Bloomberg Opinion) -- How loud does a Peacock squawk? Comcast Corp. investors may want to cover their ears. 
The cable giant is expected to generate more cash than a business knows what to do with, but don't expect CEO Brian Roberts to spend all of it on stock buybacks, even though that would be shareholders' first choice. At Comcast's targeted debt level, "You could be buying back $20 billion a year of stock," Craig Moffett, an analyst for MoffettNathanson LLC, tossed to executives on Thursday's second-quarter earnings call. They ducked and suggested repurchases will stay near historical levels. So how will Comcast spend that money? It seems inevitable that Roberts will look to join the streaming-content wars — a costly competition for the kind of programming that made Netflix so popular. 
With only 20 million active monthly accounts, Comcast's Peacock product is a distant competitor to the likes of Netflix and Disney+, but it certainly has the means to change that. Whether that leads Roberts into the industry's merger frenzy remains to be seen. He said on Thursday's call that Comcast doesn't need M&A to make its NBCUniversal TV and film division a formidable streaming competitor, and that's probably true. But Roberts has at least reportedly entertained the idea of buying Roku Inc. or ViacomCBS Inc.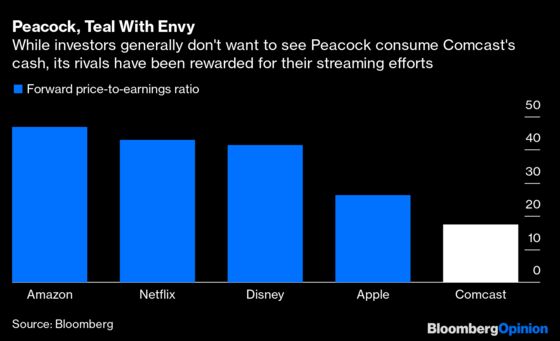 By looking at Comcast's second-quarter results, it doesn't need to do any of that. The company is performing exceedingly well as an internet-service provider, and even if it runs out of customers to sign up, it's a business that promises to keep throwing off attractive levels of cash. For now, massive numbers of people are still migrating from cable TV to stand-alone internet packages, where Comcast has pricing power and a captive user base — it can thank Netflix for that. While 889,000 video subscribers have fled Comcast this year, it has gained 814,000 internet users, plus 558,000 subscribers to its new Xfinity wireless plans. Still, Roberts may not be able to resist going after the more fickle and price-sensitive TV crowd. He can't let Amazon.com Inc., Apple Inc., Netflix Inc. and Walt Disney Co. have all the fun.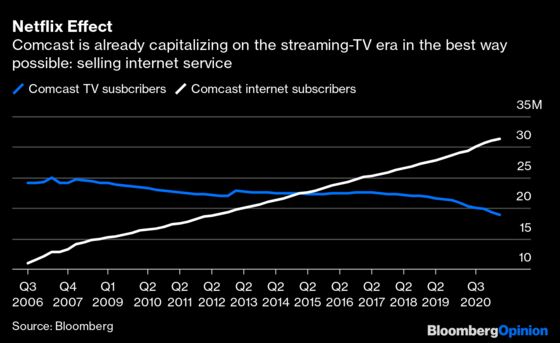 The 2020 Tokyo Olympics were meant to be Peacock's big showcase. But a year later, the Covid-forced lack of spectators and surprise withdrawal of superstar Simone Biles from competition have made it a tougher sell. Sporting events were never the way to win in streaming anyway, even if there may always be a lucrative audience for them. What Peacock really needs is a splashy new scripted series, as evidenced by how quickly "Ted Lasso" and "Mare of Easttown" earned Apple TV+ and HBO Max a spot in the streaming zeitgeist. Starting next year, Universal Pictures' films will be added to Peacock no later than four months after they hit theaters. But securing a loyal base of paying subscribers will require much more than that. 
Of course, the more financially prudent choice for Comcast is to skip lower-return streaming investments and instead prioritize increasing its share of the more profitable wireless market. Peacock lost $363 million on an adjusted Ebitda basis last quarter, while Xfinity Mobile is making money. 
Peacock started off as a largely free, advertising-supported app, the kind that competes more directly with Roku Inc.'s Roku Channel than with Disney and the tech giants. But free apps just don't have the same sparkle, especially not to a cable-TV CEO who already succumbed to the lure of Tinseltown in buying NBCUniversal. When weighing vanity purchases like ViacomCBS or a colorless strategy replete with share buybacks, it's often clear which way a conglomerate's leader will go. (AT&T Inc.'s former CEO Randall Stephenson made a $109 billion gamble on HBO parent Time Warner Inc., only for his successor to quickly turn around and sell it.) Even if Roberts stops short of an acquisition — the Biden administration's crackdown on deals may be enough to discourage him — Comcast's spoken desire to "upsell" streaming customers suggests big spending may be in store.
This column does not necessarily reflect the opinion of the editorial board or Bloomberg LP and its owners.
Tara Lachapelle is a Bloomberg Opinion columnist covering the business of entertainment and telecommunications, as well as broader deals. She previously wrote an M&A column for Bloomberg News.