Post-AMC, Mudrick Capital Catches Flying Taxi Fever
(Bloomberg Opinion) -- Even amateur investors know that Mudrick Capital Management, LP is primarily a distressed debt investor: After the hedge fund bankrolled the near-bankrupt AMC Entertainment Holdings Inc. last year, the cinema chain went on to become a rampaging memestock.
Electric vertical takeoff and landing aircraft (eVTOL) promise to be cheaper, safer and quieter than traditional helicopters. Vertical has experienced managers, strong industrial partnerships, and more than 1,000 pre-orders which all lend confidence it will one day succeed.  Heaps of eVTOL companies are vying to take to the skies and several have already completed blank-check transactions.
While the money involved in the Vertical deal equates to a bit more than 5% of the $3.5 billion Mudrick manages, it comes via convertible senior secured notes (debt that converts into equity at a predetermined price). A convertible gives Mudrick a chance to profit from excitement about futuristic companies like Vertical, without the risk of owning the stock now. Similar convertible deals in the SPAC market indicate Mudrick will receive a fairly chunky coupon.
"With this investment, the company now has the proper capitalization to bring electric flight into commercial operation by the middle of this decade," Jason Mudrick said in a statement issued by the companies at the end of October. They declined further comment. The full terms of the financing weren't disclosed yet.
Mudrick's bet is an example of how much more imaginative distressed funds have to be now that the economy is quickly recovering from the pandemic and central banks are generally content to keep the party going. There's not a whole lot of cash-strapped companies out there. Among the exceptions, though, are those trying to complete a SPAC deal, which is when a listed cash-shell merges with a target and takes it public. The wilting SPAC market has forced blank-check firms to turn to more esoteric or expensive funding.
In part because the fees of SPAC sponsors and the Wall Street banks advising them are tied to completed deals, I'm convinced we'll see more transactions like this.  
Vertical and SPAC-partner Broadstone Acquisition Corp haven't spelled out precisely why they need the money. But like a lot of SPACs that have announced but not yet completed deals , Broadstone's stock is trading narrowly below $10 — the price at which most SPACs sell units — meaning Vertical can't count on receiving the $305 million of cash it holds. At these levels, it makes financial sense for SPAC investors (typically hedge funds) to exercise their redemption right — a fancy way of saying they can ask for their money back.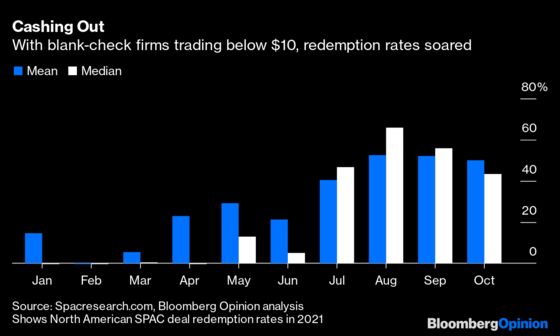 Vertical might not have the same cash worries had it launched its SPAC deal sooner. Joby Aviation Inc, Archer Aviation Inc and Lilium NV were able to raise large PIPEs, a supplemental pot of institutional money whose function is partly to backstop possible redemptions. By the time Vertical unveiled its deal in June, the PIPE market had dried up amid increased regulatory scrutiny and rising skepticism about the costs and rich deal values SPACs often agree to. The upshot: Vertical was only able to raise a small PIPE.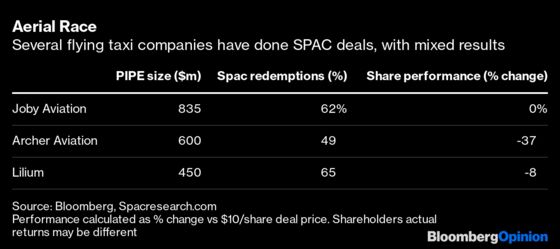 Valued at $1.8 billion by its SPAC partner (excluding net cash), the company claims to need only $250 million of net funding to develop and certify its aircraft by 2024, which is a pretty shoestring budget for an aerospace company.  With Mudrick's money, plus the $94 million PIPE, it now has what it needs.
SPAC transactions facing a cash shortfall have several options. Archer lopped around $1 billion off its proposed $2.7 billion enterprise value to try to persuade SPAC investors it was worth staying in. The move wasn't entirely successful; almost 50% of shareholders still redeemed.
In this case Mudrick's downside is protected as the notes are secured, presumably against Vertical's intellectual property as it doesn't yet have many hard assets. If Vertical makes progress towards certification, the shares could take off and Mudrick's conversion option would then be firmly in the money.

It sounds like a neat solution but there's no reward without risk. The flying taxi market is becoming increasingly crowded and rivals have had a lackluster start on the public markets. If Vertical consumes more capital than anticipated, or its aircraft takes longer to certify, the shares could sag and Mudrick's returns would be more pedestrian. His firm doesn't have a spotless track record picking SPAC deals. Mudrick has created two of its own SPACs and one lost more than 80% of its value after merging with Hycroft Mining Holding Corp., a gold and silver miner.
Once flying taxi companies take to the skies — and I'm sure some will eventually — investors may forget all these teething troubles. In the meantime, the onus is on SPAC dealmakers to show their contortions to complete transactions are worth it.
It generates a small amount from engineering consultancy services
The orders are conditional. American Airlines Group inc and Avolon Holdings Ltd were partly compensated with free Vertical shares. Both also invested in the PIPE.
Lately there've been more signs of life in the SPAC market and around 30%of thosewith announced deals are trading at a premium to the value of their cash holdings
Unlike rivals it doesn't plan to operate flying taxi services itself. It will also rely heavily on external partners like Honeywell International Inc. and Rolls-Royce Holdings Plc to provide technology, rather than developing this at great expense in house.
News site BuzzFeed's SPAC deal included a five-year $150 million convertible note with a 7% coupon.In July Kore Group Holdings Inc signed a redemption backstop with Fortress Credit Group to help satisfy any cash shortfall. It borrowed $95 million and the senior unsecured convertible notes have a 5.5% coupon.
Mudrick must also be reassured by the blue-chip companies on Vertical'sshare register: They include Microsoft Corp's venture capital fundand customers American Airlines and Avolon. Majority shareholder Stephen Fitzpatrick has already amassed one fortune building U.K. energy business Ovo Energy.
If high redemptions leave a low float of Vertical stock, it could even become a squeeze target for day-traders, as has happened a lot recently. However Mudrick might have difficulty taking advantage of that dynamic, because converting would increase the float and presumably push the stock down again.
This column does not necessarily reflect the opinion of the editorial board or Bloomberg LP and its owners.
Chris Bryant is a Bloomberg Opinion columnist covering industrial companies. He previously worked for the Financial Times.