FedEx's Fred Smith Can Go Out on a High Note
(Bloomberg Opinion) -- If FedEx Corp. founder Fred Smith is looking to retire on a high note, this might be the year to do it. 
The delivery giant released results late Thursday for the quarter encompassing the past holiday season, reporting a more than 20% jump in revenue as stuck-at-home consumers relied on the company to ferry both Christmas gifts and everyday essentials to their doorsteps. FedEx's operating margin nearly doubled as the company used the unprecedented level of demand and a shortage of air-freight capacity to reclaim pricing power. The results would have been even more impressive if not for a $350 million hit from severe winter weather that slowed the company's network in February, particularly at the primary FedEx Express hub in Memphis. The company's shares climbed more than 5% in pre-market trading, adding to a ferocious 72% rally in 2020 that pushed FedEx to an all-time high and made it one of the top performing industrial stocks on the S&P 500 Index last year.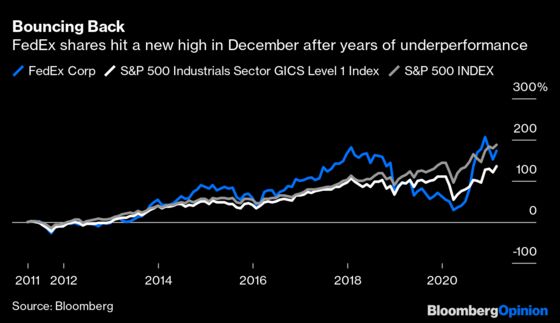 What a difference a year makes. Heading into 2020, Smith told Bloomberg News that he was nearing the point of retirement, some 50 years after he founded the parcel-delivery company. "I don't plan to stay here indefinitely," he said. But he wanted to get the company on more stable footing first. At the time, things were looking fairly ugly. FedEx had just announced the latest in a string of guidance cuts as the combination of the trade war, the rising cost of handling the deluge of e-commerce shipments and some miscalculations on investment projects crimped profits. Management credibility had hit a low point, with the normally staid earnings calls with analysts  bordering on acrimonious at times. FedEx had ceased delivering packages for e-commerce giant Amazon.com Inc.; its integration of European carrier TNT Express was dragging on and on; and investors were growing frustrated that years of heavy investment meant to make the delivery network more efficient had yielded little in the way of measurable returns. "This has been a tough period," Smith said at the time. "But I'm very confident that this is a winning strategy."
Smith was right. The billions of dollars that FedEx has spent on automation equipment and expanded weekend services put the carrier in a prime position to capitalize on the pandemic boom in e-commerce and handle the avalanche of packages without too many glitches. Carriers delivered more than 3 billion packages in the U.S. during the peak 2020 holiday period, and FedEx handed over more than 96% of its share on time during the week leading up to Christmas, according to shipping-data analytics company ShipMatrix.
Analysts' biggest concern heading into this week's earnings release was whether FedEx could sustain the trajectory of profit improvements. A number of variables are at play, including the tough comparisons with last year, the introduction of more air-freight capacity into the system as more passenger jets start flying again after the pandemic and perhaps a slowdown in the torrential pace of e-commerce ordering as spending habits shift back to services or travel. FedEx expressed confidence that any hiccup in e-commerce growth would be short-lived and that it could continue flexing its pricing power for at least the next year, with surcharges expected to continue at both the ground and express-delivery units. Management declined to get into specifics on the longer-term outlook for margins, though, despite repeated questions from analysts on the subject.
"What you all want us to do is to give it to you in our quarterly forecast," Smith said on a call to discuss results. The productivity improvements to date are "stunning," he said, and "it's important to look a bit at the bigger picture of some of these things." The company gave earnings guidance for the first time since the pandemic started and forecast a strong finish to the fiscal year ending in May, with margins set to widen in all of its main business units. Total company adjusted earnings per share are expected to rise to as much as $18.20, almost double the result for fiscal 2020. Executives indicated they would provide fiscal 2022 guidance in June at the next earnings update. 

A rosy post-pandemic outlook may open up a path for Smith to finally hand the reins to someone new. Smith is the longest-serving CEO at a large U.S. industrial company. He's got most of the S&P 500 beat, too, with the notable exception of Berkshire Hathaway Inc.'s Warren Buffett. Smith has said he's recommended the board appoint Chief Operating Officer Raj Subramaniam to succeed him as CEO in the event that he's incapacitated or retires. He hasn't given any official indication that he's stepping down, but he has taken a noticeable step back on recent earnings calls, allowing Subramaniam, Chief Marketing Officer Brie Carere and the division heads to field most of the analyst questions. In fact, the above remarks were the only time he waded into the analyst question portion of this week's earnings call. "I've tried not to answer any questions," Smith said. But what he did say this week resonated confidence. "I'm exceedingly optimistic about the future of FedEx," Smith said. Perhaps optimistic enough to retire. 
This column does not necessarily reflect the opinion of the editorial board or Bloomberg LP and its owners.
Brooke Sutherland is a Bloomberg Opinion columnist covering deals and industrial companies. She previously wrote an M&A column for Bloomberg News.