Fed Wants a Break From Rate Cuts. Will Bond Traders Allow It?
(Bloomberg Opinion) -- Heading into the Federal Reserve's interest-rate decision this week, the consensus is that the central bank will cut its lending benchmark for the third time in as many meetings. But, unlike the past two, there's belief that Chair Jerome Powell will strongly suggest a timeout on monetary easing this time around.
Perhaps the strongest case for this conviction is the recent moves in the $16 trillion U.S. Treasury market. Two-year yields, at 1.64%, are up almost 30 basis points from earlier this month, while 10-year yields have climbed more than 40 basis points from their lows. The yield curve between those two maturities is the most positively sloped since before the Fed's first rate cut in July — a far cry from August's "doom and gloom." Just since Oct. 3, fed funds futures have priced out about one-and-a-half quarter-point rate cuts by the central bank through the end of 2020. A gauge of interest-rate volatility fell last week by the most since early April.
Taken together, the evidence suggests that bond traders are on board with this week marking the end of the central bank's "mid-cycle adjustment." I wouldn't be so sure about that.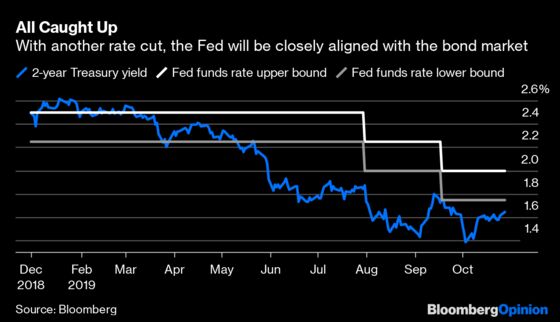 By now, it should be clear to all Fed watchers that "data dependency" takes a backseat to bond markets when push comes to shove. The central bank simply doesn't shock traders with its decisions. That was true in July, it was true in September and it will be true again this month. 
The bond market's more cheery outlook in recent weeks is effectively summarized by this quote from Subadra Rajappa, head of U.S. rates strategy at Societe Generale: "We've seen a mood switch to optimism on Brexit, optimism on the trade front," she said. And for that reason, "this might be the most opportune time, if the Fed does want to pause, to go ahead and suggest that."
Powell can "suggest" his view of the path ahead all he wants. But recent history has shown that whatever he says in his post-meeting press conference doesn't really matter when it comes to the next interest-rate decision. Especially when the reasons for optimism are so fragile and subject to change at any moment.
Consider July's rate cut. Powell indicated that the committee was thinking of the move as a "mid-cycle adjustment to policy" as opposed to "the beginning of a lengthy cutting cycle." That mattered for less than 24 hours. President Donald Trump announced additional tariffs on Chinese goods, sending investors running to Treasuries and giving the Fed little choice but to further ease policy as the yield curve inverted the most since 2007.
Even September's meeting provided something of a "hawkish cut." Esther George and Eric Rosengren openly dissented against dropping interest rates, and a total of five Fed officials indicated they disagreed with the move, judging by the "dot plot." And yet, a few bad readings on the U.S. economy at the start of October sealed this week's rate cut. 
The dot plot, by the way, illustrates why the Fed feels it needs a break. Policy makers won't update their forecasts at this meeting, but as it stood last month, not a single official saw the fed funds rate dropping below the range of 1.5% to 1.75% at any point through at least 2022. To reiterate: 41 days ago, when looking three years into the future, not even the most dovish Fed members expected to lower their benchmark beyond where it'll almost certainly end up this week.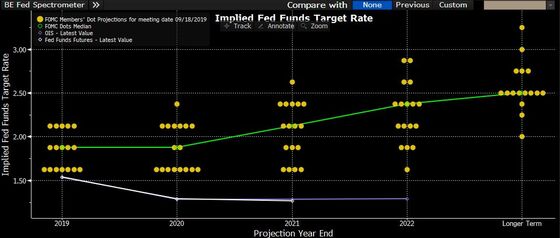 Of course, the constraints of the dot plot have never stopped the Fed before. It's worth remembering that the median forecast as recently as June was for the fed funds rate to remain in a range of 2.25% to 2.5% through 2019 — the same level as the start of the year. The projections have been scratched out and revised so frequently over the years that it's no wonder the bond market's view is taken as gospel.
All this is to say, just because traders haven't fully priced in another interest-rate cut by year-end doesn't mean they won't by the time the Fed's next decision rolls around on Dec. 11. I'm sure part of the reason they pared back expectations for further easing is because in other instances of mid-cycle adjustments in the 1990s, lowering rates by 75 basis points was enough to get the economy on stable footing. That could very well be the case this time around.
But it would be misguided to simply use history as a guide. There are too many wild cards at play. For instance, Mark Spindel, chief executive officer of Potomac River Capital, says the Fed is one bad jobs report away from fretting that it hasn't done enough easing. BMO Capital Markets sees a scenario in which Powell struggles so much in explaining the Fed's outlook that it triggers a fresh "policy error flattening" of the yield curve. Chris Low at FTN Financial expects Powell will take the path of least resistance: "Given a choice between ruling out further cuts and leaving the door open, we expect Powell to leave the door open. Participants can always talk down future rate-cut probabilities if data strengthen."
That might be wishful thinking. Time and again, the Fed has seen bond traders take any opening for further easing and running with it. At the July press conference, after Powell was told that stocks were tumbling based on how he described the rate cut, he quickly changed tone and said "I didn't say it's just one." Fast-forward to the present, and we're on the cusp of the third consecutive quarter-point reduction with the S&P 500 at an all-time high.
If Powell is serious about pressing pause on the interest-rate cuts, he will have to put on his most convincing performance to date. Otherwise, expect bond traders to push for more on any signs of bad news.
This column does not necessarily reflect the opinion of the editorial board or Bloomberg LP and its owners.
Brian Chappatta is a Bloomberg Opinion columnist covering debt markets. He previously covered bonds for Bloomberg News. He is also a CFA charterholder.