Fed's Corporate Bond Buying Foresaw a Year of Covid Pain
(Bloomberg Opinion) -- On March 23, 2020, the Federal Reserve embarked on an audacious policy path that sent shockwaves through financial markets. After a full 12 months living amid a pandemic, and with lockdowns popping up around the world yet again, the decision by Chair Jerome Powell and his colleagues only looks better in hindsight.
Today marks the one-year anniversary of the Fed's creation of the Primary Market Corporate Credit Facility and the Secondary Market Corporate Credit Facility; the announcements of a Main Street Business Lending Program and the reemergence of the Term Asset-Backed Securities Loan Facility; and the expansion of the Money Market Mutual Fund Liquidity Facility and the Commercial Paper Funding Facility. These programs, combined with Minneapolis Fed President Neel Kashkari's pledge that the Fed had "infinite cash" to shore up the financial system, were enough to promptly halt declines in stocks and risky corporate debt.
Investors were quick to fret about potential moral hazard — particularly after the central bank's follow-up announcement that allowed for purchases of junk-bond exchange-traded funds, which I argued defied explanation. It certainly seemed as if highly leveraged companies were effectively bailed out by the Fed's backstop. "The Fed's actions carry a grave risk: that investors, rather than being chastened, will be emboldened to take greater chances and seek fatter returns in the future, believing that policy makers will be there to bail them out if they get in trouble," read a Bloomberg News article, capturing the mood of credit-market observers at the time.
Still, I'm not sure many of them would have said the world would still be largely closed down a full year after the Fed's corporate-bond intervention. Even as stocks tumbled and credit spreads widened, just how long it would take to contain the coronavirus was still an open question. Even the Fed, when announcing a 100-basis-point cut to interest rates in March 2020, said only that the pandemic would "weigh on economic activity in the near term." That same day, Treasury Secretary Steven Mnuchin said, "I expect we'll have a big rebound later in the year." 
The U.S. economy did indeed recover quickly from that sharp initial decline, but it's not as if things returned to normal. Cruise ships remained docked, and hotel rooms, casinos, restaurants and airplanes were mostly empty. Yet the Fed's corporate-credit facilities were enough to at least reopen bond markets. Carnival Corp. sold bonds less than 10 days after the central bank's announcement. A leveraged-loan deal in early April for Texas billionaire Tilman Fertitta's casino and restaurant empire snapped a nearly one-month drought in that market. United Airlines Holdings Inc. abandoned a bond offering in May only to reemerge in June with a novel structure that lowered its interest costs by hundreds of basis points.
All told, investment-grade companies borrowed a record $1.75 trillion in 2020, a staggering sum that it's safe to say would not have been possible if the Fed hadn't stepped in. With this context, it's clear that the central bank merely dipped a toe into the credit markets while investors dove in headfirst. Credit facility holdings topped out at $14.3 billion, or less than 1% of total high-grade bond sales last year, to say nothing of all the deals in the high-yield and leveraged-loan markets.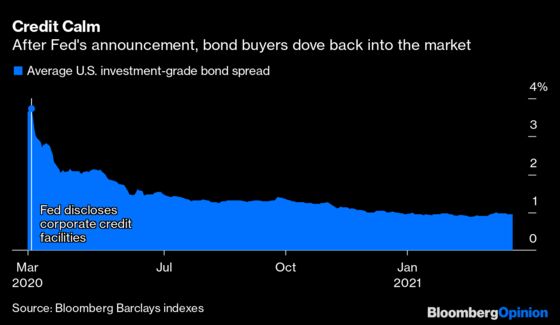 As it stands now, investment-grade corporate bonds on average yield 96 basis points more than U.S. Treasuries, only 20 basis points higher than the all-time low of the past two decades. On March 23, 2020, that spread peaked at 373 basis points, a level rivaled only by the 2008 crisis. If traders are determined to approximate what brings about a "Fed put," it's safe to say a global financial meltdown and the onset of a once-in-a-century pandemic are good barometers. Undoubtedly, Powell and current Treasury Secretary Janet Yellen will be asked about their view of policy makers' response when they appear before the House and Senate in the coming days.
Now, if Powell had his way, the credit facilities might still be operational, even though he pledged that the central bank would put its emergency tools away once "private markets and institutions are once again able to perform their vital functions of channeling credit and supporting economic growth." Yet Mnuchin forced his hand in November. Corporate bonds have weakened so far this year because of the sharp increase in Treasury yields, not because of any spread widening. The market can easily stand on its own.
When the Fed disclosed these facilities, I wrote that it had little choice but to intervene in credit markets because of the $27 trillion increase in global nonfinancial corporate debt since 2008. In the U.S. alone, the size of the investment-grade index tripled over that period. The pandemic has only piled on even more leverage to corporate America's balance sheets. For better or worse, the "bridge" to the other size of the crisis has been built with bonds.
That's certainly not ideal. But after a year that no one saw coming, in which lives have been upended around the world, it's not the worst-case scenario, either. "When the foundations of someone's life fall apart," Yellen said on Tuesday, "the pain can weigh on them for years. Their earnings potential is permanently lowered, and I'm worried about this happening on a mass scale."
Thanks to the Fed's action, fewer companies defaulted or declared bankruptcy than some analysts expected. Congress certainly deserves praise — it was the Coronavirus Aid, Relief and Economic Security Act that ultimately granted the central bank its powers, after all — but the Fed's announcement ahead of the Cares Act becoming law set in motion a credit-market recovery that was not a moment too soon for many U.S. businesses to stay afloat. That seems like a worthy trade-off for some potential future moral hazard risk.
This column does not necessarily reflect the opinion of the editorial board or Bloomberg LP and its owners.
Brian Chappatta is a Bloomberg Opinion columnist covering debt markets. He previously covered bonds for Bloomberg News. He is also a CFA charterholder.