Fed Rate Cuts Do No Favors for Spring Homebuyers
(Bloomberg Opinion) -- The Federal Reserve cut interest rates three times last year and pledged not to increase them absent meaningful increases in wages and inflation -- welcome news for the labor market and economic expansion. But in a twist, the shift wasn't welcomed by one group of people: would-be homebuyers. Although lower mortgage rates mean more households can afford a higher purchase price, the upshot of this shift has been fewer houses available for purchase. Because of supply constraints in the housing market, this might mean buyers find themselves out of luck this spring as they fight over a skimpy supply of homes for sale.
It wasn't so long ago, in the second half of 2018, that the housing market faced the opposite problem: Higher mortgage rates put many houses out of reach, leading to a slump in the housing market and a rise in the number of homes for sale. New home sales fell more than 10% year-over-year in the fourth quarter of 2018, and the National Association of Homebuilders Housing Market Index, a measure of homebuilder sentiment, fell to a three-year low. Homebuilder stocks plunged. All of this was happening even as employment continued to rise and the large millennial generation was moving into its prime years of forming households and buying homes.
But the decline in mortgage rates since their late 2018 peak has dramatically changed the affordability equation. The average 30-year fixed mortgage rate in the U.S. has fallen from 4.94% in November 2018 to 3.51% today. For buyers making 20% down payments on a $300,000 home, this means that a monthly payment on a house purchased today would be about 12% less than it would have been a little more than year ago. Factor in average wage growth of 3% or more for a prime-age worker during that period and it means buyers have 15% more purchasing power than they did at the end of 2018.
This increase in buying power has rapidly altered the landscape of the housing market. The NAHB Housing Market Index went from a three-year low to a 20-year high from the end of 2018 to the end of 2019. Since the start of 2020, mortgage applications to purchase a home have surged to their highest level since the economic expansion began in mid-2009. The Census Bureau on Thursday reported that the homeownership rate for households under the age of 35 hit its highest level in years in the fourth quarter of 2019. In two fast-growing western metro areas known for modest housing costs, Phoenix and Sacramento, California, the number of available homes for sale has fallen 31% and 39%, respectively, in the past year. Perhaps because of this drastic inventory decline, the Case-Shiller Index now reports that Phoenix has the fastest home price growth in the country.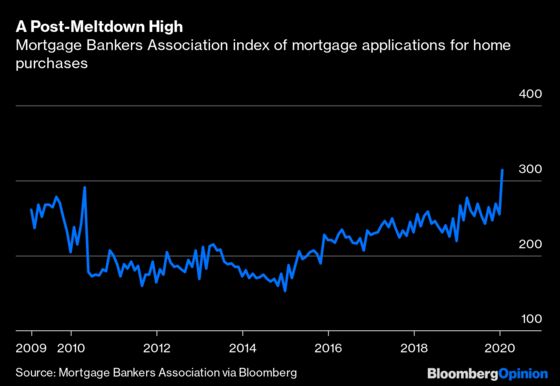 In a normal market, a sharp decline in inventory combined with a rise in prices would lead to a rapid increase in supply. If there's a soybean shortage, for example, farmers will just plant more soybeans. But the housing market is not like most markets. Supply is constrained for a host of reasons. In desirable neighborhoods close to job centers, there's a shortage of vacant land, strict zoning requirements and community resistance to more housing construction. Farther out in the exurbs, where there's more land available to develop, commutes are long and transportation options to jobs are limited, which constrains demand. Even where there's plenty of buyer demand and land to develop, homebuilders may be cautious about increasing production too quickly, worried that they could get stuck with excess inventory if the market slows.
This is the backdrop as consumers head into the spring buying season; homes will be in short supply and the likelihood of bidding wars ensures higher prices. It also will mean that a lot of people who would like to buy simply won't be able to find anything they want and can afford.
In the long run, these might be the types of conditions we need to resolve our national mismatch between housing supply and demand. Persistent shortages of homes will lead to higher prices, encouraging homebuilders to respond by increasing production. Employers, frustrated by housing shortages that limit their access to talent, will move jobs to places where workers can find and afford homes. But in the short run it's going to remain another pain point for the economy and an aggravation for would-be homebuyers. 
This column does not necessarily reflect the opinion of Bloomberg LP and its owners.
Conor Sen is a Bloomberg Opinion columnist. He is a portfolio manager for New River Investments in Atlanta and has been a contributor to the Atlantic and Business Insider.