Manufacturers' Labor Problem Is Still a Covid Problem
(Bloomberg Opinion) -- The number of unfilled U.S. manufacturing jobs remains stubbornly high: some 870,000 positions were open as of August, more than double pre-Covid levels. That's because the pandemic remains stubbornly present. 
The Labor Department's latest update on U.S. job openings coincided with industrial distributor Fastenal Co.'s third-quarter earnings release on Tuesday. Fastenal supplies factory-floor odds and ends to manufacturers, so its results can often be a harbinger for the rest of the industrial earnings season. The good news is that demand remains fairly robust: Average daily revenue rose 10% in the period as higher sales of manufacturing- and construction-related products offset a weaker market for face masks and janitorial supplies. But even as the economy recovers broadly, humans are still bearing the burden of the pandemic.
Fastenal is one of the few companies that has provided regular updates on Covid-19 cases among its workforce, to the credit of the management team. There were 13 weeks in the most recently ended quarter; during seven of those, Fastenal recorded more than 50 Covid-19 cases a week among its employees, Chief Executive Officer Dan Florness said on a call Tuesday with investors. More than 100 cases were reported in one week. That rate of transmission was as bad as the one the company experienced in the fourth quarter of 2020, before vaccines became widely available.
There's a tendency on Wall Street to view the health impact of the pandemic through the lens of knock-on effects for demand or the risk of additional restrictions on operating capacity. But that misses the fact that for all of the industrial sector's investments in automation, human laborers are still an important part of any supply chain or sales operation. And those human laborers are, well, human. "It's been incredibly disruptive," Florness said of the Covid-19 cases. Fastenal's average location has five to 10 employees; even if just a few of them are out sick, finding a way to properly staff those outposts is especially challenging, he said. It's not easy to hire new workers when the existing ones are falling victim to a pandemic. 
It also doesn't help that Fastenal traditionally recruited heavily among college students looking for part-time jobs with the hope of eventually making them full-time employees. With schools closed and students taking classes online at home, that pipeline has dried up. Fastenal's full-time equivalent employee head count is essentially unchanged compared with its level in the period a year earlier. "It is not intentional," Florness said. "I frankly would rather be on this call saying, 'You know what, we missed by a penny because we added more people [and] it was easier to add people.'"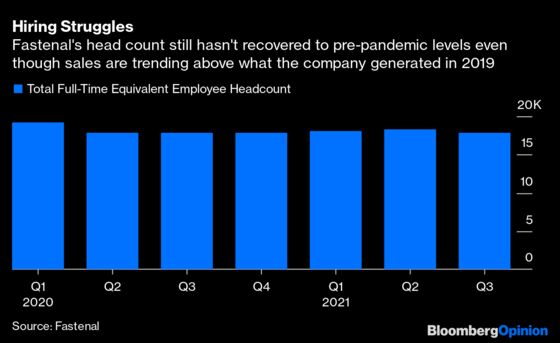 Fastenal didn't sign up as many customers as it had hoped for its onsite inventory management services and fulfillment products, citing inflation and supply-chain snarls but also rising Covid-19 infections and labor shortages. Its employees are spread too thin: Those who are healthy are spending so much time chasing down available shipping containers and alternative domestic suppliers to support existing demand that they don't have as much energy to devote to luring new customers. Total transit time for Fastenal deliveries in August hit a company record of 58 days, and that metric was trending higher in September, Florness said. That compares with around 30 days in the first quarter of 2020. "Product and shipping cost inflation is not just high, it's brutally high," Florness said. "The impact — not just from a financial perspective, but from the toll it takes on our human capital — is immense." 
This column does not necessarily reflect the opinion of the editorial board or Bloomberg LP and its owners.
Brooke Sutherland is a Bloomberg Opinion columnist covering deals and industrial companies. She previously wrote an M&A column for Bloomberg News.