This Industrial Giant Expects Inflation to Be Sticky
(Bloomberg Opinion) -- The key question heading into this industrial earnings season was whether some combination of the delta variant of Covid-19, rising costs and supply chain crunches would derail the burgeoning manufacturing recovery. So far, the answer seems to be no. But that doesn't mean the reopening environment is easy to navigate. 
Fastenal Co., a $31 billion distributor of factory floor odds and ends, unofficially kicked things off on Tuesday. The company's quarterly numbers and commentary typically offer useful insights for what's to come when its manufacturing customers report their results later this month. The results were strong overall: second-quarter sales were about as good as analysts had expected as a snapback in demand from manufacturing and construction customers nearly offset a tough comparison with last year's unsustainable surge in purchases of face masks and other protective gear. Fastenal's net sales were up 10% compared with those in 2019. 
For all of the hand-wringing over rising costs, labor shortages and backed-up supply chains, industrial companies are doing quite well. The Institute for Supply Management's broader gauges of factory activity and new orders have remained solidly in expansion territory even as its measures of raw material prices and supply-chain delivery times have hovered at the highest levels in decades. Analysts on average expect earnings for the S&P 500 Industrials Index — a benchmark that includes hard-hit airlines and aerospace manufacturers such as Boeing Co. — to almost fully recover from the impact of Covid this year and comfortably exceed pre-pandemic levels by 2022.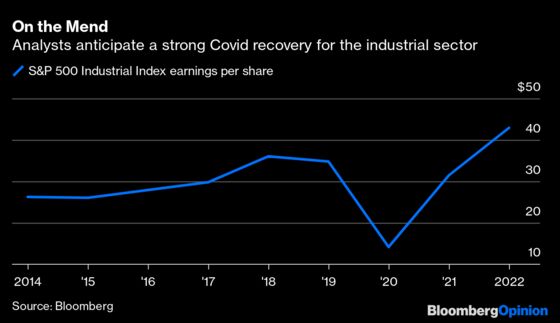 It appears that the industrial sector has largely put the pandemic behind it. Fastenal is  one of the few companies that have regularly measured and disclosed Covid-19 cases among their workforces. Despite concerns about the highly transmissible delta variant that's on the rise across the U.S., infection rates are trending down at the company. Fastenal averaged eight Covid cases a week in June, compared with 20 for the whole second quarter and 44 for the first. That's an encouraging sign and indicates companies have learned from the initial shocks of last year and are better prepared to keep their workers safe and on the job. 
But cost pressures also aren't going away, and Fastenal at least doesn't seem inclined to view the inflation trend as merely a passing fad. The bulk of the boost in consumer prices in June was indeed tied to categories that were benefiting from a reopening of the economy or experiencing a unique supply crunch: used vehicles, hotel stays, air fares and car rentals, for example. Fastenal certainly felt those impacts: health-care expenses were up 25% in the quarter because employees felt more comfortable going to the doctor again and airfare expenses were up tenfold compared with those a year earlier as the company started to send salespeople back out on the road. And that's likely a bit of a blip: business travel, for example, remains down 82% at Fastenal compared with its level in 2019, and the company thinks it will only need to operate with at most 60% of its earlier flying levels going forward. But costs are also on the rise for labor, freight, steel and fuel.

Fastenal has been raising prices and was able to mostly balance out the increase in costs in the second quarter, but expenses are rising so steadily and continuously, the company will have to increase prices even more. So far, it's not running into much pushback: "We continue to hear from the field that customers are still so busy and receiving [price increases] from so many areas that it has not been a huge bone of contention," Chief Financial Officer Holden Lewis said on a call Tuesday to discuss the second-quarter results. But Fastenal was reluctant to commit to being able to fully offset rising costs in the back half of the year. One concern is "frankly fatigue that sets in from the standpoint of 'I'm going back one more time'," CEO Dan Florness said. "That doesn't mean you don't get it, but that makes it challenging in the short term. The other piece is the vast majority of what we're seeing we don't view as transitionary. But there is a transitionary component, and that is with the congestion at the ports." 
On the labor front, one interesting pinch-point for Fastenal is that it hires many workers part time while they're still finishing college or technical school with the hope that they will eventually become full-time employees. But with many higher-education schools still operating on a remote basis, those people aren't where they need to be to get hired, and that feeder pool has essentially dried up. Fastenal's flexible schedules also attract people seeking to supplement their primary income in more normal times. But those individuals' main employers are now requiring overtime to cover their own labor shortages and the workers no longer have hours to spare for Fastenal. Applications from women are down by about a third from what's been typical in recent years, and turnover among female workers has exceeded historical patterns, a trend Florness attributed to shutdowns of schools and day-care facilities.
Partly as a result of these hiring headaches, full-time equivalent headcount at Fastenal branches has climbed less than 1% even as business is up 20%, Florness said. The company has rethought what role its branches should play, especially as customers become more comfortable with online ordering in the wake of the pandemic. That has meant converting more of its space into fulfillment centers. But that wide of a hiring gap "isn't by choice; that's what's available," Florness said. 
Rising costs and labor shortages remain good problems to have after the devastation of the pandemic. But industrial companies are going to have to get increasingly creative in how they deal with them. 
This column does not necessarily reflect the opinion of the editorial board or Bloomberg LP and its owners.
Brooke Sutherland is a Bloomberg Opinion columnist covering deals and industrial companies. She previously wrote an M&A column for Bloomberg News.