The Fantasia Chapter of the Evergrande Saga Is a Pandora's Box
(Bloomberg Opinion) -- Until this week, no one cared about Fantasia Holdings Group Co., a smallish developer that ranks only 64th in China's vast real estate industry. Fantasia's revenue is not even one-tenth that of China Evergrande Group, which is near the brink of a collapse; its $12.9 billion debt is a fraction of Evergrande's $300-billion-plus obligations. Yet Fantasia's failure to make a $206 million dollar-denominated bond payment on Oct. 4 sent the markets tumbling. Chinese high-yield dollar-denominated bonds witnessed their biggest selloff in at least eight years. What did Fantasia do to create this havoc?
Fantasia could have repaid the note but chose not to. As a result, it opened a Pandora's Box of financial nastiness. 
In theory, Fantasia should have enough cash on its books to cough up the $206 million — unlike Evergrande, which is suffering a major liquidity crisis. As of the end of June, the smaller developer sat on 27 billion yuan ($4.2 billion). In late August, the company claimed it had about 10 billion yuan in cash in the holding company level, according to an investor present at the conference call. In early September, it repurchased $6 million worth of bonds, claiming "good liquidity" after the open market operations.
Fantasia has also had some success divesting assets. Last week, Country Garden Services Holdings Co, owned by China's largest developer, agreed to buy its property management unit for 3.3 billion yuan. At that stage, Fantasia's ability to repay this month was never in doubt.
The day it squirmed out of the $206 million, the company tore up another contract. For the Country Garden acquisition deal, Fantasia had received a short-term bridge loan worth 700 million yuan on Sept. 30. It had the money, but decided not to repay it on Monday when it was due.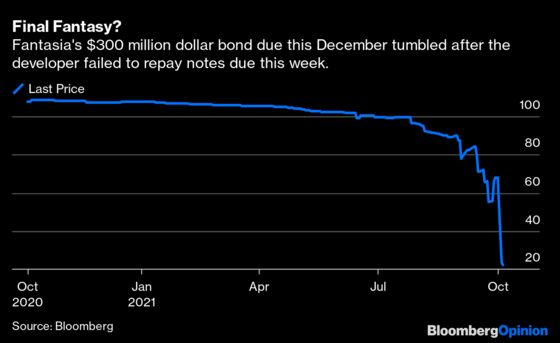 So is there some method to Fantasia's madness? From a strategic viewpoint, the company is playing a good game. A series of top-down government policies to rein in debt and control prices have turned property development into a money-losing business. With no hope of economic recovery, Fantasia has no incentive to honor its bond obligations. As of 2020 year-end, dollar-denominated bonds accounted for 62% of the company's total debt. By getting out of all of them, Fantasia satisfies Beijing's edict against crossing the "three red lines" — against excessive corporate debt — with relative ease. Late Wednesday, Fantasia told investors it had begun meeting with financial advisors to discuss "the next step."
By breaking the honor code of bond issuance, Fantasia is forcing investors in other developers to consider selling all their holdings. It is closing the refinancing window for the other companies in the sector. Everyone will be in the same boat. As it is, hundreds of developers are racing for more funds to remain liquid. And, size is no guarantee of survival: Big as Evergrande is, it had only 4% market share last year.
It's just like Squid Game, the Netflix Inc. series I'm obsessed with, if you remember my previous column. The start of the Korean dystopian drama is relatively civil: The players are just trying to get to the finish line before time runs out. But then the drama intensifies and things get cutthroat and gruesome. It's grim but entertaining.
China's developer drama is now at that point. Make sure you have enough popcorn. 
This column does not necessarily reflect the opinion of the editorial board or Bloomberg LP and its owners.
Shuli Ren is a Bloomberg Opinion columnist covering Asian markets. She previously wrote on markets for Barron's, following a career as an investment banker, and is a CFA charterholder.