Exxon's Stunning Proxy Loss Is Also Its Strategic Gain
(Bloomberg Opinion) -- A recurring theme with Exxon Mobil Corp. in recent years is the accumulation of un-Exxon-like things happening to this most Exxon-like of companies. Wednesday's shareholder vote to seat dissident board members is the most dramatic, but it follows the likes of losing a top-notch credit rating, taking a huge writedown and facing allegations of inflating the valuation of oil and gas assets, which the company denies. In isolation, each could be treated as a squall that wouldn't knock a supertanker like Exxon off course; together, they suggest a sea change.
On a preliminary basis, two of activist shareholder Engine No. 1 LLC's nominees will join Exxon's board. Another awaits final results from an unexpectedly close vote. Meanwhile, Exxon also appears to have lost two votes calling for more disclosure about the company's political and climate lobbying.
When Engine No. 1 began its long-shot campaign, it led with an argument everyone could grasp: Deteriorating financial performance. Indeed, the chart below captures all the major themes of this particular drama.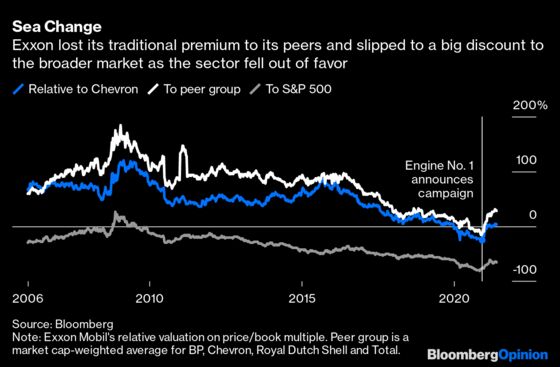 The disappearance of that premium to peers represents the loss of investors' previously solid faith that, come what may, Exxon would be right in the end. The erosion of the entire sector's valuation relative to the market represents the loss of investors' previously solid faith that, come what may, oil's position in the energy firmament was fixed. In targeting Exxon's all-in investment strategy under CEO Darren Woods, Engine No. 1 married the generic criticism that capital was being wasted with the specific warning that this would hurt even more as the energy transition messes with the traditional savior of excessive spending, the oil cycle.
Exxon's response was pretty standard and looked set to head off the challenge. The company slashed capex, increased its climate disclosure and targets and added new board members, including Jeff Ubben, another activist touting green objectives, if in a gentler tone. First-quarter results, announced almost a month ago, showed Exxon covering its dividend from cash flow after several years, albeit owing much to higher oil prices as well as a big release of working capital. Given the tendency of passive shareholders to give incumbent management the benefit of the doubt, it is surprising to say the least that Exxon's playbook didn't quite work.
That suggests the game has changed. There are any number of signs that the transition away from the dominance of fossil fuels is gathering speed, ranging from headline-grabbers like the launch of an electric version of America's best-selling truck to less glitzy developments like the Biden administration's moves to embed climate-related costs in financial markets. The International Energy Agency's net-zero emissions scenario, released last week, was, in one sense, just another report to add to the pile. But having the IEA's name on the cover makes it one that many will reach for, not least money managers weighing difficult proxy votes and facing calls to back up ESG branding with action.
It is notable that, even as Exxon's shareholder meeting was underway on Wednesday, competitor Royal Dutch Shell Plc lost a landmark case in a Dutch court that could force it to accelerate decarbonization targets that are already ambitious relative to U.S. oil majors. Meanwhile, the directors of Chevron Corp., whose better financial performance has shielded it from similar levels of activism, lost a climate-related vote at their own shareholder gathering the same day. Oil companies, like any other kind, are essentially financial and legal constructs. If those two foundations move away from fossil fuels, it is tough to see how even the most storied of oil majors can stay fixed in place.
If three of Engine No. 1's nominees end up on Exxon's board, it will represent a stunning rebuke of the existing management. Woods inherited the strategic mistakes of his predecessor, but the decision to lean heavily into the oil crash (and on Exxon's balance sheet) lies with him and much of the current board. And even if only two dissidents are ultimately confirmed, it is still a seismic event; this is Exxon. 
All this has happened with oil demand recovering and hopes on the part of bulls that the pullback in oilfield investment portends another price spike. On that basis, it might be argued this is the worst time for Exxon to shift its attention.
But such thinking is shortsighted. Recall that Engine No. 1's original argument was that Exxon's capital discipline had faltered and that its approach on the energy transition was too rooted in old assumptions. The new directors will reinforce the move to lower spending that is repairing Exxon's balance sheet and, at the same time, helps to support the bull case on near-term oil prices.
Meanwhile, injecting new thinking into the boardroom on how Exxon should invest for a low-carbon future has no bearing on the immediate future for oil prices but is necessary. After all, an oil-price spike, while profitable, isn't the best case for oil in a competitive energy market. Importantly, an expanded discussion of transition strategy wouldn't dictate outcomes. But it could force a company famous for its self-confidence to question its thinking, which can only be good in the context of a gathering change outside Exxon's walls. This is doubtless a day Exxon's management would rather forget, but it is a good day for the company nonetheless.
This column does not necessarily reflect the opinion of the editorial board or Bloomberg LP and its owners.
Liam Denning is a Bloomberg Opinion columnist covering energy, mining and commodities. He previously was editor of the Wall Street Journal's Heard on the Street column and wrote for the Financial Times' Lex column. He was also an investment banker.