Bankers Love Hedge Funds for a Very Good Reason
(Bloomberg Opinion) -- As the aftershocks from the $10 billion implosion of Archegos Capital Management continue to reverberate, risk managers will be scrutinizing their equity financing desks more closely than ever. But with hedge funds rediscovering their mojo in recent months, the prime brokerage units catering to their needs are far too lucrative for investment banks to curtail their activities.
Unsurprisingly, the business of providing stock lending, leverage and other specialist prime services is dominated by U.S. investment banks. Goldman Sachs Group Inc., Morgan Stanley and JPMorgan Chase & Co. serve almost half of the market, according to figures compiled by research firm Green Street and Bloomberg Intelligence. Credit Suisse, the biggest prime brokerage loser from the Bill Hwang debacle, ranked joint fourth in the league tables, alongside BNP Paribas SA, which has spent the past year and a half integrating Deutsche Bank AG's unit after agreeing to purchase it in 2019.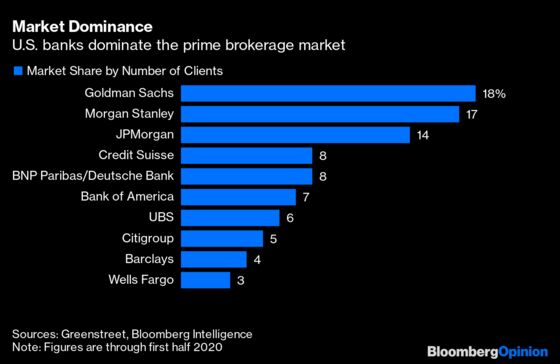 Credit Suisse, which will lose about $5.5 billion after unwinding its dealings with Archegos, says it will reduce its lending to hedge funds by $35 billion, trimming its exposure by about a third. Marshall Wace LLP, a London-based hedge fund overseeing about $55 billion, is already doing less business with the Swiss bank, Bloomberg News reported last week.
While a big chunk of Credit Suisse's prime business will be up for grabs as it retreats to lick its wounds, that's likely to spell opportunity for its peers to expand their market share in a growing area of finance. The prime brokerage market has boomed in recent years, with revenue growing at an annual pace of about 8% since 2015 to reach more than $30 billion last year, according to consultancy firm Aite Group.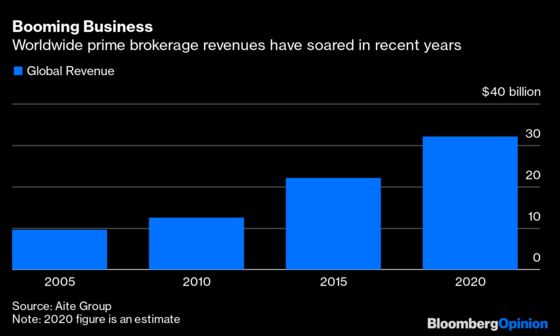 Goldman's first-quarter revenue from equity financing, for example, was $1.1 billion, up 65% from the year-earlier period as customer balances at its prime brokerage unit reached a record and the firm escaped from the Archegos chaos unscathed.
And while the unravelling of Hwang's family office illustrates the risks involved in expanding in the prime brokerage business, "our ambition is to continue to grow it," Goldman Chief Financial officer Stephen Scherr said on an April 14 earnings call. "That growth is not going to happen absent corresponding risk insight into how that book grows."
Sandy Rattray, chief investment officer at Man Group Plc, said the prime brokerage market will consolidate with "a strengthening of the strong and a weakening of the weak" in the aftermath of Archegos. The world's biggest publicly traded hedge fund isn't keen on the idea that the roster of firms it deals with will shrink further, he told Bloomberg Television last week.
That caution probably reflects both Man Group's size and its location. The figures compiled by Aite Group suggest hedge funds with more than $5 billion under management have, on average, more than five prime brokers, compared with about three for those managing $500 million to $1 billion, and fewer than two for those overseeing $100 million or less. Moreover, U.K. hedge funds of all sizes have about five prime relationships, compared with an average of about three for U.S. funds.
What's likely to happen is that the biggest firms with the best risk-management software will increase their dominance of the industry. With the outsize returns that hedge funds have promised to find for their clients becoming ever more elusive, the business of providing leverage to alpha-seeking portfolio managers and their traders will continue to grow, in both size and risk. The trick is to manage the latter.
This column does not necessarily reflect the opinion of the editorial board or Bloomberg LP and its owners.
Mark Gilbert is a Bloomberg Opinion columnist covering asset management. He previously was the London bureau chief for Bloomberg News. He is also the author of "Complicit: How Greed and Collusion Made the Credit Crisis Unstoppable."