European Fund Giants Battle for Passive Investing Supremacy
(Bloomberg Opinion) -- Just two of Europe's standalone fund managers clear the $1 trillion hurdle that separates the go-getters from the also-rans in the global game of managing other people's money. And things are about to get spicy between France's Amundi SA and Germany's DWS GmbH.
Amundi has maintained a steady lead over DWS in recent years, posting twice the amount of assets under management quarter after quarter. On Thursday, the Paris-based firm announced a 9% year-on-year increase in the cash it oversees to more than 1.8 trillion euros ($2 trillion) at the end of the third quarter. That's double the 880 billion euros DWS controlled at the end of September, which it boosted by 16% from the year-earlier period.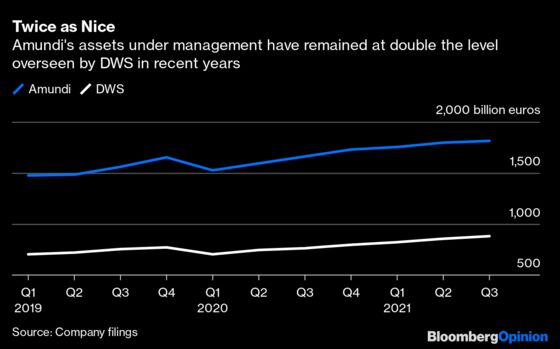 Since the start of 2019, both firms have increased their assets under management by about 25%. But the French firm has been boosted by acquisitions, including last year's purchase of Spanish bank Banco de Sabadell SA's fund unit that added 22 billion euros to its pile. Its German rival has relied on organic growth to expand its business.
Now competition in the fast-growing market for low-cost passive products is heating up. Valerie Baudson, who took over as chief executive officer of Amundi this year, built the firm's exchange-traded fund business from scratch. She'll oversee the integration of Societe Generale SA's Lyxor unit, which Amundi agreed to buy in April and expects to absorb by the end of the year.
Lyxor has assets of about 124 billion euros, including about 100 billion euros in ETFs according to Bloomberg Intelligence. DWS was also said to be in the running for the SocGen division. But Amundi's triumph will vault it to second place in Europe's ETF market, ahead of DWS and behind first-placed BlackRock Inc.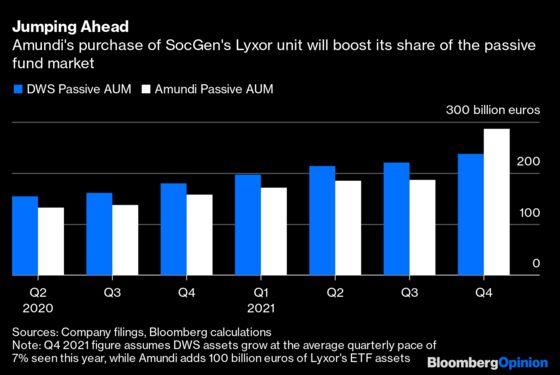 DWS also missed out on buying the asset-management arm of Dutch insurer NN Group NV, with Goldman Sachs Group Inc. instead snapping up NN Investment Partners and its $355 billion of assets in August.
The German firm has consistently said it's willing, able and ready to participate in industry consolidation. But unless DWS puts its money where its ambitions are and actually buys a chunk of assets, Amundi will continue to dominate the European fund management landscape.
This column does not necessarily reflect the opinion of the editorial board or Bloomberg LP and its owners.
Mark Gilbert is a Bloomberg Opinion columnist covering asset management. He previously was the London bureau chief for Bloomberg News. He is also the author of "Complicit: How Greed and Collusion Made the Credit Crisis Unstoppable."